15 Minutes Sandbag Workout Routine For Beginners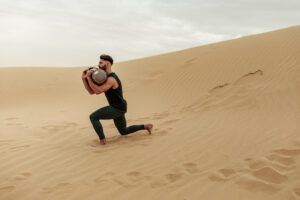 Complete Sandbag Training Guide for Fitness Beginners
Looking for an unconventional way to build a better body?
Sandbag training can be just the right thing you need to shake or jolt your body out of boredom or monotony.
As we speak, sandbag training is getting great popularity as more and more people realize the benefits it has to offer to fitness enthusiasts at all levels. Even if you are just embarking on your fitness or wellness journey you will benefit from training with sandbags.
For optimal health and to decrease the risk of diabetes, high blood pressure, and some cancers the Center for Disease Control  recommends that you perform resistance or weight training exercises at least 2 days per week. You should workout each major muscle group at least twice per week.
You can  do upper body one day, lower body on another or  your entire body 2 times per week. Keep in mind that whichever routine you decide, you should not work the same muscle group on 2 consecutive days.  Your muscles should have a minimum of one whole day for rest and recovery.
Furthermore, so you don't sustain any injury you should slowly increase the weight, duration, and frequency of your workout. Always start at the lowest weight. This should be a weight that you can lift about 15times without feeling like you are about to die.
You might not be sure where to start. Therefore, we decided to design a guide for you to help you get acquainted with resistance training using sandbags.
In this post, we are going to discuss the benefits of sandbag training, and also many other factors that to be considered when using sandbag as extensive workout equipment. But first you have to select the right bag for you.  We are here to help with the selection process.
So, without any further ado, let's get started!
Top Benefits of Sandbag Training
Working with a sandbag requires you to counter the changing center of mass at all times. This works really well if you are looking to build stability and strength. Not just that, it also helps you improve performance if you are into playing active sports.
Note: Training with unstable objects result in a unique set of skills that can help you manage your weight and posture brilliantly.
One of the most important benefits of using sandbag as training equipment is that it can be taken anywhere and used in any situation. You can use it indoors, outdoors, in the gym or set it up in the garage! You can empty your sandbag when on a move and fill it up with sand wherever you want to use it. This will make portability convenient.
Note: We highly recommend you to get two or more sandbags with different weights and height to make the training more challenging.
Using sandbag for training is very affordable. Doesn't matter if you are going for a commercial model or homemade sandbag, the training itself requires minimum expenditure while providing maximum versatility. You really don't need any extra machine or equipment. Just get a sandbag and a good pair of sports shoes and you're set!
One thing that you can be sure of when training with a sandbag is that the majority of the exercises you will do with it will activate nearly all the muscles in your body. The more muscles you activate, the higher will be the calories burned and higher will be your metabolic rate! This can help you quickly lose any excess fat.
A couple of weeks into sandbag training, you will start to feel excellent core strength benefits as well. When you train with a sandbag, your core muscles will contract and expand at a higher rate to help you maintain the body balance.
Note: Core activation can also be done by using barbell and dumbbell but sandbag training assures a higher overall activate rate.
Provides great cardiovascular workout
Sandbag training has been popular among fitness coaches when it comes to a cardiovascular workout. For instance, lifting the sandbag over your head with arms completely extended, you will see how fast your heart can go as you begin to perform a set of walking lunges. This can even result in an effective HIIT workout as well!
Note: Sandbags can be used to replace conventional cardio training.
Great for Conditioning and Strength Building
If you are looking for a workout that can help you build strength in a minimum amount of time, sand training is the way to go. Sandbag training makes this possible by working many muscle fibers at one time, helping you lift heavy things with ease. If you keep lifting heavier weights and track the fitness progress, your overall strength will improve. The instability factor of sandbag also has a lot to do with it.
Perfect for Improved Sports Performance
If you enter a gym, you will hardly find any equipment that provides the kind of challenge a sandbag pushes you to overcome. Well-designed and suited for unconventional workout routines, sandbag training can go a long way in improving an athlete's sports performance. Sandbag training develops a strong back, legs, and shoulders.
Note: Sandbag training is great for the athlete's performance with regards to throws, drags, sprints, and load carries.
Sand Refills vs Water Refills
This has been an age-old question which needs to be answered.
When it comes to filling the sandbag with a material, you will first have to make sure the material is available to you at all times. When you consider that, water comes up as a great resource for sandbag filler. There are bags that hold a little bit over 2 lb of water. Filling your sandbag is an economical affair but if you are looking to add a lot of weight to your sandbag, this might not be the right alternative for you.
If you are looking to fill your sandbag with sand, you will have to make sure it is available nearby. Dry sand is loose and the grains tend to move independently. That is very important to make your training effective. Wet sand will clump together and will not move or shift as you move the sandbag. You can add more weight to your sandbag if you go for a sand refill.
Top Compound Exercises with Sandbag
There are many sandbag exercises  that target multiple muscle groups and activate them while during your training session.
Working more than one muscle group at time is a fast and proven effective way to workout. In the fitness community, these are called compound exercise.
Here, we are going to discuss the compound exercises that can be done using a sandbag.
Note: Perform these exercises by adjusting the weight of your sandbag in a way that makes the exercises feel more challenging. Perform at least 15 to 25 reps on each exercise before switching onto the next one.
Forward Lunge combined with Wood Chop
Start with an open stance and hold the sandbag at chest level with the elbows bent. Now step the right foot forward as you lower your body into a lunge. Now use your arms to swing the sandbag from the outside of your right leg and bring the sandbag back to chest level as you return from the lunge to your standing position. Now do this with the left leg.
Reverse Lunge with Sandbag on the Back
Again, start with an open stance holding the sandbag behind your neck. Now move the right foot backward and go down for a lunge. Come back to the standing position and take a bow. Now repeat this on the left foot.
Side Lunge Combined with Front Raise
Hold the sandbag in front of your thighs and take a big step to the left and make a side lunge. Now come back to the original position and pull the sandbag overhead. Follow the same with the other leg.
Single-Leg Deadlift and Rowing
Stand tall with an open stance holding the bag by the side handles. Now send your right leg straight back as you bend your left knee a little. Your upper body will face the ground and be parallel to it. Now pull the sandbag up and release it a couple of times as if you are rowing a boat. Come back to the original position and follow the exercise with the other leg.
15-Minute Workout with Sandbag
If you
Weightlifting for many people is like a religion, isn't it so?
But, is that the only way to build functional muscles and strength?
Sandbag training is a superior alternative to weightlifting as it involves multiple muscles and forces them to work together and maintain body balance.
If performed correctly, sandbag training can help you reap the above-mentioned benefits in just a 15-minute workout!
Note: The following exercises need to be performed in a circuit. To get most out of the exercises, you will need to do as many reps you can in 30 seconds before switching the exercise. You need to rest for 30 seconds between moves and have to complete the circuit at least 3 times a day.
So, let's get into the 15-minute workout that you need to perform right from day one. If you only have 15mins to spare, this routine is where you should start. Repeat as much as time allows.
You will have to hold a sandbag in front of your thighs. Now lunge to the right, making sure you touch the sandbag to the floor. Now quickly stand up and flip the bag onto your forearms and press it overhead.
Quickly get back to the standing position and lunge to you right. Continue this exercise by alternating sides and always keep your weight on your heel.
This exercise effectively activates the hamstring and glute muscles and will strengthen your back muscles as well.
You need to place the sandbag on the floor and get to the pushup position making sure the bag is on your right.
Now grab the sandbag with your left hand and try dragging it from below your chest to the left side. Do a pushup.
Now reach to the sandbag with your right hand and do another pushup. Make sure you don't rotate your body and keep still while pulling the sandbag.
Rotational Reverse Lunge and Balance
Just like exercise #1, hold the sandbag in front of your thighs. Step back with the left foot and swing the bag from the outside of the right thigh.
Now stand up and raise your left knee as you flip the sandbag over the forearms to catch it at chest level.
Pause for a couple of seconds and then return to the starting position. Now repeat the exercise by switching the leg.
To make this exercise more challenging, you can get to the next lunge without taking a pause.
Hold the sandbag at arm's length and raise the left leg behind you simultaneously as you lower your torso, making sure it is parallel to the floor.
Pull the bag to your chest and slowly lower it. Now hold for 15 seconds and switch legs.
You can follow this 15-minute workout routine and double, triple or quadruple the time for a more intense workout.
Over to You
There you have it. We hope this piece of content brought great value to you and your fitness endeavors.
Since you are here, don't forget to subscribe to our weekly newsletter as we bring all the latest news and updates from the world of health and fitness.
Stay Fit!
Social Media Copy –
Looking for a complete guide on sandbag training? We have just the right piece of content for you. Get the best insights on sandbag training and know how to get started. Read now!