2020 Best Weighted Vest For Weight Loss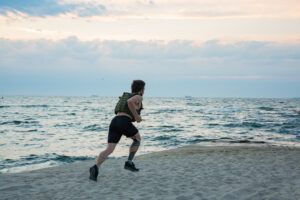 It doesn't matter what sort of workout you enjoy the most, there comes a time when you get used to the routine and the exercise gets monotonous. During that period you might get complacent with your standard exercise schedule. To avoid such a situation, try making your routine a bit challenging – to push it past your comfort zone every once in a while.
One very convenient way to level up your game is… drumroll … by using a weighted training vest.
Now, you are probably imagining yourself in an intimidating military gear wearing a 50+ pound weighted vest in a brutal military boot camp style workout, thinking, "It's definitely not for me."
You are misguided. Using a weighted vest has many benefits. With its help, you can quickly turn any fitness workout into a full-blown resistance exercise. These vests are frequently used by physical therapy professionals to aid in muscle recovery and rehabilitation. It offers an expedient way to add an x-factor to your exercise without drastically altering the routine by working with higher weights. With its help, you can not only challenge your stamina but also increase resistance, maximize muscle growth, and burn some extra calories. It's a win-win situation, right?
Since the last few years, weighed vests have gone through drastic changes. The latest models give users a wide range of weight options and styles. Because there are tons of options available in the market today, choosing the right product for you can sometimes be a daunting experience.
But don't worry; we will help you find the most suitable option.
Strap on, and take a look at our list of top 10 weighed vests that we strongly recommend. These vests have some smart features which make them stand out. Let's get to it.
Let's start our list with Amazon's bestseller weighted vest. The Aduro Sport Weighted Vest is available in 5 different weights, ranging from 4lbs to 25lbs. Perfect for a cardio workout; you can increase the efficiency and intensity of the exercise as per your needs. The meshed pocket on the back allows you to add even more weight if your current workout regimen is getting too monotonous. The soft neoprene material is comfortable enough to keep you going for a long time. With the help of an adjustable front belt, you can fit it for almost all shapes and sizes. If it's not adjusted correctly, then it will bounce while you workout.
Pros
Solid build
non-abrasive comfortable material
Amazing weight distribution
Highly customizable fit
Cons
No adjustable weights, so make sure you buy the right option. If you are a beginner or an elder, start with 4lbs vest.
Hand wash only
Whether you want to add strength to your cardio workout, just increase your agility regardless of the activity or balance your posture and walk more erect, this best weighted vest is one cardio kicker you shouldn't ignore. Its only limitation is that the manufacturer recommends a hand wash only.
The RUNmax Pro comes in five different weight options ranging from 12lbs to 60lbs to give you a gradual endurance boost. The removable weights provide convenience to work with any load you are most comfortable with. Besides, the package includes extra sandbag weights for people who want to give it all. It features a phone pocket and a water bottle holder. There are four pockets on the front and four on the backside, allowing you to slip in 2.5 lbs weight in each pocket for a balanced weight.
Pros
Fits all genders and sizes
Reasonable price
Elegant design
Highly durable
Full length
The Velcro straps are quite versatile
Cons
Not comfortable without pads
Arm straps are not adjustable
If you are looking for a full-length vest that's one size fit all, has easy weight adjustments, and is quite durable in a reasonable budget, then this beastly weighted vest may just be the best option available on Amazon.

Add some hands-free resistance to your physical activities with this weighted vest specially designed to empower women. Available in 4 lb and 8lb sizes, It is made of polyester for extended durability and more comfortable – hand or machine – wash. Sand is sewn directly into the vest, which distributes all the weight evenly. It is a soft and stretchy spandex vest and comes with adjustable side straps to fit all waist sizes within a 24 to 48-inch waistline range. The convenient pocket allows holding small items like smartphones securely while you work out. Additionally, the front and back of the vest are adorned with reflective accents, which make exercising at night super secure.
Pros
Super cheap
Easy on easy off
Buckles clip on nicely
Cons:
Since the sand is sewn directly in it, there is no option to increase or decrease the weight
The pocket is rather small to hold any modern smartphones
The straps are thin and not durable enough
It is not a full upper body vest
Overall, this product is geared toward women or people with smaller frames. It is sturdy, comfortable, and easy to use. What's more, the product comes at a dirt-cheap price. I don't think you will get a better bargain than this.
4 – RUNFast/Max 12lbs-140lbs Adjustable Weighted Vest

Get an oomph out of any exercise with this black colored premium quality vest. This heavy-duty vest comes in eight different sizes (can you believe that?), ranging from 20 lbs to 120 lbs so that you can slowly build up your endurance. If needed, you can even add some more weights as the pockets can be emptied without any hassle. It has a very versatile fit due to the presence of two-band wrap around the waist system that can be altered to fit almost any body shape. The strap Velcro is of premium quality. There are two options when you buy this vest. First, you can buy it with shoulder pads and second, without pads. I would strongly recommend buying it with shoulder pads so that it is still comfortable during high-intensity workouts.
Pros
Great looking design
Pocket for smartphone and a holder for water bottle
Good fit with the strap around design
Cons
Quite expensive
The shoulder pads are slightly thin and feel generic
While most vests are hard to balance and cumbersome to assemble, this weighted vest gets everything right. From enough variation in size to super balanced design, this vest passes all the tests with flying colors where others fail.
Specially designed for female users (other genders can use it too), the ZFOsports weighted vest comes in four different sizes ranging from 30lbs to 80lbs. With that much weight range, anyone can use it for long training sessions. It features a fantastic design, sturdy build, adjustable waist belts, a pocket for holding music/smartphone devices, and a water bottle strap to take care of your hydration during the workout session. The sandbag weights are located at the front(10 compartments) and back(10 chambers) of the vest for balanced weight distribution. Each bag carries an estimated weight of 3.8 lbs. Besides, the extra belt attached to the vest helps set it up quickly.
One thing that I really loved about this vest is that you don't need shoulder padding even when it is fully loaded with weights. It is super comfortable in any case.
Pros
Easy to assemble
Excels in upper bodyweight training
Sandbags won't break easily
Requires minimal care: Use it in the rain and throw it on the garage floor afterward – until you need it again
Cons
The weights are hard to pull out once they are in.
Stitching could have been improved
All in all, if you don't bother much about changing the weights quite often, this best weighted vest may be a perfect investment for you. It shows some wicked results without drastically altering your workout routine.
Give your workout an extra push with the ZELUS. This weighted vest is available in two different sizes 20 lbs and a smaller 12 lb version. Made of premium quality chloroprene rubber, it stays breathable, rigid, elastic, and soft even under the harshest of the conditions and extreme exercises. It is stuffed with Iron sandbags that are entirely chemical-free and safe. The elastic edges provide superior flexibility during the workouts while accommodating users of every size and shape. It also has reflective stripes on its surface safeguarding against any injury at night. What's more, the integrated pockets located in the back and front allow you to store any belongings like car keys, smartphone, earbuds, etc. To get the most out of this vest, don't wash it with a machine, the manufacturer recommends hand wash.
Pros:
Thick and broad shoulders distribute all weight evenly avoiding any injury during the workout
comfortable
Very versatile – fits everyone
Low price
Cons
The material is hard on the skin. Therefore, use a top underneath it to avoid any scrapes.
Not very durable, the stitching on straps could have been better
Pro tip: Wear this vest upside down for a super fit snug. That way, it won't flip around and hold nicely on your body.
Kick your fat burn regimen into the fourth gear with Cap barbell's adjustable weighted vest. This adjustable conditioning vest weighs 20 lbs approximately. Each steel shot packet weighs 0.75 lbs. It is made with a breathable mesh that has adjustable clips to achieve a tighter fit for your body type. Another exciting design feature is the addition of reflective safety strips to keep the wearer out of harm's way after dark. The vest comes with an additional pocket in the front for smartphones or headphones. The sandbags hold well in the pockets. However, initially, the weights take some effort to put in. After that, the bags help the vest stick well enough to the body so that it won't bounce during some extensive exercises.
Pros:
Fits both men and women
Easy to assemble
Neoprene padding for comfort
Cons
The vest style is rather bland when compared with other vests in this list
The front velcro strap is rather small for anyone with above 36 inches waistline.
The Sandbags take some effort to fit into the pouches
From aerobics to general sports, this best weighted vest will definitely be a great addition to your workout inventory.
This camouflage themed heavy-duty training vest comes in four different sizes, ranging from 20 lb up to 80lb. With such a weight range, It is definitely geared towards hardcore workout enthusiasts. It wraps around your waist nicely for a tighter snug fit. Once fit, it won't bounce as you do some running exercise. The vest is rather heavy and very durable. It comes with 10 sandbags – weighing 4 lbs each – so you can easily adjust the weight to change the workload. Also, it's very comfortable and easy to put on or off.
Pros:
Great for a cardio workout
Removable weights
No sharp corners
Fits well for all body shapes and sizes
Extra pouch for phones, a water bottle holder, and headphones
Cons:
A little extra padding on the shoulders would have been nicer
This vest is a must buy for those who want to bring some strength training into their schedule. I wouldn't recommend it for running because the vest is rather heavy. However, athletes and marathon runners should have no issues running with it. All in all, it is an excellent value for the money.
9 – miR Air Flow Weighted Vest
The miR Air Flow vest uses a hybrid material and airflow fabric design to keep your body fresh during extensive workouts. It is available in five different sizes ranging from 20 lbs to 60lbs. So you can start with 20lbs and gradually increase the weights to improve your stamina and overall endurance. You can move the weights around to suit your body type. You also have the option to load it up with as much or as little weight as you want in the 2.5 lb increment s. Moreover, the weights are solid iron that is definitely meant to last a lifetime.
Pros
Even the full-length vest fits nicely for people with a petite figure.
Machine washable, easy to clean
Airy, breathable design allows ventilation, so you don't feel exhausted for a more extended period.
Comfortable material
Weight pockets are located outside and have closure flaps
Lifetime warranty
Cons
A little expensive
No shoulder pads
The straps secure on its sides, so you may need some help putting it on and off initially. However, once you figure this out, you won't have any issues putting it on afterward. Just put the straps through both front loops and fasten it on the sides.
All in all, this well made, machine-washable, sturdy and balanced training aid is an excellent option for those who want to work up their endurance gradually.
10 – Henkelion Running Weight Vest
This premium quality vest is comfortable, stylish, and light (just 12 lb). Still, it is heavy enough to provide a challenge for your body. Its ergonomic design distributes weight equally throughout the body so that each muscle gets its fair share of pressure. The adjustable straps located at the waist help prevent sliding and slipping during the heavy workout session. Filled with premium iron rocks and pellets instead of river sand weights, the vest provides enough weight to challenge your muscles.
Moreover, the light reflectors on the vest are a great feature for night time usage without having to worry about any accidents.
Pros
Fits well even for small size people
Low cost
Suitable for everyone (men, women, children and special needs people)
High-quality material
Best for core strength
Cons
May be too tight for large people
If proper care isn't taken while strapping it on and off, the plastic straps give out rather quickly
Whether you are a professional athlete, a novice, or just a home workout enthusiast, this best weighted vest can help you with stepping up your exercise routine.
All said and done, this list of a best weighted vest is by no means exhaustive. There are tons of options available in the market today. We chose the top 10 based on user reviews, useful features, value for money, prices, and durability. Before settling on any one option, always consider what you will use it for. For example, if you want to train harder, opt for a heavier vest. However, a light vest is best for long walks, running, polymeric drills, and light bodyweight exercises. These vests are a great way to add some extra resistance to your exercise routine. Doing so will result in faster calorie burn, increased energy consumption, intense workouts, build up your muscles, and even help with bone density and strength. So what are you waiting for? Go get one.