4 Reasons Why You're Not Getting Results From Your Strength Workout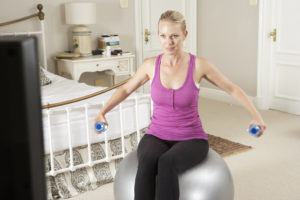 You've been lifting weights for months. In fact, you're a regular at the gym. But despite your efforts, you've yet to see a bicep ripple or even a hint of a six-pack. Frustrating, isn't it? Some people genetically have difficulty building lean body mass, but most commonly, lack of progress comes down to ineffective training and diet. Here are some of the reasons you're not building muscle definition.
You're Lifting for Endurance rather Than Strength
To gain lean body mass and definition, you need to lift a weight that's heavy enough to fatigue your muscles after eight to twelve reps. If you're lifting heavy enough, it should be a struggle to complete the last rep in a set. If you're using weights you can easily lift more than 12 times, you're training for muscle endurance rather than strength and definition.
Muscles grow on the basis of progressive overload, when you force them to deal with greater loads over time. Once you can lift the weight you're using eight to twelve times, and you're not struggling to do the last repetition, it's time to increase the weight. Good form is important too. Don't just go through the motions. If you're swinging or jerking the weight, you're using too much momentum, which makes the exercise less effective.
You're Not Getting Enough Calories or Protein
Some people become so obsessed with losing body fat that they don't take in enough calories to support muscle growth. Use an online calculator to find out how many calories you need a day based on your activity level, and make sure you're getting that amount from whole foods, not junk foods.
Protein can be an issue too. Sedentary people need about 0.8 grams of protein per kilogram of body weight, but if you're lifting hard, you may need as much as 1.2 to 1.5 grams of protein per kilogram of body weight. Protein is often a problem for people who restrict calories. If you don't give your muscles the building blocks they need to grow, you won't get definition. Exercise is only one part of the muscle-building equation. If you're not seeing results, take a closer look at how you're eating.
You're Doing Too Much Cardio
If you're doing an hour or more of cardio and spending 15 minutes lifting weights, don't expect to see muscle definition. Doing that much cardio, especially if you're not getting enough calories, sends your body into a catabolic state that makes it almost impossible to build lean body mass. When you do long periods of cardio without getting enough calories and carbs, it leads to muscle breakdown as your body looks for alternative sources of glucose to fuel your workout. Your liver supplies through a process called gluconeogenesis, but it uses amino acids that come from the breakdown of muscle tissue. Too much cardio and inadequate nutrition cannibalizes muscle tissue – and that's not a good thing if you want more definition.
You're Overtraining
Muscles not only need to be stimulated, they need time to recover too. More isn't always better when it comes to strength workouts. If you're working the same muscles without giving them at least 48 hours to recover, you won't get the definition you're looking for because you're not giving them the time they need to repair before breaking down muscle fibers again. If you're lifting hard, you'll get results by working each muscle group only once or twice a week. At the very least, give each muscle group a two day rest before challenging it again.
Other Tips
Make sure you're getting at least 7 hours of sleep a night. This is time for your body's time to repair, and that's when you release much of your growth hormone. Don't skimp on sleep.
The Bottom Line?
Most failure to see muscle definition stems from improper training and inadequate nutrition. Keep these factors in mind if you're not getting results.
References:
Exercise Physiology. Fifth Edition. McArdle, Katch and Katch. 2001.