5 Cardio Exercises That Are Better Than Running
How To Get Your Heart Rate Up Without Running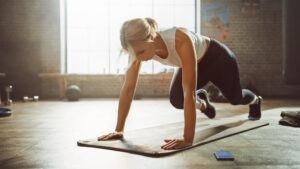 Running boosts your heart rate and improves cardiovascular health and endurance. However, the repetitive motion of running and the impact as your feet strike the ground can lead to overuse injuries. If you like running, do it in moderation. Plus, your body likes variety. Varying the type of movements you do to boost your heart can help you get into even better shape without the repetitive impact of running on your joints.
If you're ready to add a little variety to your workouts, here are some cardio exercises that are better than running. Why better? Most of these exercises work your upper and lower body, so you have more than one muscle group working at the same time. That increases the calorie burn and makes your workouts more efficient.
Burpees
Burpees are an exercise that people love to hate, because they're hard but effective. It only takes a few burpees to get your heart racing, and that means cardiovascular benefits. Start by doing only 5 and gradually work up to doing 10 burpees in a row.
If you need a refresher, here's how to do a classic burpee:
• Stand with your feet hip-width apart and your arms loosely at your sides.
• Lower your buttocks toward the floor into a squat.
• Place your hands on the floor about shoulder-width apart.
• Jump your legs back behind you, while keeping them as straight as possible.
• Quickly jump your feet back to the starting position and stand back up.
• Keep repeating.
To make burpees harder, add a jump when you stand back up. The extra jump will boost your heart rate even more and increase the calorie burn.
Mountain Climbers
Mountain climbers are another heart-rate boosting exercise that increases stamina and boosts heart health. Plus, when you do mountain climbers, you work your lower body, core, and even your arms get in on the action since they support you while you do the exercise. Therefore, mountain climbers are a total body workout.
Need guidance on how to do one?
• Get into a push-up position with your hands on the floor and your legs stretched out behind you.
• Bring your right leg toward your chest and quickly return it to the starting position.
• As you bring the right leg back to the starting position, quickly bring your left leg toward your chest.
• Keep alternating bringing the leg you bring toward your chest as you switch your legs back and forth as if climbing a mountain.
Squat Jumps
The squat jump is a plyometric exercise, one that builds power and vertical jump height. It also boosts your heart rate enough to offer cardiovascular benefits.
Here's a refresher on how to do one:
• Stand with your feet hip-width apart and your arms loosely by your sides.
• Lower your buttocks toward the floor into a squat and quickly jump into the air as you swing your arms toward the ceiling.
• Land lightly on your feet and repeat.
• Keep repeating.
Jumping Jacks
This exercise needs no introduction, since it's an old-school exercise that gives your upper and lower body a workout. You likely already know how to do one, but you can make the movement easier or harder by slowing or speeding up the pace you do each jack.
What you might not know is jumping jacks do more than boost your heart rate. They also work the muscles in your core, the ones that help stabilize you and reduce your risk of back pain and injury. To get the most benefit from each jack, keep your body straight and don't let your core sag. Also, don't round your back or lock your knees when you do the exercise. Start slow and master the form before picking up the speed of your jacks.
Kick Boxing
One of the reasons people run is to improve heart health and aerobic capacity, a measure of aerobic fitness. However, research shows kickboxing does the same thing. In fact, a study found that 5 weeks of kickboxing improved aerobic capacity and aerobic power. The participants trained 3 days per week for an hour a day. Other perks include an increase in flexibility, speed, and agility. So, switch some of the time you spend running for kickboxing. It's a workout that benefits your upper and lower body.
Build a Routine with These Exercises
How can you put these exercises to work to build cardiovascular fitness? You can either do each exercise for a certain number of seconds, for instance, 30 to 60 seconds, rest for 30 seconds and then proceed to the next, or you can do these exercises between strength-training exercises to keep your heart rate up.
The Bottom Line
Don't get into a running rut and assume the only way you can get a cardio workout is to run. These five exercises have added benefits you won't get from running and they work more muscle groups. So, skip the run and try these exercises instead.
References:
Muscles Ligaments Tendons J. 2014 Apr-Jun; 4(2): 106-113. Published online 2014 Jul 14.
HealthLine.com. "What Are the Benefits of Aerobic Exercise?"