Are Resistance Bands a Good Alternative to Weights?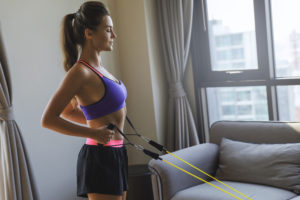 Resistance bands might look too lightweight to offer lots of benefits, but don't let the looks deceive you. Research shows you can increase strength and muscle size with resistance bands alone. In fact, resistance bands have benefits that dumbbells and barbells lack.
When you use barbells and dumbbells, part of the resistance comes from gravity. So, the force your muscles work against varies over the course of the movement. At the top of the movement, the force becomes negligible. This isn't the case with resistance bands. Because resistance bands are made of a stretchy material, they generate tension throughout the entire movement. The further you stretch the bands, the more the force increases. So, your muscles work hard throughout the entirety of an exercise.
Are Resistance Bands as Effective for Building Muscle as Weights?
Because of the resistance elastic bands offer, you can build strength and hypertrophy, or enlarge the size, of a muscle by training with them. But, are they as effective as working with weights? Studies confirm that you can build strength and size as effectively with resistance bands as with dumbbells or barbells for most exercises. One study found muscle activation was a bit lower for certain exercises, particularly squats and stiff-legged deadlifts.
One downside of weights is it's easy to cheat by using momentum during an exercise. For example, at the bottom of a movement, you "toss" the weight a bit to make it easier to lift back up. Using momentum makes the exercise easier and reduces the potential benefits you get. You can't cheat with resistance bands. The elastic nature of the bands means you must maintain muscle tension throughout the movement. Since muscle tension is a factor in muscle growth, resistance bands are quite effective for building muscle size.
In addition, resistance bands are joint friendly. Because they're not gravity dependent, movements using resistance bands subject the joints to less compression over time. Joint compression is what damages the cartilage in joints and leads to joint degeneration and arthritis. For some people, resistance bands may be a safer option.
Types of Resistance Bands
Resistance bands come in a variety of styles and resistances. To make life easier, they're color-coded based on their tension. You can choose from bands with light, medium, heavy, or very heavy resistance. It makes sense to choose several bands of varying resistance since you'll need heavier resistance for your upper body than your lower body. Many people start with a light, medium, and heavy band. You can also find various styles of bands, including circular bands and double bands, and purchase interchangeable handles. In the beginning, stick to single, long bands with basic handles at the end since they're easier to manage. No need to complicate things when you first start out. Keep it simple.
How to Use Resistance Bands to Gain Muscle
You can adapt many exercises you do with weights to resistance bands. For some exercises, like biceps curls, you stand on the bands to anchor them to the floor and provide the resistance needed to curl in the traditional manner You can do a variety of other exercises while standing on the bands, including bent-over rows, upright rows, and squats.
For other resistance training movements, you'll need to attach the resistance bands to something. For movements like chest presses and lateral pulldowns, secure the bands to a sturdy pole or anchor overhead. Also available are accessories that help you anchor the bands securely. You'll quickly find that most of the exercises you do with weights can be adapted to resistance bands.
How to Use Resistance Bands to Gain Flexibility
The best way to gain flexibility is to elongate your muscles after a workout by stretching. Resistance bands can help you stretch more effectively too. A good basic stretch for the upper back that feels delightful after a workout is to:
• Sit on a mat with your back straight and legs extended out in front of you.
• Place the resistance band against the bottom of your feet.
• Cross the band and grab each side close to your feet
• Slowly curl your back toward the wall as you pull back on the bands. Feel the stretch.
• Hold for 10 to 15 seconds.
Now, stretch your chest:
• Sit on a mat with your legs crossed.
• Hold the resistance band in front of your chest and grab the band with each hand so that your hands are a few inches apart.
• Slowly move your arms apart while holding each end of the band.
• Feel the resistance that the band provides and the stretch in your chest.
You can do other post-workout stretches using resistance bands. For example, place the resistance band around your foot while holding the other end in each hand. Then, pull your leg toward the ceiling to stretch your hamstrings. Switch legs and repeat.
This only touches the surface of the many stretches you can do with resistance bands.
Are Resistance Bands Safe?
Resistance bands are safe if you use them correctly. The biggest risk would be releasing a band while it's stretched. The danger is the band will snack back and hit you or someone else and cause an injury. For safety, check your resistance bands each time before using them. Make sure they don't look damaged or overstretched. Replace them every 4 to 6 months, especially if you use them frequently. Some people even wear eye protection when they work with them. Also, be slow and methodical with your movements. Don't jerk the bands and avoid overstretching it. The general rule is you shouldn't stretch a resistance band beyond 2.5 times its length.
Conclusion
Resistance bands are lightweight, portable, and easy to work with. You can do a variation of every strength-training exercise using resistance bands. They're as effective at building muscle as dumbbells and barbells but the way you work with them is easier on the joints. With advantages like that it's hard to imagine why you wouldn't want to work with them!
References:
European Journal of Sport Science Volume 17, 2017 – Issue 8.