Are Yams Low Glycemic? 8 Yams For Diabetics
8 Healthy Yams For Diabetics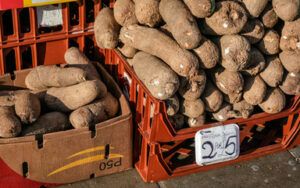 Many persons serve white rice or white potatoes as the main starch in their dinners since they're easy to prepare and cheap. If you're one of those persons then your diabetes diagnosis may have left your scratching your head when it's time to serve your meat.
What could you possibly pair your baked chicken or steamed fish with if you can't eat rice or mashed potatoes? Forget pasta since that's a no-go and bread isn't really suitable. Should you just eat it alone? Well, that won't be too filling. How about substituting them for yams? Yams can be a good option but first you have to know how quickly the raise your blood sugar aka as the glycemic index.
You want a yam that raises you blood sugar slowly.
What is the Glycemic Index?

As you may already know, the foods you eat after being diagnosed with diabetes have a huge impact on your quality of life. This is because certain foods release sugars into the blood faster than others and can sometimes cause a spike in blood glucose. A sudden spike can cause a number of things to happen. This includes things like:
If untreated, there could be irreversible organ and nerve damage, or worse, death.
Scientists had to figure out which foods cause blood sugar spikes and which released sugar into the body gradually, so they develop what is called the Glycemic Index . As a diabetic, this is something you have to be familiar so you can put together meals wisely and enjoy an incident-free life.
The Glycemic Index is a ranking system of foods relative to each other in terms of carbohydrate content and how quickly they are absorbed and metabolized. It is based on a scale of 0 to 100 and is placed in 3 broad categories:
Low Glycemic – 0 to 55
Moderate Glycemic – 56 to 69
High Glycemic – 70 and over
Not all foods are given a glycemic index simply because they aren't carbohydrates. For example, herbs and spices, meats such as beef, chicken, fish, and dairy such as eggs.
The Glycemic Index for a specific carb is determined by certain factors . This includes:
•
The type of sugar- Maltose has a higher Glycemic Index than fructose
•
The structure of the starch- Certain starches are easier to digest than others. Foods with higher amylose content will have a lower Glycemic Index since it is harder to digest than amylopectin that is easily digested.
•
The amount of dietary fiber present- Fiber slows down the absorption of sugar in the  body and is less likely to cause blood sugar spikes
•
The refinement of the carbohydrate- The more processed a food is, the higher the Glycemic Index since certain processing methods disturb amylose and amylopectin molecules.
•
The nutrient composition- Fats and acids lower the Glycemic Index of foods we eat by reducing the rate at which they are digested and absorbed.
•
The cooking method- The duration food is cooked increases the digestion and absorption rate of sugars.
• The ripeness- As a fruit ripens, the carbohydrates turn into sugars . A green banana lower Glycemic Index than a ripe,yellow banana.
Why Yams Should Be In Your Diet
Yams have been used throughout human history as a primary food crop and have even been used to address certain illnessessuch as hypertension, chronic diarrhea, cancer, asthma, and as you've probably gathered by now, diabetes.
Several studies have been conducted on yams to determine the correlation between yams and lowered blood glucose and the general consensus is that it has the ability to improve glucose metabolism in the body and decrease insulin resistance.
Yams are generally low glycemic and can easily be incorporated into meals. They can be boiled in water, roasted, baked, grilled, and served as is, mashed, diced or sliced. Yams may also be ground into a flour and turned into pancakes, caked and other desserts.
Sweet Potatoes Aren't Yams
Maybe you've been eating sweet potatoes this entire time thinking they were yams. Maybe you've never even had a yam.
This is a common misconception and it's not your fault. They look quite similar, but they are quite different.
Yams are native to Asia and Africa. The Yams we get today are generally from the Caribbean and Africa while sweet potatoes are generally from North Carolina . Yams have a rough, tree-trunk like texture, unlike sweet potatoes which are smooth to touch.
Yams are light to dark brown in color and its insides are usually white, yellow, pink or purple. These grow in a variety of sizes and can be a few feet in length and can weigh as much as a skinny teenager. Sweet potatoes are reddish-brownish, sometimes purple and can have a light to bright orange flesh, cream flesh or purplish flesh.
Yams are bitter to taste and are starchy or dry. Sweet potatoes are actually sweet and have more sugar than yams.
Yams have more fiber, carbs, potassium, and manganese than sweet potatoes which make them great for bone health, reducing bad cholesterol and have the potential for reducing symptoms of menopause.
Sweet potatoes, on the other hand, are richer in Vitamin A, certain antioxidants, and B Vitamins which are vital to creating DNA, lower the risk of heart disease and cancer and improve the regulation of blood sugar.
Both Yams and Sweet Potatoes are nutritious and should be considered for diabetics, however, for this article, we will be focused on yams.
8 Low Glycemic Yams to Try Today
Dioscorea japonica, sometimes called East Asian Mountain Yam, Yamaimo or Japanese Mountain Yam is native to East Asian countries like Japan, China, Korea, Taiwan and Assam (India).
This is a slippery yam that can be eaten raw or cooked since it slides down the throat and is digested easily. Japanese Mountain Yam is typically used in soups or grated over noodles and is sometimes sold by itself as a ready-to-eat item at convenience stores. It may also be thinly sliced and added to salads to make it more filling.
Japanese Mountain Yam is also said to have anti-cancer properties and is good for intestinal health.
Okinawan yams, sometimes called purple potatoes or Okinawan sweet potatoes, have a vibrant purple flesh which makes them an attractive addition to any dish. These yams are rich in Vitamins A, C, and B6, along with other nutrients such as manganese, magnesium, calcium, and iron.
These yams are native to Eastern Asia as well, in countries such as China and Japan but soon made their way to Hawaii where it is now a staple crop. It can be cooked with or without its skin and its consumption is especially encouraged for persons with diabetes, hypertension, and anemia.
3.
White and Yellow Guinea Yams
Dioscorea cayenensis (yellow)/rotundata (white)
, or guinea yam as it is more commonly referred to, is native to Africa and is also a staple crop. These are one of the most common yams grown in the world and can be found in other regions such as the Caribbean, South and Central America and India.
These are sometimes considered "true yams" and can be used as an alternative to rice in all meals. White yams are generally softer and can be crushed like potatoes while yellow yams are firmer and can be sliced and diced and served as a side.
While they are called air potatoes, they are actually one of few true yams found in the US, especially in Florida, and are considered a invasive species and garden pest as they contain toxins. It is largely used for pharmaceutical purposes .
In other parts of the world like Asia and Australia, air potatoes are cultivated for human consumption. They can grow up to 8 inches in a day and grow both below and above the surface.
Air potatoes are slimy which makes them great binders for pancakes and waffles, and works great in broth and stews.
As the name suggests, Tropical yams (Dioscorea trifida) are grown in the tropics and are cultivated and eaten widely in Latin America, Africa, Asia, and the Caribbean. This yam sometimes goes by different names such as true yam, Indian yam, yampi and kush-kush (cush-cush).
Tropical yams have bark-like skins and dry, firm, white flesh. They have a mild taste so they are usually placed in dishes with lots of spices and big flavors to balance out the meal.
Filipino Purple Yam , or Ube , is another purple flesh variety of yam that adds vibrant color to any meal, especially deserts. It is sometimes confused with another yam variety that grows in Asia called Onikawa that also has purple flesh. This yam may also have a cream or white flesh, but the purple variety is bigger in the United States.
Many persons use the powdered form of this yam to give cakes a natural lavender hue or to make purple ice cream, puddings and paste since it has a slightly sweet, nutty taste. The yam can also be paired with meat or added to salads.
Chinese yam is sometimes called cinnamon vine because of its cinnamon-scented flowers. It has a long, tube shape and has a bright white flesh. This yam is grown in colder, elevated regions, which makes it unique since yams tend to prefer warmth. Though native to Asia, it is cultivated in Northern America as well.
This type of yam has a mild flavor and can easily be incorporated into flavorful meals. It can be crushed, diced and thinly sliced as preferred but that isn't its only use.
Chinese yams are prized because of their medicinal value. They are used in Traditional Chinese Medicine to target stomach and spleen ailments and may also be used topically for skin disorders and to treat stings and bites. It is also rumoured that menopausal women may also find this yam useful as it contains phytoestrogens which may alleviate symptoms of menopausebut this has yet to be confirmed.
Last on our list is Lesser Yam   or Dioscorea esculenta. It is especially popular in Vietnam and India, along with other Southeastern Asian countries such as Myanmar, Nepal, Bangladesh, Thailand, and Indonesia.
Lesser yam is a sweet yam with a pale yellow or white flesh and hairy brown skin. It is enjoyed similar to white or sweet potatoes and can be boiled and mashed or sliced, baked whole and seasoned, roasted or turned into desserts.
Glycemic Index of Yams Compared
•
Filipino Purple Yams- 24
•
White and Yellow Guinea Yams- 66
Final Thoughts
Yams of different varieties are used all over the world in different cultures as food and for medicine. Diabetes should seriously consider replacing certain high glycemic starches with yams which are low glycemic to help manage their diabetes.
There are many yams to choose from and the one you choose ultimately depends on the availability and what you plan to make. When you eat yams, you can rest assured that these delicious, nutritious tubers will not cause blood sugar spikes and you will have less diabetic episodes.