How Do Fit People Stay Fit ?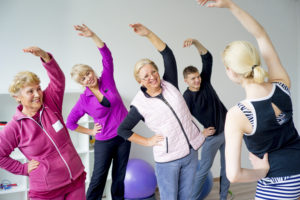 5 Things Fit People Do That You Don't
Ever looked at someone with a better body than you or someone who has outperformed everyone else on a task where fitness was key and wondered how they did it? What about someone who has their numbers in check. What numbers do I mean? Blood pressure, blood sugar, cholesterol, weight and waste line.  A byproduct of being fit is preventing high blood pressure, diabetes, hyperlipidemia and obesity. Getting fit will prevent you from getting sick.
Heart disease kill more women than cancer. You can prevent heart disease and some cancers by exercising.
If you want to prevent the above diseases then do what fit people . Get active. Here a few thing things that you can add to you daily routine to keep you healthy.
1. Girl I Got A Secret
Fit people don't browse online looking for game-changing supplements and miracle gadgets. Manufacturers of these products don't make their money from fit people; they make it from naive people searching for the magic bullet. Fit people know there's no secret to getting a strong, lean body. They focus on the basic things that work, and they do these things repeatedly to achieve the fitness and physique goals they want.
2. What floats Your Boat
Dumbbells, cycle and group fitness classes, these few of the activities you can do at home or the gym to stay fit. A fit person doesn't just train with the vague goal of weight loss. And they certainly don't sign up to any and every fitness class at their local gym. No one wants to do the same boring activities day in and day out. Working out can be fun.
Fit people figure out what floats their boat and they dedicate themselves to this area. Maybe they did start running simply with the intention of losing weight…but when they learned they liked it, they started setting concrete goals, aiming to run specific distances in specific times. Fit people have genuine long-term reasons or passions that keep them eating correctly and training correctly.
3. Performance Enhancement
The people you admire the most eat for the physical exploits they undertake. Their physiques are byproducts of this training routine. The fittest people you know are focused on taking in enough calories. Calorie restriction is counterproductive to their training goals.
4. Performance Improvement
A fit person doesn't care how much they sweat or if they're making strange faces. They don't worry about if a workout was 'too short' or 'too long' because somebody else said so. They set workout goals (surprisingly small ones, more often than not) and they do what they need to do on the day to achieve them.
5. Cheers to the Freakin Weekend
Remember how they know there's no magic bullet? The same logic applies here. How can you expect to get the results you want when you lead a double life? When you eat as healthily as possible and train as often as you can Monday-Friday, but then throw it all out of the window as soon as the weekend arrives. Fit people don't do this. They don't need to, because they weren't eating too strictly or pushing themselves too hard in the gym in the first place. The sun still rises and then sets on a Saturday and a Sunday just as it did in the week. Fit people are indiscriminate with their days; days are blocks of time, and fit people use them wisely.
As with all forms of success, the key to success with your fitness is identifying the right things you need to be doing and having the discipline and determination to do them each day. Go forth and get fitter.