How to Find a Virtual Doctor? Try These 4 Ways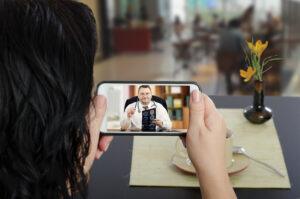 How to Find a Virtual Physician
Telemedicine is defined by the Oxford English Dictionary as "the remote diagnosis and treatment of patients by means of telecommunication technology." Wherever a patient (or a healthcare professional taking care of that patient) is communicating with a healthcare professional, who is not at the same physical location, to find out what is wrong and to get treatment, this is telemedicine.
Telemedicine goes by many name such as virtual MD, On Line Doctor and others. Regardless of the search term use to find a doctor on line, you should do your research.
How do you find a good physician virtual doctor? This can be much the same as the process of finding any physician, but because you are not meeting in person, some of the questions to ask are a bit different.
Two Kinds of Telemedicine
There are two general kinds of telemedicine. The first refers to remote communication with your regular physician. This communication could take place via telephone, video call, text message, or any other form of telecommunication. This kind of telemedicine has been around ever since telephones—or maybe since there was snail mail—and is simply an extension of the relationship you already have with your doctor.
The second kind is an online-only telehealth companies, and refers to a kind of web-based telemedicine where you communicate with a doctor, physician assistant, or nurse practitioner by video, text messaging, email, or through an app. Consider them hosting platforms or virtual environment for your visit with the doctor.
4 Ways to Find an  Online Doctor
Ask For Referrals
With the convenience of online search engines, we sometimes forget the importance of word of mouth and personal recommendations. But asking friends and acquaintances is still a good place to begin. Find out what they use and why, what they like and what they don't. This will give you a good foundation for when you begin looking at the services that are available.
Check Your Insurance Benefits Plan

Unless you are in the small percentage of the population that can afford healthcare out-of-pocket, insurance coverage is an important consideration. In fact, an increasing number of insurance providers are contracting with telemedicine providers for preventative and primary care services for their clients. One plus of using telemedicine that is provided through your insurance is that the insurer is likely to have vetted the provider to ensure legitimacy and value. And of course, when you go through your insurer's contracted service, you have a better assurance that the services will be covered by insurance.
 Ask Your Provider
Either directly through your insurance or through your local health system's network, you may find that you already have an account with a telehealth provider. Call your provider's office or check their website to find out if they offer remote or video visits. If this is the case, you can still use the suggestions below to help you determine when to use telehealth and when to go to a physical location.
Check Reviews
But as you do, don't get caught up in whether they are five-star reviews. While the overall rating does matter, you also want to read the reviews to find out why the reviewer liked or didn't like the service. Read between the lines to see if this is the type of service you are looking for. For example, you may find a review with only one or two stars, but if you read the review you may discover that the reviewer is upset because they got a referral for specialized care. However, you want to get referrals when you need them, so that review should make you think more, not less, of that provider.
Consider the things that are important to you, such as hours of availability, whether they have access to the rest of your health records, if you prefer video, phone call, or text messaging, and so forth. Read the reviews with these things in mind.
Don't Replace Your Regular Doctor
Unless your virtual doctor is your primary doctor, don't ditch you primary doctor.
Telehealth is best for minor issues, such as urinary tract infections or viruses. Mental health services can often be quite effective via telehealth. And in rural areas, telehealth can be the only accessible means of "visiting" a physician.
However, telehealth should not replace actual physical visits to your physician. Many parts of an exam cannot be done by video, including lungs, heart sounds and abdominal exams. Even looking at a sore throat by video can be nearly impossible.
In an emergency, don't use telehealth—call emergency services or go to an emergency department. If you have signs of a stroke or heart attack, call 9-1-1 or your local equivalent and get immediate help. If you have an injury such as a fall, car accident or any kind of trauma then a visit to the emergency room is necessary.
As a general rule of thumb, most things that would be seen in an urgent care can be taken care of by telehealth, except for injuries that need to be cleaned and stitched, or other things that need hands-on care.