Pull vs. Push Workout: Why It's an Effective Way to Strength Train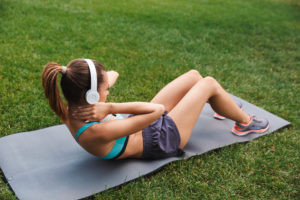 When you train for strength or hypertrophy gains, the workout you do should be balanced. Maintaining balanced strength and muscle development means working each muscle along with its opposing muscles to ensure symmetrical strength development. That's important since strength imbalances increase the risk of injury.
The movements that muscle perform fall into two main classes: pushing and pulling. For example, when you do a bench press, a classic pushing movement, the muscles in your chest contract as you push the weight above your chest. Pushing movements, like the bench press, also work the triceps and deltoids in the upper body. So, the triceps and deltoids are pushing muscles. Other examples of pushing movements for the upper body include push-ups and shoulder presses. These exercises target the triceps and deltoids respectively. In the lower body, a classic pushing exercise is leg extensions and squats, exercises that primarily work the quadriceps. Other push muscle muscles in the lower body are the glutes and calves.
Muscles That Pull
With a pull movement, the muscles you're targeting contract as you pull the weight toward your body. These movements work the opposing muscle groups to the ones targeted during push exercises. An example of an upper body pulling exercise is biceps curls. When you curl the weight up toward your shoulders, you pull the weight in the direction of your body, and your biceps do the pulling. So, the biceps are classic pull muscles. Other pull muscles include the muscles in the upper back (trapezius & latissimus dorsi), the hamstrings, and the abdominals.
Push-pull training helps ensure you're getting balanced training since you're working the opposing muscle groups separately and focusing on muscles that perform a particular function during each training session. The goal is to do specific exercises that target the "pushers" or "pullers" in a balanced manner. Balanced training is important for making functional strength gains. For example, the shoulder press works the deltoids, classic pushing muscles, but the opposing muscles in the upper back also need strengthening for symmetry, balance, and functionality. Strength imbalances are a common cause of injury and contribute to chronic back and neck pain. By working the opposing, pulling muscles, both sets of muscles get the attention they need. How do you balance out a deltoid-centric exercise like the shoulder press? Try chin-ups. Pulling your chin above a bar is a movement that works the opposing muscles in the upper back.
In reality, most people focus too much on strengthening the pushing muscles and too little on working the muscles that pull. Doing enough pulling exercises is particularly important if you sit in a chair most of the day. If you're stuck in a chair most of the day, you probably sit hunched over in a way that tightens the muscles in your chest and lengthens the muscles in your upper back. Talk about an imbalance! The best way to correct that imbalance is to add pulling exercises to your routine to strengthen the upper back muscles that counter tight chest muscles.
How to Do a Push-Pull Workout
The idea behind a push-pull workout is to train the pushing muscles during one session and the pulling muscles during a separate session on a different day. That way each type of muscle gets the focused attention it needs. Doing it in this manner maximizes workout efficiency and hits the muscles you're working hard for greater strength and hypertrophy gains. So, one training session would be devoted to pushing exercises and the next to pulling. Depending upon how many days you train, you could work both upper and lower body pushing muscles during the same session or split the upper and lower body into separate sessions.
Some people do a push or pull workout for their upper body during two separate sessions but work their entire lower body on a separate day. For example, they might do upper body pushing exercises during session one. Session two would be lower body training, and session three would consist of upper body pulling exercises. Since you need a day of rest between each session, that means you train three days per week.
If you can work out four days per week, you can train upper and lower body via separate push and pull sessions. Do an upper body push workout on day one, and a lower body pull session on day two. Take a day of rest. Then, do an upper body pull workout on day four and a lower body push session on day five.
You can structure a push-pull workout however you'd like. The only stipulation is that you focus exclusively on pushing or pulling during that session. Of course, you need to know which exercises focus on pushing and which are pulling movements.
Pushing Exercises
Pushing exercises for the upper body include bench press, push-ups, chest presses, chest flies, shoulder presses, lateral raises, front raises, triceps kickbacks, skull crushers, and lateral raises. For the lower body, you can choose from squats and their many variations, leg presses, and forward lunges. You can even do a push workout without equipment by doing several push-variations along with deep squats and lunges.
Pulling Exercises
Pulling exercises for the upper body include biceps curls and their variations. There are lots of variations on curls, including preacher curls, concentration curls, dumbbell curls, barbell curls, hammer curls incline curls, and reverse curls. Each is a pulling exercise. Also, rows and their variations, including bent-over rows, upright rows, renegade rows, single-arm rows, and barbell rows. Don't forget about pull-ups! They're the ultimate in challenging pulling exercises. For the lower body, deadlifts, glute bridges, back extensions, and squats and their variations strengthen the muscles that pull efficiently.
Conclusion
Now you have a better idea of the benefits of structuring your workouts around separate push and pull sessions and a greater awareness of which exercises emphasize pulling and which target the pushing muscles. As always, warm up before starting a push or pull workout. Don't forget that you still need to use progressive overload to keep seeing results. Have fun pushing, pulling, and growing!
References:
Int J Sports Phys Ther. 2013 Apr; 8(2): 138-144.
J Electromyogr Kinesiol. 2005 Jun;15(3):282-9.