Off the Wall Workouts You Can Do Anywhere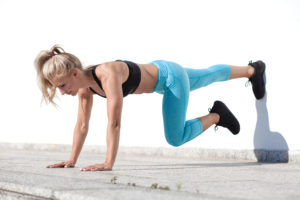 To many people the hardest part of the workout is showing up. Maybe you don't have a gym nearby and lack the time to drive to one. Perhaps you can't afford a gym membership(they can get pretty pricey). If you don't want a gym membership or lack proper workout equipment at your home; you can still get and stay in great shape. The exercises that we will be explaining, do not require anything you don't already have. Just blood, sweat, tears and a wall. If you don't have a wall find a tree, a fence or something. Just make sure its sturdy and then make it happen. Just start out with a few jumping jacks or jog in place to get your blood flowing and we got you from there. These exercises require no equipment, but can be enhanced with the right equipment. Now without further ado, it is time to show you how to exercise from wall to wall, Chris Brown style.
Wall Plank
1. There are several different ways to do planks in general and a couple of those ways involve a wall. The first of these methods that we will be discussing is called the rotational wall plank. In order to do this plank you must first stand in front of the wall with your feet about shoulder length apart. Then lean against the wall on your forearms and make sure your body is straight. Now, rotate to the to the right with your left forearm still up against the wall; remaining in perfect position the entire time. Then come back to the front and switch arms rotating to the left, with your right forearm on the wall. Be sure to keep your core strong during all of this and it will improve exponentially. This form of plank is perfect for beginners, and will help you master more difficult methods in the future.
2. To do the second method of wall planks you will need to get on your hands and knees with the wall behind your feet. Stretch your arms out and then place them slightly in front of your shoulders. After that place your right foot on the wall, followed by your left foot. Then make sure you are completely straight and parallel to the floor. Now depending on your stamina hold that position for about 45 seconds to 1 minute. Finally, after the time is up; slowly decrease one leg onto the ground and then the other. This plank will workout your abs, back and arms; as well as improve your overall flexibility and posture.
Wall Push-Ups
1. There are a few different methods to do wall push-ups. Depending on your level of expertise, some may prove more difficult than others. In order to execute the first method, stand facing the wall at a distance to where you are able to fully extend your arms in front of you. Align your arms with your shoulders and keep your feet slightly apart. Also, keep your head in a straight forward position and bend your elbows to bring your chest as close to the wall as possible without touching it. Push back until you are in your starting position, and then you have done one rep. This exercise will benefit your chest and triceps.
2. The next form of the wall push up is a bit more difficult, but more similar to a standard push-up. Start in a kneeling position, with the wall behind your feet. Slowly place your right foot on to the wall and then your left. After that slowly extend to where you have no bending of the hips or knees. Align your head with your spine and make sure your feet are close together against the wall, but not quite touching. Now, while maintaining a straight body; do a downward phase(like a normal push-up) and then an upward phase. This may be difficult to do at first, but start with lower reps and you will get the hang of it. This exercise works out your arms, chest, shoulders and core.
3. The final form of the wall push up that we will be discussing is the most difficult of all. For this method, you need to get into a handstand position, with the back of your feet against the wall. this alone can be difficult for most. Then you simply pump up and down, while maintaining that position. This method does require a certain amount of balance, but if mastered it will benefit your triceps, shoulders and chest.
Wall Squats
1. For this exercise you need to find a nice and sturdy wall and put your back up against it(who hasn't had their back against the wall at some point). Go down to about a 90 degree angle, so that your knees are out and your back is straight. Squeeze your inner thigh in slightly, and hold this position for about 30 seconds to 1 minute. This exercise works out your gluts, hips, legs and thighs.
2. The second method to do a wall squat, is more of a traditional squat, which makes it a bit more difficult. Face the wall and stand about a foot away, then you need to raise your arms up(put'em up). Make sure that your feet are slightly wider than hip-width and your toes are faced outward. Now, lower your hips down to where they are about parallel to the ground. Try not to allow yourself to move forward while lowering. Make sure that you maintain your back, chest and head positions; and extend your hips and knees by pushing your feet into the floor.  Keep going until you reach your starting position and then you have achieved a rep. If possible, place a ball of some sort behind you. It doesn't need to be a workout ball; it is just to help you reference how far down you are squatting, without breaking position. Once mastered this exercise is great for your abs, butt, hips, legs, calves, shins and thighs.
Abductor Lifts
To do the abductor lift, you must stand with one of your shoulders towards the wall. Let's start with your right. Then extend your arm out and place it against the wall. Now, lift up your right leg, putting all of the weight on your left leg. After that take the right leg and lift it across the front of your body past your left leg. Slowly bring your leg back to the beginning position and there you have a rep. After you have completed your desired reputations on that side, turn to where your left shoulder is beside the wall and repeat the steps. This exercise is primarily to improve abductor strength as well as your core.
Glut Bridges
For this exercise you may want to grab a mat or a soft towel because you will be on your back. Lie with your feet facing the wall and then lift them up and put them flat on the wall. You legs should be at about a 90 degree angle. Now, push your feet against the wall, while simultaneously lifting your pelvis. Keep your head, shoulders and arms on the ground. Hold for 5 to 10 seconds and then decrease. Do this for as many reps as you feel comfortable. If you want to step this exercise up a notch then lift one leg straight into the air while you do your reps. This exercise great for improving your gluts, abs and your hamstrings.
Isometric Single-leg Wall Lean
Starting parallel to a wall lift the hip closes to the wall, to where the knee is bent at a 90 degree angle. Press the foot that is on the floor down and while pushing the bent leg into the wall. Hold this position for about 1 minute at a time. This exercise will work out the pelvis as well as the gluteus medius.
Wall Mountain Climbers
The beauty of this exercise is that it can be as intense as you want it to be simply by adjusting your speed and height. However, it a pretty tiring exercise and you can hurt yourself easily. Now, start in a kneeling position with the wall behind you. Then you want to raise up on your toes and get into an inner thigh lift position with your butt pointed up towards the ceiling. Next you need to extend your legs back one at a time to where you are nearly fully extended straight. You want to be diagonally off the wall. After that you come back down one leg at a time and come back to your original position. Trust me it's more difficult than it sounds. However, this exercise is extremely efficient. It works out the triceps, deltoids, abs, back, quads, hamstrings and gluts. All that from incorporating one exercise that you don't even need to leave your home to do.
Exercising does not have to be a big inconvenience. As long as you set aside the time, you can make it work with the bare minimum. This is a good variety of exercises that should target most areas of your body. So there you have it; a routine you can follow with no equipment. Try not to damage your walls in the process, but I am confident that you will find a way.