What Is A Battle Rope?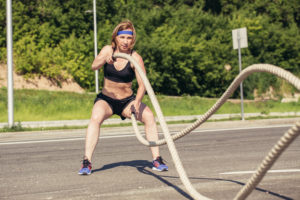 The battle ropes name conjures up a utility rope used as a tool in military missions in rough terrains or guys jumping from helicopters to buildings. But now due to their ability to build endurance, muscle and strength they have become staples.  in most gyms. If you have the space at home, they can also be used n your backyard or living room. You don't need to go to the gym to use one of these.
Battle ropes are thick and heavy ropes used mostly to work the upper body and core by acting as dynamic weights that are anchored to a fixed point. However, since you can squat. lunge and go throught numerous exercises with the aide of your legs, they can also help tone and stregthen your lower body.
Battle ropes are also known as power ropes, battling ropes, training ropes, conditioning ropes, muscle ropes, thick ropes, undulation ropes, combat ropes, and exercise ropes. A battle rope is not a weighted skipping or jump rope.
The battle ropes can be challenging but fun. You will be activating a few muscles at the same time while using the ropes. The workouts can be used for strength training, cardio or functional training.  Although most of the images depicted are with fit people, anyone can use a battle rope. It is not impossible to learn how to use them effectively.
Battle Rope Benefits
Battle ropes offer a full body workout that probably won't find with any other tool. While the initial intention for the lines was working out the upper body, by integrating the ropes in other exercises they help build your strength and endurance for the arms, the back, shoulders, abs, legs, and the entire core.
You can get an effective cardio session by intensifying the movements. The fluid motion of the exercises won't strain your joints. This effect allows you to push harder.
The movements also help with stability coordination.
There are so many battle rope exercises that you can transition in and out of with ease. Try them all until you find a few that you like.
Battle Ropes Buying Guide
When thinking about purchasing battle ropes, the things to focus on are material, thickness, and length. The determinants of which rope you get to buy include the size of the room and whether you will use them outside or inside. You should also consider the purpose of your workout since a cardio oriented, HIIT training will require a different diameter compared to a workout seeking to build muscle.
Material
Just like anything else, you get what you pay for. Plus nothing last for ever. But if you are going to be beating the crap out of the rope few times a weak then you need something strong.  In terms of material, there is manila the natural material used mostly in battle ropes. It is best used outdoors since frequent use leads fraying . They are also heavy and can soak up water if left outside. Synthetic material is great for both outdoor and indoor use, and there are many options from Nylon to Polypropylene and Dacron.
Size
Battle ropes are differentiated by their grip diameter and length as follows. 1.5/2.0/2.5 inches. There are two main size categories; 1.5 and 2.0 diameters. The 1.5″ ropes are great for a solid grip, and they are light enough making them great for cardio and HIIT workouts. If you have small hands its best you purchase a smaller diameter rope. However, if you are strong and well seasoned weight lifter then you can go for the bigger grip.
Length
The length of the rope is primarily determined by the size of the room and also your strength The most popular size is the 50 feet rope then the 40 feet rope and the 30 feet. There are ropes as longs a 60 feet.  The longer the rope the heavier the rope but you will also need more room to play with the rope.
Ideally, most individuals are well served by the 1.5 and 50-feet diameter rope which explains why it is the size combination that is most sold.
Are they Worth The Money? You decide.
Their size and material may intimidate you, but they are actually among the most affordable gym equipment. Investing in them provides a range of uses from the workouts to adding the intensity of bodyweight workouts like squats and push ups.
They can be used anywhere and anytime. All you need is the rope, an anchor point. This make them very convenient. No set up necessary.
The ropes can be used to do a range of exercises working out the whole body. You can also use them for climbing and pulling.
The thickness and length of the rope are what determines how difficult it will be to use them. You can play around this by tying a knot in the middle of the rope and keep increasing it as your ability develops.
The ropes are also portable. You only need to roll them up like a hose, and you can carry them to where you wish from the garden to the park. beach, backyard, garage or living room.
Using the rope effectively involves torso and core stabilization. Grip both ends with each hand like you are giving a strong hand shake and swing them through a range of motions. Here is how to stabilize your core, spine and legs.
How to Use Ropes
Assume this position to workout your legs for a full body workout.
 Hold the ropes at the end like you are giving a strong hand shake
 Squat down ¼ way with heal into the floor. Feet should be shouldered width apart
 Make sure you stabilize your spine, core, and legs
 Make sure you breath
 Move only shoulders and arms
In the above position, you can do these variations. Remain in a squat position
 Rope Slams (Both Arms) –  Raise rope over your head with both hands and lower rope as hard as you can. Repeat
 Rope Slams ( Single Arm) – Raise right arm then slam rope to the floor. Repeat with left arm. Repeat
 Double Arm Waves –Raise both arms at the same time and make up and down medium waves on the floor. Repeat
 Side to Side Slide the rope on the ground from side to side. In a snake-like fashion. Repeat
Impress your doctor at your visit next by telling him that you have started battle rope training. He will probably be clueless but once you tell him what it entails he  will be please. .
You can use battle ropes as a part of your 30 min physical activity required for the day. First practice the position and movement patterns. Then start at 10 seconds and rest for a min between each one. Do as much cycle as you can for 30 mins. You can also do other activities in between. If your are intimidated by barbells and dumbbells then battle ropes can be you weights of choice and will also help with your cardiovascular endurance
Here is a plan for you if you are new to working out and want to try out the battle rope. Start at 10 seconds and increase as you get better. Its best not to start too hard or you will get burned out quickly Once this becomes easy you can do the exercise longer and decrease the amount of time you walk in place. Increase exercise by 10 seconds and decrease walks by 10 seconds.
Beginners Battle Rope Workout Plan
| | |
| --- | --- |
| Exercise | Time |
| Rope Slams- Both Hands | 10 sec |
| Walk in Place | 60 sec |
| Rope Slams- One Hand | 10 sec |
| Walk in Place | 60 sec |
| Double Arm Waves | 10 sec |
| Walk in Place | 60 sec |
| Side to Side | 10 sec |
| Rest | 2mins |
---