What is Macadamia Nut Oil Used for?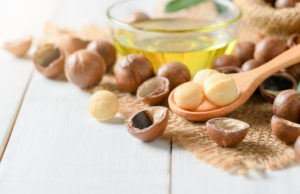 Macadamia nut oil is an oil derived from the macadamia nut. Macadamia nuts, also known as the Queensland nut, formerly come from Australia, but they are currently commercially grown in Hawaii. The nuts are not picked from the tree, but they are known to be fully ripe when they fall on to the ground. It takes the trees about 10 years to fully harvest and produce the macadamia nut. When this happens, a fully developed tree can produce about 65 pounds of nuts per year. In Hawaii, the nuts are harvested all year round, while in Australia they are harvested once a year. With this said, the majority of the macadamia nuts that we consume in oil or otherwise come from Hawaii. They were introduced to Hawaii in the late 1800s by William H. Purvis, who was a sugar plantation manager. He then developed Hawaii's first commercial macadamia nut farm.
What is Macadamia Nut Oil Used for?
Macadamia nut oil has several uses inside and outside of the kitchen. Here are a few reasons to go pick up a bottle today
Cooking
Macadamia nut oil can be used for several styles of cooking such as grilling, roasting, sautéing, deep-frying and stir-frying. It has an excellent smooth buttery flavor and can be a good base for salad dressing or vinaigrette. It has a high smoke point and monounsaturated fat content, which makes it a great alternative for frying. The smoke point of macadamia nut oil is higher than even olive oil. The monounsaturated fat makes it very heat resistant and helps the oil to avoid oxidation.
Baking
You can also use macadamia nut oil as an alternative to butter in baking. It adds excellent flavor that butter just doesn't have and it offers greater health value. The high smoke point will help it to survive the heat involved in baking. It is a fantastic alternative to coconut oil because I am sure you don't want that coconut taste in everything that you bake.
Skin Care
Macadamia nut oil boast excellent benefits to your skincare. The oil contains an essential nutrient known as Selenium that not many foods carry. Selenium is an antioxidant that keeps inflammation low, prevents skin infections, and fights free radicals. Macadamia nut oil also has an extreme amount of fatty acids, including, palmitoleic acid. Palmitoleic acid moisturizes the skin and negates the appearance of dry skin, as well as assisting in repairing damaged skin cells. Macadamia nut oil also contains oleic and linoleic acids. Oleic acid is an anti-inflammatory and is very beneficial to sensitive skin. Linoleic acid keeps the skin hydrated by helping to maintain the skin's barrier. Finally, it is rich in omega-3 and omega-6 fatty acids. Macadamia nut oil has the perfect balance of these two fatty acids, which do wonders for the skin.
Hair Care
Macadamia nut oil contains fatty acids that strengthen your hair follicles. This also smooths the hair and gives it a luxurious shine. The oil has antioxidants that help the hair to maintain during exposure to the environment. It is particularly great for curly hair because it keeps the hair moisturized and locked in with the oil's natural protein.
How is Macadamia Nut Oil Made?
Macadamia nut oil is made through the extraction process. You need an extraction machine in order to make it, so, unfortunately, there isn't really a way to do it yourself (unless you own an extraction machine). With an extraction machine, you simply need to put a few pounds of the nuts in the machine, and it will take care of the rest. It will crush the nuts and push the excess out of the back. Just be sure to place a jar under it to catch the oil. Macadamia nut oil has a great shelf life at about 2 years after it is opened before it becomes rancid. It also does not need to be refrigerated.
Refined vs. Unrefined
 The difference in refined and unrefined oils, all depends on the process in which it is made. Unrefined oils are cold-pressed oils that have not been bleached or deodorized. While unrefined oils include oils such as raw, pure, virgin, or extra virgin oils. This is determined by how many times the materials were pressed to extract the oil. Extra virgin oil means that the oil was removed after the first pressing. If your oil doesn't taste like the product it was derived from, then you have a refined oil. Unrefined macadamia nut oil is made through the cold-pressing process. It has a goldish-yellow color with a nutty flavor and scent. Refined Macadamia nut oil is extracted after the first press and is much lighter in color. Additionally, it does not have a strong taste or aroma. Unrefined macadamia nut oil is the healthier option because it retains all of its nutritional value as well as the flavor.
Nutritional Value
Macadamia nut oil has several nutritional benefits. It has one of the highest levels of monounsaturated fat amongst oils, which lower your harmful cholesterol levels. This reduces your risk of heart disease. The presence of antioxidants prevents free radicals from roaming free in your body. This decreases the risk of cancer in certain parts of the body. The vitamin E content also plays a vital role in reducing the risk of cancer, neurological, and cardiovascular diseases.
Nutritional facts
One tablespoon of macadamia nut oil contains:
Calories: 120
Total Fat: 14g
Saturated Fat: 2.5g
Polyunsaturated Fat: 0.5g
Monounsaturated Fat: 11g
Cholesterol: 0mg
Sodium: 0mg
Potassium: 0mg
Carbohydrates: 0g
Dietary Fiber: 0g
Sugars: 0g
Protein: 0g
What is the Smoke Point of Macadamia Nut Oil?
The smoking point (burning point) of an oil is the temperature in which the oil begins to smoke. When cooking with oils, you must be very wary of the smoking point. If you allow the oil to burn, it will ruin its flavor and nutritional value. The smoke point for macadamia nut oil is 390-degrees Fahrenheit. This makes it suitable to fry with.
Substitutes for Macadamia Nut Oil
 Olive Oil – Olive oil can be used as a substitute for macadamia nut oil in most recipes. If you are using it in a method that requires high heat, then use regular or light olive oil. If not, then you should go for extra virgin olive oil. Extra virgin olive oil has a pleasant fruity taste to it. Extra virgin olive oil is an excellent choice for salads and pasta.
Coconut Oil – Coconut oil boasts a lot of the same benefits that are found in macadamia nut oil. It has a high enough smoke point to cook with and is beneficial in hygiene. However, it is not as high in monounsaturated fat as macadamia nut oil. I would keep this in mind when attempting to fry with it.
Avocado Oil – Avocado oil boast one of the highest smoke points amongst all oils. This makes it an excellent alternative to cooking with macadamia nut oil. Its nutritional value is on par with macadamia nut oil, and it can also be used for skin and hair care.
Is Macadamia Nut Oil Healthy?
Macadamia nut oil is definitely one of the best oils on the market. It can be used for health as well as hygienic purposes. It improves cholesterol, has several antioxidants, and is very shelf-stable. Combine this with its healthy balance of omega-6 and omega-3, and you have a pretty healthy oil. Hats off to Hawaii.