When Is The Best Time To Walk?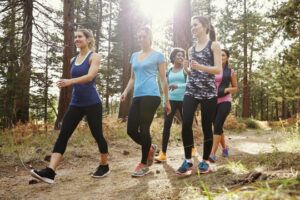 Walking is one of the simplest  way to increase your activity. This is because you don't need to learn something new or buy special equipment. Most people can find time to walk but if you have all the time in the world you might ask  when is the best time to walk?  Compared to walking at other times during the day, walking in the evening seems to offer the most benefits. Here are a few.
5 Health Benefits of an Evening Walk
What do you do after dinner? Hopefully, you don't spend most of the time after dinner in front of the television or a computer screen. One after-dinner activity that has positive benefits for your health is taking an evening walk, and there are substantial benefits to doing so. Let's look at some of the health perks you get from walking after dinner.
Better Blood Glucose Control
Studies show that a walk as short as 10 minutes after meals can improve how cells handle glucose and help with blood sugar management. That's important whether you're diabetic or not. A study found that subjects who took a 10-minute walk reduced their average blood sugar level. In fact, 10 minutes after a meal was more effective than a 30-minute walk at other times of the day. Their blood sugar dropped, on average, 12% more during the after-meal walk than at other times. So, take a deep stretch after a meal, lace up your exercise shoes, and take a walk, even if it's short.
Reduce Exposure to Blue Light and Improve Sleep Quality
Using a device that emits blue light, like a tablet or smartphone, at night can disrupt your circadian rhythms and your natural sleep cycle. In response to blue light exposure, a tiny gland called the pineal gland in the brain produces less of the sleep hormone melatonin. That's bad for your sleep and your metabolic health. Avoid using devices that emit blue light within two hours of sleep time. Any kind of light in your room at night is detrimental to sleep, so make sure you're sleeping in complete darkness.
Studies show that walking, even in the evening, improves sleep quality too. You get the most benefit from walking in the morning, but some research shows that evening walks are favorable for sleep too. Plus, being outdoors helps relax your sympathetic nervous system and this makes it easier to fall asleep.
Relieves Stress
Walking outdoors is the ultimate stress reliever. A 2015 study found that nature walks reduce activity in the pre-frontal cortex, a portion of the brain that's overactive when you ruminate or worry. By dialing back the activity of the pre-frontal cortex, you reduce negative and obsessive thoughts that keep you awake at night. Plus, walking causes changes in levels of brain biochemicals, like serotonin, that affect mood. Depending on the length or intensity of your walk, walking can also boost the release of feel-good chemicals called endorphins that help ease pain and improve mood. Bonus: you can also use walking time to meditate. In fact, some people refer to walking as "meditation in motion."
Helps Digest the Last Meal of the Day
Exercise can have both positive and negative effects on your digestive tract, depending on the intensity of your movements. Light exercise, such as an after-dinner walk, boosts blood flow throughout your body, including your digestive tract, to aid in digestion. Plus, walking helps push trapped gas through your digestive tract and out of your body. However, more intense exercise, especially exercise that causes your body to bounce, can cause or worsen digestive issues for some people. The key is to keep the intensity light. Don't speed walk; keep it leisurely.
A Different View of Nature
Walking outdoors in the day exposes your eyes and ears to the sights, sounds, and aroma of nature – trees blowing in the wind, colorful flowers and foilage, and animal life. But there's still beauty in nature after the sun goes down. You can enjoy looking at the stars and planets overhead and feel how small you are, yet a part of everything that exists. A change in perspective can also inspire new thoughts and stimulate creativity. How often do people stop to glimpse at the stars? Make sure you're still doing it by stepping outdoors after dinner. It beats watching television!
References:
DiabetesSelfManagement.com. "How to Lower Blood Sugar? Take a 10-Minute Walk After Meals, Study Says"
PsychologyToday.com. "Want to Sleep Better? Go for a Walk"
BadGut.org. "Physical Activity and Digestive Health"
Villoria A et al. Physical Activity and Intestinal Gas Clearance in Patients with Bloating. American Journal of Gastroenterology. 2006;101:2552-7.
Harvard Health Publishing. "Sour mood getting you down? Get back to nature"