​​ 5 Best Exercises for Developing Power and Strength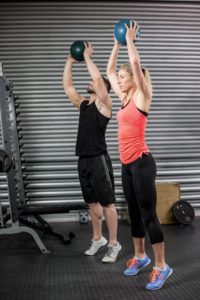 Power and strength are not the same things. You can be strong but still not be powerful. How do the two differ? You measure strength using a one-rep max test. With the help of a trainer, you determine the maximum amount of weight you can lift for one full rep using good form. Power, however, has a time component; it refers to how quickly you can move a weight or other object through space.
Power is what helps you push yourself out of a chair or, in sports terms, or slam a tennis ball across the court with great speed. Like strength, power depends on fast-twitch muscle fibers as opposed to the slow-twitch fibers that play a dominant role in sub-maximal, endurance exercise, like running at a moderate pace or walking briskly.
Fortunately, like strength, you can develop the ability to generate greater power through training. One of the simplest ways is to do the exercises you already do in an explosive manner. For example, for upper body power, push your chest off the floor quickly, almost explosively, when you do push-ups. When you do squats, rise up from the squat at a rapid, almost explosive tempo. Also, if you have kettlebells at home, kettlebell swings are an excellent movement for increasing your power capabilities. Let's look at a few more drills you can use to boost your body's ability to generate power.
Squat Jumps
Squat jumps are a type of plyometric drill and plyometric exercises are excellent for building power. They also give your cardiovascular system a workout. Try doing twenty squat jumps in a row and see if you aren't huffing and puffing! Here's how to do one:
•​Stand on the floor with your feet about shoulder-width apart.
•​Descend into a squat to the level that your legs are parallel with the ground.
•​Quickly propel your body into the air in an explosive manner.
•​Land back in a squat position.
•​Repeat.
•​Start with 3 sets of 5 reps and work up to 10 reps.
Tuck Jumps
Tuck jumps are a more advanced form of squat jumps. It's an intense exercise, so master squat jumps first and don't tackle tuck jumps until you can do at least ten squat jumps in a row using good form. Here's how to do one:
•​Stand on a stable surface with feet shoulder-width apart and hands by your side.
•​Lower your body into a half squat.
•​Use your feet and arms to drive your body off the floor and into the air as you drive your knees up toward your chest.
•​Land with your knees bent on the floor.
•​Repeat.
•​Start with 2 sets of 5 reps and work up to 10 reps.
The difference between a squat jump and a tuck jump is with the tuck jump you drive your knees up toward your chest. But, be careful! Always land with your knees bent and as lightly as possible.
Plyo Push-Ups
We mentioned plyo push-ups as an effective exercise for boosting power in the upper body. Here's how to do one:
•​Get into a push-up position.
•​Lower your body into a push-up as you would normally.
•​When you reach the bottom of the movement, push up explosively off the floor until your hands rise up off the floor.
•​Land back in a push-up position.
•​Repeat.
This is a difficult exercise, and you should be able to do 20 standard push-ups easily before trying this move. To make it easier, place your hands on a table or high bench as opposed to the floor. You may only be able to do a few initially, but keep at it!
Medicine Ball Throws
Medicine ball throws are another upper body power exercise, but they also work your hamstrings and glutes as your glutes generate some of the power that allows you to thrust the ball overhead. Here's how to do one:
•​Stand on a stable surface with feet shoulder-width apart. Hold the medicine ball in front of you between your two hands with elbows bent.
•​While holding the underside of the ball in your hands, bend your knees and push your hips back into a quarter squat as you explosively toss the ball overhead.
•​The ball will land behind your body.
•​Pick up the ball and repeat.
It's best to do this exercise outdoors so you don't have to worry about hitting the ceiling. This is also an excellent drill if you play a variety of sports, particularly basketball or volleyball. If you do this exercise consistently, you'll likely find your performance on upper body strength exercises, like push-ups too.
Hurdle Hops
Hurdle hops is a good exercise for improving lower body power and the ability to move your body laterally.
•​Place a marker several inches long on the floor. You can use a piece of tape or a rolled-up towel.
•​Lower your body into a quarter squat and jump both feet over the marker as you swing your arms upward.
•​Land in a quarter squat on the other side of the marker.
•​Repeat the movement to get back to the other side.
•​Alternate back and forth.
•​Start with 3 sets of 10 hops and work up to 20.
A harder variation is to hop over the marker on one foot. Doing this will improve your sense of dynamic balance too. But don't try it until you're comfortable with a basic hurdle hop.
Conclusion
You can include these drills at the beginning or end of a workout or do an entire circuit of power drills by alternating between these exercises. Be sure to warm up beforehand. You can even use time rather than repetitions. For example, do the first exercise for 30 seconds. Switch to the second exercise for 30 seconds and keep cycling between exercises. You'll find your power performance will improve quickly using these drills!
References:
J Sports Sci Med. 2017 Dec; 16(4): 527-535.
European Journal of Experimental Biology, 2012, 2 (4):1124-1128.
.