Beyond Wristbands and Smartwatches: Six Wearable Tech Devices to Help You Get Fit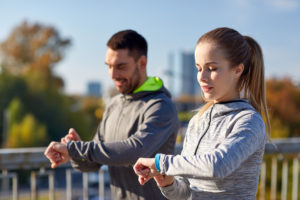 Fitness-tracking wristbands and smartwatches have helped countless people improve their fitness with convenient electronic step counters and heart rate monitors. However, since these devices made their debut, wearable technology has improved dramatically, and there are devices that can do far more than count steps. If you are ready to move beyond a simple wristband, here are six wearable tech devices that can help you reach your fitness goals.
1. Hexoskin
Hexoskin is a tank-style shirt filled with sensors that track a wide range of data, including, running or exercise cadence, speed, calories burned, steps and even your sleep positions. It even measures biometric data such as heart rate and respiration, and its GPS capability lets personal trainers track their clients and create geographic waypoints. Thin and form-fitting, Hexoskin syncs with computers and mobile devices for convenient, comfortable, and sophisticated fitness tracking with no annoying straps or bands.
2. Jabra Earbuds
Jabra's Elite Sport earbuds are comfortable and secure wireless earbuds that stay in place no matter how much you sweat. They also contain sensors that monitor your heart rate, number of reps you perform, and your oxygen utilization. The Jabra fitness app uses this data to calculate your fitness level and ideal pace and lets you know how long to rest between workouts or running sessions. These earbuds provide state-of-the-art sound clarity for music and phone calls as well as countdown and running time notifications from the app.
3. MoovNow Motion Tracker
MoovNow is a soft, flexible ankle band that goes beyond measuring your heart rate and speed – it analyzes the motions involved in running, swimming, cycling and high-intensity activities such as boxing and CrossFit and tells you how to move safely and more efficiently. The MoovNow app measures the impact of your movements and guides you through activities, helping you improve your times and warning you when you're at risk of injury. As you improve, it adjusts the workouts to keep them challenging and keeps a record of your progress.
4. LumoRun
LumoRun by Lumo BodyTech is a tiny, lightweight sensor that you can clip to any piece of clothing, including a shoe. After you enter your height, weight, and body type, it measures stride, cadence, and a host of other running biomechanics such as pelvic angle, head carriage, and posture. This running aid provides audible feedback via headphones to coach you as you run and teaches you how to move more efficiently and correctly to avoid injuries. Whether you are a sprinter, training for a 5K or just a beginner trying to get some cardio in, LumoRun helps you get more out of each run and even suggests exercises based on your running style to help you develop better form and achieve faster times.
5. Gear IconX Earbuds
Gear IconX earbuds by Samsung have 4GB of memory to store music so they can work without a phone. They also have a tracking mode that measures your activity, distance, speed, and even calories burned. The companion app provides a coaching mode that leads you through your workouts and tracks your progress. Later generations of IconX earbuds dropped the heart rate monitor to add sound enhancements such as Bass Boost to synch your running pace and listening modes that adapt to indoor and outdoor environments, making them a budget-friendly way to get into wireless fitness tracking.
6. Beast Sensor
Beast is a magnetic sensor that can attach to your wrist, a body strap or to gym equipment to measure and track lifts and bodyweight exercises. It analyzes the dynamics and strength of each movement and provides a visual illustration of how your muscles work during lifts. Beast can also determine where your weaknesses are and provide suggestions on improving your technique based on your goals, for example, how to do deeper squats or how to structure workouts to bench press a target weight. The web portal lets users analyze what they do in the gym and suggests lifting routines that help athletes see results faster without over-training.
Fitness devices are no longer limited to step-counting wristbands. Today's wearable technology features a wide range of sensors that can be incorporated into clothing, shoes, and even earbuds. These devices not only measure what you do, but in many cases provide real-time performance-enhancing feedback as well. Whether you are a seasoned athlete who wants to reach peak performance or a newbie who needs to improve your sedentary lifestyle, these six devices can help in your fitness journey.