Switching to a Vegetarian Diet: Best Plant Protein Sources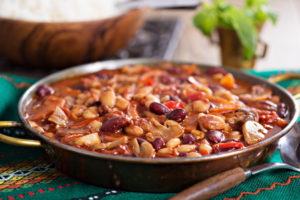 One of the easiest ways to improve your, high blood pressure,  high cholesterol and/or diabetes is to change what you eat. If you current diet is filled with meat and junk food you might consider switching to a vegetarian diet.
If you want to make the switch to a vegetarian diet, you may be subjected to warnings from well-meaning family members and friends about nutritional deficiencies that they have heard can result from not getting enough protein in a vegetarian diet. If you have diabetes you know the role protein plays in keeping your blood sugar normal. They are partly correct in that failure to take in the proper amount of protein can deprive your body of various nutrients that different protein sources provide. Furthermore, this can also lead to an excess intake of carbs and fat.
Just because this can happen, however, does not mean that it has to happen. In fact, by educating yourself about your new dietary lifestyle and learning about the array of proteins that do not come from animal sources, you can ensure that you will cover all of the nutritional bases.
Defining the Boundaries
There are different degrees of vegetarianism, and you need to determine which type of vegetarian diet you wish to follow. Your choice is determined by your reasons for the vegetarian lifestyle, which is typically based on health requirements or on your personal code of ethics. Each type of vegetarian diet is defined by a set of protein restrictions. The one commonality that they all share is the absence of meat from the diet. Vegetarians do not consume beef, pork, lamb, or poultry. Some more specific parameters for different types of vegetarian diets include the following:
• A lactovegetarian does not eat any meat, poultry, eggs or fish, but dairy products, such as cheese, remain a part of his or her nutrition plan.
• A lacto-ovo vegetarian does not eat any meat, poultry or fish, but he or she will eat dairy products and eggs.
• A pescetarian does not eat meat or poultry, but he or she eats fish. Some pescetarians will also eat dairy products and eggs.
• A vegan does not partake in any meat, poultry or fish, and he or she does not consume any animal products either. This means that vegans do not include dairy products, eggs or any other form of animal-based food in their diets.
Since a vegan diet strictly forbids animal proteins, all protein that is consumed must be sourced from plants. If you plan to go vegan, it is imperative that you load up your plate with enough plant-based proteins to make up for the absence of animal-based proteins in your diet.
Missing Nutrient Dilemmas
Protein is a macronutrient that everyone needs. According to the U.S. Department of Health and Human Services, women should aim for 46 grams of protein in their daily diets, and men should strive to consume 56 grams of protein daily.
There are numerous food sources that provide protein, and different sources also provide different vitamins and minerals, which are known as micronutrients. By choosing a vegetarian or vegan lifestyle, you are dramatically limiting the variety of protein sources that are permissible in your diet. With this choice, you are faced with a greater need to take in a wide variety of alternative protein sources to prevent yourself from coming up short in the micronutrients that are commonly found in meat and animal products. Some of these nutrients include the following:
• Iron, which is found in red meat, poultry, and pork
• Calcium, which is found in dairy products
• Vitamin D, which is found in fish, cheese, liver and egg yolks
• Vitamin B12, which is found in meat, poultry, fish, eggs and dairy products
Vitamins D and B12 come naturally from animal sources only, but some foods, such as cereals, orange juice, and soy products, are fortified with these vitamins. As a vegan, you will need to be cognizant about reading nutrition labels on food products to ensure that you are taking in enough of these two vital nutrients. Alternately, you may want to consider taking a multivitamin or vitamin D and B12 supplements. When it comes to iron and calcium, you have plenty of choices for your plate that provide these nutrients as well as protein.
Beans and Legumes
Beans and legumes are excellent protein choices for vegetarians, and they perform double duty by providing your body with healthy complex carbohydrates. Beans and legumes are rich in iron, fiber, folate, and manganese. Consider adding the following items to your grocery cart when shopping for plant-based proteins:
• Black beans
• Chick peas
• Kidney beans
• Cannellini beans
• Black-eyed peas
• Pinto beans
• Azasazi beans
• Adzuki beans
• Lentils
• Peanuts and natural peanut butter
• Soybeans
• Edamame
Tofu and tempeh are products that are made from soybeans and can be used as meat alternatives in many vegetarian recipes, including burgers, stir-fry dishes, and soups.
Grains, Seeds, and Nuts
Grains are typically thought of as sources of complex carbohydrates, but some pack a hefty punch when it comes to protein content as well. Some varieties will help you to get in some iron too. Turn to any of these healthy grains for your next meal:
• Spelt
• Amaranth
• Quinoa
• Wild rice
• Oats
• Sprouted bread
Seeds and nuts provide protein, healthy fats, iron and calcium. Reap those nutritional benefits by snacking on a serving of any of these options next time you need to nosh:
• Hempseed
• Chia seeds
• Sunflower seeds
• Pumpkin seeds
• Almonds
• Walnuts
• Pistachios
• Cashews
Seeds and nuts can also be tossed into your breakfast oatmeal, lunchtime salads and dinner sautés.
Eat Your Vegetables
Did you know that some vegetables provide protein to your diet? It's true, but not all vegetables are created equal. Those that have the highest amounts of protein include the following:
• Broccoli
• Green peas
• Brussels sprouts
• Spinach
• Kale
• Collard greens
• Asparagus
Filling out your plate with a variety of vegetables will provide protein as well as important vitamins, minerals and antioxidants.
Protein In a Powder
Fitness gurus and body builders have been heaping scoops of protein powders into their smoothies and cereals for some time now. If you opt to rely on these products for some of your protein intake, be sure to read the labels since some powders are created from animal-sourced proteins. Powders that are labeled as whey protein or casein protein are derived from milk. Look for protein powders that are made from pea, hemp, rice, or soy proteins instead for your dietary needs.
Spirulina is gaining popularity among vegetarians. Spirulina is a powder that is derived from a blue-green algae that boasts a high protein content, all nine essential amino acids, calcium, iron, and several vitamins.
Avoid Processed Foods
Everyone, vegetarian or not, has heard the advice of steering clear of processed foods for a healthier diet. As a vegetarian, be aware that some packaged vegetarian products, such as veggie burgers, are highly processed and can contain a litany of artificial and unhealthy ingredients. Read ingredient labels carefully and dine on these foods sparingly. Better yet, avoid these products altogether, and make your own. Additionally, if you have been diagnosed with celiac disease and advised to ban wheat gluten from your diet, be sure to avoid seitan, which is made from wheat gluten to produce a vegetarian product that mimics the texture and appearance of meat.
Mind the Guide
Knowing the recommended daily allowances for vitamins and minerals will enable you to meet your nutritional needs. As a vegetarian, be mindful of these daily requirements set forth by the U.S. Department of Agriculture and the U.S. Department of Health and Human Services:
• Men and women between the ages of 19 and 50 require 15 mcg of vitamin D.
• Men and women who are older than 50 years of age require 15 mcg of vitamin D.
• Men and women who are 19 years of age and older require 2.4 mcg of vitamin B12.
• Men and women between the ages of 19 and 50 require 1,000 mg of calcium.
• Men and women who are older than 50 years of age require 1,200 mg of calcium.
• Men 19 years of age and older require 8 mg of iron.
• Women between 19 and 50 years of age require 18 mg of iron. After the age of 50, the iron requirement for women drops to 8 mg.
Women who are pregnant or nursing require greater amounts of these micronutrients and should consult with their health care providers.
If you plan to adopt a vegetarian lifestyle, taking care to incorporate an extensive variety of the aforementioned foods into your meals each day will be the most proactive step that you can take toward fueling your body with the proper amount of nutrients needed for optimal health and function.