​Can Birth Control Pills Raise Blood Pressure?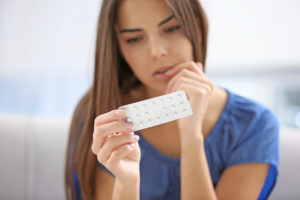 Hypertension is one of the most common medical conditions in both men and women, and the incidence increases with age. Many women develop high blood pressure after menopause, but even young women can have elevated blood pressure readings. Since younger women at high risk for hypertension may also take birth control pills, you might wonder how these pills affect blood pressure readings and whether it's safe to take them if you've had high blood pressure readings in the past. You might also wonder whether birth control pills elevate blood pressure in women without a history of hypertension. Let's look at what science shows about oral contraceptives and their impact on blood pressure.
How Birth Control Pills Affect Blood Pressure
In the past, oral contraceptives contained higher levels of estrogen than those commonly prescribed today. Studies show a link between birth control pills that contain high-dose estrogen and blood pressure increases. On average, blood pressure elevations while taking these pills was 3 to 6 mmHg for the systolic reading (the upper number) and 2 to 5 mmHg for the diastolic (the lower number). Around 1 in 20 women who used oral contraceptive pills with higher doses of estrogen developed hypertension after taking them.
Since estrogen levels in oral contraceptives have dropped, the risk of hypertension while using them has too. In one study of 68,000 women, the relative risk of developing hypertension was 1.5 times greater in those using low dose estrogen contraceptives relative to those not using them. Even a history of using oral contraceptives in the past is linked with a slightly elevated risk. In most cases, the rise in blood pressure with the newer formulations is mild, although there are cases of women developing a significant rise in blood pressure, to the point of requiring emergency care.
Are certain women at higher risk of developing high blood pressure on oral contraceptives? It does appear that women with certain risk factors are more likely to experience a rise in blood pressure while taking oral contraceptives. One risk factor is a family history of high blood pressure. Also, women who had elevated blood pressure during pregnancy are at increased risk. Blood pressure typically returns to normal after stopping birth control pills, although it can take weeks to months for blood pressures to return to normal in some women.
It is not clear exactly how oral contraceptives increase the risk of hypertension in some women. One theory is that these medications activate a system in the kidneys called the renin-angiotensin system. This system controls fluid balance and how tightly blood vessels called arteries are constricted. When the renin-angiotensin system is overactivated, arteries tighten up and blood pressure rises.
Oral contraceptives also increase the risk of developing a blood clot, usually in the leg. These clots can, on occasion, move to the lungs and be fatal. Also, the risk of developing a stroke or heart attack while taking oral contraceptives is slightly higher, although the risk is small for women under the age of 35.
Are There Birth Control Pills That Don't Elevate Blood Pressure?
It's the estrogen component of an oral contraceptive that's mainly responsible for the elevation in blood pressure. Oral contraceptives that only contain progestin are also available and may be a safer option for women with high blood pressure or a strong family history of hypertension.
Also, hormonal methods of birth control are available that you don't take by mouth. One example is depot injections of progesterone. With this method, your physician prescribes an injection of a synthetic progestin every three months. This form of contraception seems to have a lower risk of elevating blood pressure, but studies thus far are limited. This form of contraception can also cause bone loss.
Another method that may have a lower risk of elevating blood pressure is an estrogen-containing implant. For this method, you place an estrogen-containing implant under the skin. As with depot progesterone, there aren't enough studies to say whether it's safe for women with hypertension.
Should You Take Oral Contraceptives if You Have High Blood Pressure?
Whether it's safe to take oral contraceptives if you have high blood pressure depends on a variety of factors. Some physicians don't recommend them at all for women with hypertension, especially those over the age of 35 and women who smoke. Factors that might influence whether a physician is willing to prescribe oral contraceptives include age, whether a person is a smoker, and how well their blood pressure is controlled. At the very least, it requires close blood pressure monitoring.
However, having mildly elevated blood pressure doesn't completely rule out taking oral contraceptives. Guidelines suggest that younger women under the age of 35 who are otherwise healthy and don't smoke may still be candidates for oral contraceptives with close blood pressure monitoring. That's why it's important to discuss the available options with a trained health care professional. Since estrogen seems to be the component of oral contraceptives that cause a rise in blood pressure, a method that uses only a progestin may be more appropriate. These are all issues to discuss with a health care professional.
Other Birth Control Options
Two other birth control methods to avoid if you have elevated blood pressure are the vaginal ring and the birth control patch. But you still have options that won't raise your blood pressure. For example, an implant that releases progestin without estrogen is 99.9% effective. Progestins, especially at the dose released by the implant, don't tend to raise blood pressure the same way estrogens do. Other options include an intrauterine device or condoms. So, explore the options and talk to a knowledgeable health care provider before deciding which is best for you.
References:
Hypertension. 1988 Mar;11(3 Pt 2):II11-5.
Circulation. 1996;94(3):483.
American Family Physician. "Contraception Choices in Women with Underlying Medical Conditions"
Fertil Steril 2006; 86(5):1466-74.