Is Pomegranate Seed Oil Edible ?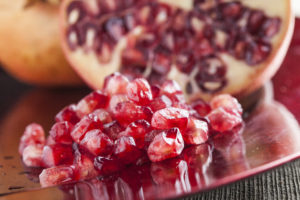 The pomegranate is a fruit rich in nutrients and many other "good stuff" the body needs. It has been linked to cancer prevention, treating arthritis, aiding digestion, preventing heart disease, and so many other health benefits. It also makes some delicious juices and is a welcomed addition to any salad, meat dish or baked goods.
So, since the fruit itself has so many proven benefits to human health, could the oil from its seeds be just as beneficial, and is it edible?
To learn this, you will just have to read this article. You will also learn more about its uses and what you stand to gain from adding this oil to your cupboard.
Where does it come from?
Pomegranate oil, or pomegranate seed oil, is derived from the seeds of the pomegranate fruit. This fruit has been used by humans for centuries as a food source, for medicinal purposes, and even as an ingredient for fabric dye. Many of these practices continue today, and persons all over the world have adopted pomegranate and its by-products into their daily lives.
To make pomegranate oil, the seeds are removed and dried to prepare them for extraction. At the extraction phase, the seeds undergo a process known as cold-pressing. This produces an unrefined or "extra virgin" form of pomegranate oil which retains the bulk of the seed's phytoactive compounds and nutrients.
The seeds may be further processed by using chemical solvents to expel oil that could not have been extracted by cold-pressing alone. This produces refined pomegranate oil which is bleached and deodorized to remove harsh smells, taste, and chemicals before it gets shipped to customers.
What is it used for?
The Pomegranate fruit tree is one of the most cultivated fruit trees in all of human history. As a result, humans have found many uses for pomegranate over the years.
Here are some ways pomegranate seed oil has been used:
Hair and skincare
Pomegranate seed oil has been used for hair care because it has a large concentration of punicic acid. This acid helps to fortify and strengthen hair, and improve scalp health. The oil is also rich in antioxidants and vitamin E which promote proper blood circulation in the scalp, which helps to strengthen blood vessels and hair follicles, which fosters healthy hair growth.
Pomegranate oil can also act as a moisturizer for the hair and scalp to help treat conditions such as dry scalp and dandruff, and reduced flakiness and itchiness. It can also be helpful in reducing thinning and turning limp, lifeless hair into beautiful tresses.
As it relates to skincare, pomegranate oil is loaded with antioxidants and polyphenol which enable it to act as a natural barrier or shield from UV rays and free-radical damage. These same antioxidants also support cell regeneration which in turn repairs damaged skin, prevent wrinkles and blemishes, and helps to improve the overall appearance of the skin. It is also able to provide moisture and hydration to the skin, making it softer and more radiant.
Pomegranate oil is also said to have antimicrobial properties which help to prevent acne and inhibit the growth and spread of bacteria, virus, and fungi. Its anti-inflammatory properties are useful for reducing swelling and redness.
Cancer prevention
Antioxidants present in pomegranate oil helps to protect the cells against damage. This is important because DNA damage can promote the growth of cancers of the breast, colon, and prostate. Pomegranate seed oil may also be beneficial in retarding tumor growth.
Preventing cardiovascular disease
Consuming certain oils can increase your chances of developing cardiovascular disease due to the presence of saturated and trans fats which increases bad cholesterol levels.
Pomegranate seed oil, on the other hand, contains phytochemicals which can help to regulate and lower bad cholesterol levels. This lowers your risk of developing cardiovascular disease. It can also help to prevent obesity.
Strengthening the immune system
Between the phytoestrogens present in pomegranate seed oil which helps to prevent hormone imbalance, and the vitamins B, C, and other minerals, consuming this oil helps to strengthen the immune system and helps the body to fight against infection.
Treating muscle aches and inflammation
Pomegranate seed oil naturally has anti-inflammatory properties which can be beneficial to persons who suffer from occasional muscle and joint pains, or more serious conditions such as arthritis and osteoporosis. This is allowed to the fatty acid conjugates such as punicic acid present in pomegranate oil which helps to reduce swelling and ease muscle pain and soreness in the body.
Nutritional facts
Pomegranate oil is an excellent source of Vitamin K. Vitamin K is responsible for blood calcium regulation and bone metabolism. It is also crucial for blood clotting. It is also rich in Vitamin C which helps the body to absorb iron and repair body tissue.
Vitamin B5 is also present in pomegranate oil is responsible for making new red blood cells and converting the food you eat into energy. Vitamin E in the form of tocopherols provide antiaging benefits and improves the appearance of the hair and skin.
This oil also contains several protective polyphenolic compounds such as punicic acid, flavonoids, anthocyanidins and tannins which help to neutralize feed radicals which can cause cancer and damage to other body cells.
Other constituents include oleic acids (or omega-9 fatty acid), linoleic acids (or omega-6 fatty acid), stearic acid and palmitic acid
Type of Fat
Pomegranate seed oil is higher in unsaturated fat, being 68% polyunsaturated fat, and 5% monounsaturated fat. Its fat composition is only 6% saturated fat.
Taste and smell
Extra virgin pomegranate seed oil has a sweet and sour taste and a fruity or tangy smell. When refined, it loses much of its flavor and becomes bland with a light-oily smell.
Smoke Point
Pomegranate seed oil has a smoke point of around 340°F (or 170°C) and therefor is not suitable for high heat.
Pros
Using pomegranate seed oil has the following benefits:
• It is great for skin and hair- Since pomegranate seed oil contains Vitamin E and other antioxidants, using it as a part of hair and skincare routines can improve their health and appearance
.• It has anti-inflammatory benefits- Using pomegranate seed oil can reduce swelling and pain caused by numerous conditions, from acne and psoriasis to arthritis and osteoporosis
.• It can boost the immune system- Pomegranate seed oil contains several vitamins and minerals which can help to ward off infection and prevent disease.
Cons
Using pomegranate seed oil has the following drawbacks:
• It can cause stomach issues- When ingesting pomegranate seed oil, only a small amount is required to receive its benefits. Consuming more than the recommended amount can cause an upset stomach, diarrhea, vomiting, cramps and other gastrointestinal issues.
• It can cause an allergic reaction- Pomegranate seed oil is very concentrated and rich. For this reason, it is recommended that persons dilute it before using it topically. If not, it can cause skin irritation and rashes
.• It is expensive- Pomegranate seed oil is a luxury oil, and the price tag reflects it. This is because approximately 200 pounds of pomegranate seeds are needed to make just one pound of pomegranate seed oil.
What's the best way to use it?
Pomegranate seed oil is best used as a drizzle for salads, or as a marinade. It may also be used to make juices and smoothies, and wines and cocktails.
You may also use it in baked goods such as cakes and tarts for added aroma and flavor.
It is not advised to use it for frying, or any other high-temperature cooking method.
Alternatives
The closest oils to pomegranate seed oil In terms of cosmetic benefits are argon oil and Abyssinian oil.
If you wish to use it as a drizzle or marinade, you can pretty much use any edible oil with a low saturated fat content such as pumpkin seed oil and grape seed oil.
Things to note
While there has been extensive research on pomegranate seeds, the effects it can have in the early stages of pregnancy are still uncertain. However, there are strong indications that it can cause complications and induce miscarriages.
Pomegranate seed oil has been linked to lowering blood pressure, however, if you are already on medication to lower your blood pressure, combining the two can be dangerous. It is best to consult your doctor before adding pomegranate oil or its supplements to your diet.
Pomegranate oil has also been linked to treating symptoms of menopause such as hot flashes and sleeplessness but more research is needed in this area.
Pomegranate seed oil has a shelf life of 6 months to up to two years when stored properly. Since this oil is prone to oxidation, you should probably refrigerate it to extend its shelf life.
Pomegranate oil is a pretty good carrier oil and can be added to serums, face creams, and balms for added benefits.
Conclusion- Healthy or Unhealthy?
By now you have probably gathered that pomegranate seed oil is healthy and edible. However, not all pomegranate oil is suitable for consumption, as some are made solely for cosmetic purposes.
Your best bet is to go with cold-pressed pomegranate seed oil. This way, you can ingest it and use it topically.