How Often Do You Need to Strength Train to Build Muscle?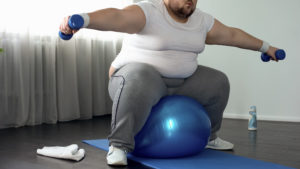 Strength training is important at all ages and stages of life, for both men and women. The good news is you don't have to join a gym or train every day to get fitness benefits and build muscle. These days, more people use bodyweight exercises and do strength workouts at home with little or no equipment. Some invest in a few pairs of resistance bands or dumbbells to enhance their training but that's not necessary, especially in the beginning. There's no one way to strength train. You can work your muscles against resistance in a variety of ways, including resistance bands, dumbbells, barbells, machines, or your own body weight.
How Often Should You Strength Train?
Suppose you want to get stronger. How much time do you need to put in and how frequently do you need to train to get benefits? The frequency with which you train is a variable that can impact the hypertrophy and strength gains you make. In fact, a number of studies have looked at whether more frequent training leads to greater strength gains. What can we learn from these studies?
Frequent training is lifting three times per week or more while low-frequency training is working muscle against resistance only one time per week. Working muscle groups one time per week seems to be the minimum you can get by with and still see strength gains. Is low-frequency training as effective for strength gains?
A study published in the International Journal of Exercise Science compared strength gains subjects made when they trained three times per week as opposed to only once per week. Despite the differences in how often the subjects trained, total training volume was similar. The subjects who trained only once per week did three times the volume on their training days to even things up.
The results? After 8 weeks, strength gains between the two groups were similar. Based on this study, it appears you can train only once per week and get similar strength gains to someone who works out three times per week. The key is to do equal training volume. So, total training volume is more important than strength training frequency, based on this study.
Another study in 2012 that compared strength training 3 times per week to 6 times per week and controlled for total training volume found that more frequent training led to greater strength gains. However, this study was published in a peer-reviewed journal. Plus, it involved highly trained powerlifters.
Finally, a recent meta-analysis of 12 studies looking at the impact of training frequency on strength gains showed no additional benefits of more frequent training on strength gains when the total training volume was the same. These studies suggest that total volume is more strongly linked with strength gains than how frequently you train.
Also, of interest is a study showing you can retain the strength gains you gain through strength training by training as little as one day per week. However, the endpoint of the study was 12 weeks, so it's not clear if that holds true over a long period of time. The good news? It takes less training to retain strength than it does to develop it in the first place.
Conclusion
Training frequency seems to be less important than training volume for strength gains. Most of the research showing greater strength gains with more frequent training didn't control for total training volume. But there haven't been enough studies that adequately controlled for total training volume to draw firm conclusions. How frequently to train to maximize strength can vary based on a variety of factors – age, genetics, gender, how heavily you train, and the muscle groups you work. It's hard to draw firm conclusions based on limited data.
Here's the bottom line. Although it may be possible to gain and retain strength by working your entire body only once per week, the volume you'd have to do could be time prohibitive. But it's reassuring to know if you ever get into a time squeeze and can't train more than once per week for a while, you can still make strength gains and retain them.
Whatever approach you take, be sure to give the muscles you worked at least 48 hours of rest and recovery before working them again. Strength adaptations take place in response to training, but they occur between training sessions when your muscles are recovering and rebuilding. Rest is an important part of the equation and one you shouldn't skimp on. Also, give as much attention to nutrition as you do to your training. If you don't consume enough calories and protein, the gains you make will be slow.
References:
Stronger by Science. "High-Frequency Training for a Bigger Total: Research on highly trained Norwegian powerlifters"
International Journal of Exercise Science 9(2): 159-167, 2016.
Sports Med Open. 2018 Dec; 4: 36.
Int. J. Sports Med. 1988 Oct; 9(5): 316-9.