How to Make Triceps Dips Harder When You Train at Home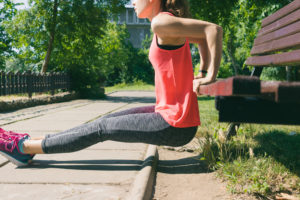 Here is another exercise that you can do with just your bodyweight. This can be done at home, in the park or in a hotel room.  Pretty much anywhere.
Triceps dips target your triceps, but this movement also work other muscle groups in your upper body, including the pectoral muscles in your chest. Plus, the anterior deltoids in the front of your shoulders, help with dips. The joint effort of several muscles makes triceps dips a compound, multi-joint exercise. Compound exercises should make up the bulk of your training exercises as they work more than one muscle simultaneously. This improves functionality and how the muscles work together as a unit.
How to To Do  A Tricep Dip
Ready to add dips to your routine? To do dips at home, all you need is a sturdy chair or bench to put your hands on.
Place your hands about shoulder width apart. Stretch your legs out in front of you with your heels on the floor. If you're starting out and haven't built up enough strength yet, bend your knees to make the exercise easier. Use your upper body to lower your body until your arms are at a 90-degree angle. Then, slowly straighten your arms as you raise your body back to the starting position. Pause briefly and repeat.
At first, it might be challenging, but your muscles will quickly adapt to the stress the exercise places on them and become stronger.
Congratulations! You've mastered the first hurdle, a standard triceps dip. But muscles need progressive overload to continue to gain strength and size.
One way to apply progressive overload is to do more repetitions of triceps dips. But, after a while, you may discover your triceps need more stimulation to continue to adapt and change. Once you can do 3 sets of 10 standard dips, your muscles need more stimulation. How can you make triceps harder besides increasing the number of reps?
Adjust Your Hand Position When You Dip
With a standard dip, your hands are shoulder width apart. But you can make the exercise harder by moving your hands closer together on the bench. The closer your hands are on the bench, the harder your triceps have to work to lower and raise your body.
Slow the Tempo
The slower the tempo with which you do a triceps dip, the more time you keep your triceps are under tension. Some research equates more muscle tension with greater muscle hypertrophy. A standard tempo for triceps dips is 2 seconds up, 1-second pause, and 2 seconds down. However, you can take an additional 2 seconds during the up and down phase to slow the movement. This increases the time the triceps are under tension and can help boost hypertrophy gains.
Pause Longer at the Top
Another way to increase the force on your triceps is to pause longer at the top of the movement. This is called an isometric hold. Always keep your elbows in and don't lock them at the top. Try to hold for an additional second or two before lowering your body back to the starting position. Again, this increases time under tension. Pausing also takes momentum out of the movement and forces your triceps, chest, and shoulders to do all the work.
Elevate Your Feet When You Dip
You can also change where you place your feet. Grab another bench or sturdy chair and place your feet on them when you dip. Elevating your feet places more emphasis on the triceps and shoulders and makes the exercise a bit harder. Be careful not to shrug your shoulders when you do this or any other triceps dip exercise to avoid a shoulder injury.
Add More Resistance
You can also place a weight, such as weight plates, on your upper thighs as you dip or wear a weighted vest. This will add more resistance and overload the triceps muscles. If you don't have weight plates, you can use a large sandbag. Make sure you've mastered the form for standard dips before adding extra weight. Your form should be perfect, or you risk injury.
Place Your Feet on an Stability Ball
Once you've mastered standard triceps dips and their variations, add a balance challenge. Place your feet on a stability ball and your hands on a bench to dip. Not only is this variation more challenging, but it'll also develop your proprioceptive skills, the ability to know where your body is in space.
Good Form is Critical
Triceps dips is an exercise that carries a higher risk of injury. That's because this exercise places stress on the front portion of the shoulder, and the shoulder joint is one of the least stable joints in your body. The reason? It's a highly mobile joint, and with mobility comes less stability. Make sure you're doing the exercise properly, preferably by watching your form in a mirror, before increasing the intensity or difficulty of the exercise.
Conclusion
Triceps dips is a pushing exercise since the triceps contract when you push weight away from your body. Be sure to work the opposing pulling muscle, the biceps, to avoid strength imbalances that can lead to injury or muscle imbalances.
References:
American Council on Exercise. "ACE-sponsored Research: Best Triceps Exercises"