Is Grapeseed Oil Healthy For You?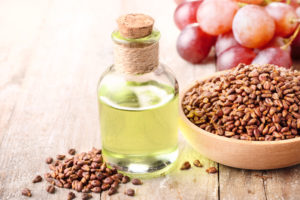 Grapeseed oil has gotten more popular over the last few decades with people looking for healthier alternatives to traditional cooking oils. Online, this oil has been given rave reviews about its benefits from cooking to skincare and has been backed by social media influences and beauty gurus who swear by it! However, is grapeseed oil healthy for cooking?
So, what's the deal with grape seed oil and does it live up to its reputation? Keep reading to find out if you should join the grapeseed oil movement.
Where does it come from?
Grapeseed oil is nothing new and has been used in Europe for thousands of years to treat skin and eye-related conditions.
As the name suggests, grape seed oil, or simply grape oil, is made from the seeds of a grape. These are typically left behind after grapes are pressed during winemaking.
On a commercial scale, the grape seeds are crushed and solvents added to extract the oil. Others cold-press the seeds to extract the oil.
What is it used for?
Grapeseed oil is loved by chefs and is incorporated into many popular meals as a substitute for vegetable oil. It also has benefits that are non-culinary. These include:
Hair and skin care
Persons with acne can attest to the fact that using grapeseed oil will kill the bacteria in their pores which cause acne, thus making skin clearer and preventing future outbreaks. It also makes the skin softer and more elastic due to its Vitamin C and Vitamin E content.
Aside from preventing wrinkles, grape seed oil contains an antioxidant called proanthocyanidin. This helps to even out the skin tone and addresses skin conditions such as hyperpigmentation and melasma. Grape seed oil also acts as a great sunscreen by absorbing harmful UV rays that can damage the skin.
The best part about this oil is that it absorbs into the skin quickly, and doesn't clog pores. This makes it ideal for all skin types and you won't be left skin feeling super oily.
Loaded with vitamin E and fatty acids, this oil also acts as a great moisturizer for hair to keep it hydrated and protected. Persons who have to deal with dandruff will appreciate how it loosens the dead skin on the scalp and keeps it moist. Since it is so light, it is a great alternative to oils such as olive oil and coconut oil which can leave the hair feeling greasy or weighted. Lastly, it is a great remedy for balding because of compounds such as linolenic acid and procyanidin oligomers which stimulate hair growth.
Preventing chronic illness
Grape seed oil is full of Vitamin E whose fat-soluble antioxidant properties support the immune system and protects again chronic illnesses such as diabetes, cancer, and heart disease. There has also been a theory that grape seed oil slows the progress of dementia, but more research is needed on this matter.
Sex
Persons who are very eco-conscious may be pleased to hear that grape seed oil is a great lubricant for sex. It is a great alternative to many big-name lubricants which contain parabens, glycerin, propylene glycol, along with fragrances and flavorings which are a no-no for persons with sensitive skin and overall vaginal health. Just don't use it with latex condoms because it may cause it to break or tear.
Nutritional facts
For every 1 teaspoon of grapeseed oil, you will find:
Calories: 40 – This is not much different from other oils such as olive, canola or peanut oils. The recommended oil intake based on a 2000-calorie per day diet is 6 teaspoons.
Total fat: 4.5 g
Saturated fat: 0.4g
Polyunsaturated fat: 3.1g
Monounsaturated fat: 0.7g
Cholesterol: 0mg
Sodium: 0mg
Potassium: 0mg
Carbohydrates: 0g
Dietary Fiber: 0g
Sugars: 0g
Proteins: 0g -Since grape seed oil is a fat, it will not contain any proteins or carbohydrates, and that includes sugars.
Vitamin E: 1.3mg- The recommended daily allowance is 15mg for adults.
Though present in grapes themselves, grape seed oil lacks vitamin K, vitamin C, copper, and potassium.
Type of Fat
The majority of fats contained within grape seed oil are polyunsaturated fats (PUFAs), primarily being omega-6 acids. The American Heart Association gives PUFAs the green light as a healthy alternative to saturated and trans fats which make up a huge portion of our diets.  PUFAs are essential fats that our bodies can make . Therefore we have to eat them.
Taste and smell
Grapeseed oil is described as having a clean, light taste which makes it perfect for cooking or acting as a topper.
Its smell is mild and does not have that oily smell people complain about as with other seed oils. Persons have even described it as smelling like "nothing".
Smoke point
You may be pleased to know that grape seed oil has a high smoke point of approximately 421°F or 216°C.
It is important to note however that this smoke point is not constant and decreases as the oil breaks down.
Pros
Grapeseed oil has a lot of health and beauty benefits. Let's explore a few:
• It is relatively inexpensive- Grape seed oil is more expensive than vegetable oil, but it is cheaper than olive oil. This makes it a great solution for persons on a budget, but who also want to spoil themselves a little.
• It decreases the risk of blood clotting- Studies have shown that consuming grape seed oil reduces platelet aggregation. This means that it reduces the thickening and clumping together of blood which lessen the chances of a blood clot.
• Great for hair- If you suffer from a sensitive scalp or allergic reactions to certain hair products, grape seed oil is a great, hypoallergic alternative which keeps hair healthy and shiny.
• Great for skin- Grape seed oil is perfect for moisturizing, postponing aging, sun protection, preventing acne, treating undereye bags and circles and stretch marks and can even act as a pre-shave oil.
Cons
Since we have taken a look at the benefits of using grape seed oil, it is time to look at some of its drawbacks:
• It oxidizes when exposed to heat- Despite having a high smoke point, grape seed oil oxides, which causes the fatty acids contained within it to break down. This greatly diminishes its benefits and at that point it becomes unhealthy.
• It contains trans fats- Trans fats are bad for you, and, when heated, the number of trans fats found in grape seed oil increases. This can contribute to heart disease and conditions such as diabetes.
• It can have health implications- While omega-6 fatty acids are good for the body, if not properly balanced, it can cause inflammation and even chronic diseases such as cancer.
What's the best way to use it in food?
Grape seed oil can be used in cooking, but it is probably not the best choice for cooking oil. With that being said, let's look at how it is commonly used in cooking:
Frying and stir-frying- Many persons fry with grape seed oil but it releases many free radicals and harmful compounds at that heat that can be detrimental to your health. Therefore, we would not recommend it for frying.
Sautéing and searing- Sautéing and searing are also done at high heat, but for shorter periods and while using less oil. For that reason, you can probably get away with it a few times. Just don't overdo it.
Grapeseed oil is also used for roasting, grilling, and even in some baked goods. However, the healthiest way to consume it orally is by using it as a dressing or marinade
Alternatives
The best alternative to grape seed oil is probably extra virgin olive oil. It has many of the same benefits and is also heat stable.
Other alternatives are avocado oil, canola oil, and coconut oil, depending on what it is being used for of course.
Things to note:
• If you are allergic to grapes, you should probably avoid this oil to stay on the safe side. If you want to use it topically, you could always do a patch test first to see how your skin reacts to it. If you have no allergic reaction in 48 hours, then, by all means, go ahead.
• Persons are a bit iffy about giving grape seed oil the green light because of a chemical solvent known as hexane. This solvent is used during commercial winemaking, and that's where most of our grapeseed oil comes from. It is considered a pollutant and a neurotoxin. While the effects on humans are inconclusive at this time, it is also important to note that the heat used during this process may cause the oil to oxidize and its benefits may be lost.
• Grape seed oil can come in its pure form or in a capsule.
• The National Center for Complementary and Integrative Health warns against using grape seed oil if you are about to undergo surgery or having an existing blood condition and are on blood thinners.
Conclusion- Healthy or Unhealthy?
Grapeseed oil has been a hot topic for many years. On one hand, its omega fatty acids content makes it great for heart health, skin and hair, hormones and brain health, but on the other hand, for persons who already have large quantities of these in their diet, grape seed oil can work against their favor. Plus, it can become pretty unhealthy after heating.
The final say is, it depends. How it is used and preexisting diet and health conditions will determine how healthy or unhealthy it is for you.