​​ The Benefits of Step Platform Workouts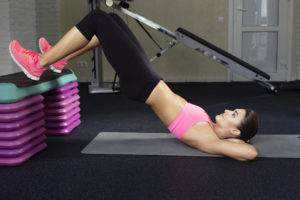 The Benefits of Step Platform Workouts
Step up your work out with a step platform. Step platforms are a great way to add extra movement to a traditional aerobic workout. They can be used for aerobic and strength training which is great. Its a no brainer  to use and you can make up your own routine. All you have to do is step on and off the platform. That's it.
You can adjust the height to fit your experience level. This allows for a lot of changes as you get stronger. You can make your regular workout more intense or take a specific class geared towards learning step routines. This is also a great activity for those with limited time, as it accomplishes both cardio and strength training at the same time. It works numerous muscles, and there are many different sequences to keep you interested. When you add your favorite music to the workout, step workouts are even more fun. Learn more about this popular exercise technique.
Cardio
During your first step platform session, you might focus more on coordination than speed. Once you adjust to the rhythm, however, it is easy to increase your heart rate. Think about how you feel after running up a flight of stairs. Step platforms are a safer way to experience the benefits of going up and down stairs. Step platforms are often implemented into an aerobic routine to get your whole body moving quickly. Steps are short and repetitive so you can learn fast and increase your speed.
Strength
Weights help with strength by allowing you to zero in on a specific muscle group. You may be trying to build strength in your arms or legs, for example. A good step platform workout can also assist you with this. The repeated movements intensify and extend the time spent on the muscles involved. This is a workout plan you can use for a long time, as well. Once a routine becomes too easy, you can adjust the height or add weights to become even stronger.
Impact
The impact of this form of exercise can be changed to fit your needs, as well. Take a low-impact step class or learn to adjust the workout while in any class. If you would like to endure less impact on your joints, you can do the moves slower, for example. Do one step when the instructor calls for two. This gives you time to step softly and remain cautious about your body alignment. You can put unnecessary strain on your joints and spine when you do the exercises incorrectly. The platform should stay on the lowest height, and you need to limit the speed.
If you are ready to move on to a high-impact routine, enroll in an advanced step class. This helps you learn how to do the exercises correctly and safely. High impact step workouts involve higher platforms, weights in your hands, and faster steps. There may also be more difficult and varied movements for your legs and arms, requiring good coordination.
Adjustable
Most gyms offer extensions to raise the height of step platforms. Most people start on the lowest one while they learn the basics. You may also need to adjust these for your height. Individuals with longer legs may find more comfort with a taller platform.
Different Sizes
The basic step platform is 28.5″ x 14.5″ x 4″. There are also some shorter in length. The four-inch height changes, depending on the number of risers you use. These securely lock into the base of the platform and increase the height by two inches each. The maximum height used by advanced individuals is 10 inches. You can achieve excellent cardio and strength training even at the four-inch height, however.
Basic Step Moves
•Step up step down- This move simply involves stepping up on the platform with one foot and stepping back down on the ground. This is also called a "basic step."
•Step and kick- Step up on the platform with one foot and kick the leg out in a variety of directions. You can step forward and kick your leg out behind you or kick to the front. Finally, you can step on either side of the platform and kick your leg out to the side. There is also a move called the Charleston kick where you kick to the front with a bent knee on the kicking leg.
•Side to side- Step up on one end of the platform and bring your second food to meet the other. Then step off to the side of the platform and back up with both feet meeting again. You then return to where you started on the floor and step to the opposite side.
•Step and touch- This involves stepping up onto the platform and bringing your feet together, then stepping back down or to a different part of the platform. Feet meet and touch as you move to different places on the platform and floor
•V step- You step up on the platform with one foot on one side then step all the way to the other side of the platform with the second foot. This forms a "V" with your legs; then you step back down with both feet.
•Rocking horse- You must shift your center of balance for this move. Step diagonally on either end of the platform and lift your other leg out behind you with your knee bent. You then put the lifted leg back on the floor and lift your front leg up, bending the knee towards your chest.
Muscles Involved
You can decide how much of your body you use during your step workout. Your abs get a good workout because you must keep your core steady to keep your balance. The calves and gluteal muscles are easily engaged in all levels of step workouts. You can add arms to the mix, however, by using hand weights during the workouts.
How to Make Harder
The main way to make a step workout harder is to raise the height of the platform. At the beginning of class, get your platform and preferred number of risers. If you are a beginner, start with the lowest one until you feel coordinated. You can then begin adding risers, working your way up to eight or ten inches. You can also increase the speed of your steps and add weights to make it more intense.
Weight
Platform workouts are incredibly versatile. You can adjust your routine to match your ability or mood. You can alternate between high and low impact throughout the week. If you feel motivated to raise the difficulty even more, wear ankle weights.
Best Music
Music for a step platform class needs to have a steady beat to help you do the same steps over and over. This helps build muscle memory, making it easier to stay on task each time you take a class. An upbeat song with a few changes in speed is also helpful. You can cool down and catch your breath when the slow parts come on. The main focus of step platform exercise is to keep moving, however.
Other uses for Platform
Weight Training- Use the platform to add difficulty to your weight training. You do the step workout with weights in your hands or use the platform to achieve different positions. You can also use the platform as a bench to lean back on while lifting large dumbbells.
Balance- When you work regularly with a step platform, your balance begins to improve. This happens when your core becomes stronger. You can work on balance by doing specialized exercises on your platform. These may involve raising your free leg in different directions. Slow step routines are used to help the elderly regain or maintain good balance, at times.
Other Exercises- You can use the platform for many strength exercise poses. You can place your feet on it with your hands on the ground for an intense push-up, for example. Individuals and professionals also use platforms to intensify yoga routines, for stretching, and for planks.
A step platform helps add variety to your workout. They are also easy to use at home, along with instructional videos. This is a great beginner piece of equipment that adjusts as you improve and gain strength, as well. Enjoy a full-body workout in your home or at the gym with a step platform.