Why Are You Bad In bed? Your Guide to Better Sex
If you are having challenges in the bedroom, it can affect your relationship in a negative way. If you want to know why you are bad in bed, you should first examine your health. Are you eating a balance whole food diet? Are you exercising? What about your partner? Is the chemistry between both of you is not right. This is your guide to better sex. It time to figure out what is going on with your or your partner and fix it with these tips.
Why do we like to have sex?
Intimate relationships whether sexual or not is one of the most basic physical and emotional functions we have as humans. To be intimate is human and we cannot thrive without it. Whether it be an expression of love, emotion or a desire to satisfy one's curiosity, engaging in intimate relationships is a natural phenomenon. It then follows that people engage in sexual and intimate relations from time to time.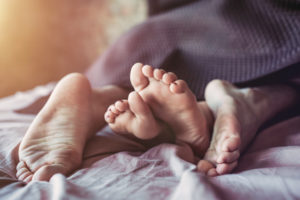 For some of us, especially females, one of the most intimate ways to connect with others is through sexual intercourse. However, not all sexual encounters are intimate. Some individual prefers to engage in sex without a committed relationship. Regardless of the reason, consensual sex is supposed to be pleasurable, fun and satisfying.
Although the degree of pleasure and satisfaction varies depending on the person and the situation, we always aim to have good quality sex all the time. Whether we take five minutes or five hours, the objective is still the same. Furthermore, whether we have an orgasm or not, we still can be satisfied.
Human Sexual Response Cycle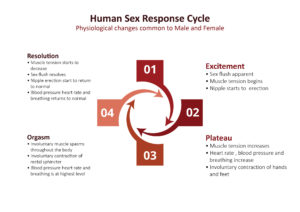 Your response to sex or intimacy can occur in different cycles. Your physiological and emotional changes that occur with the anticipation of sex or during sex occurs in four phases. The four stages are excitement, plateau, orgasm, and resolution also happen while masturbating or watching porn. They occur in the respective order. Therefore, you will not experience an orgasm before first experiencing the excitement.
Four human sexual response cycle:
Phase 1 Excitement -increased e blood flow to the genitalia to prepare for sex
Phase 2 Plateau- intensified excitement and increase lubrication before orgasm
Phase 3 Orgasm -ejaculation and contraction of genitalia
Phase 4 Resolution-recovery and preparation to restart the cycle
Unfortunately, even if you are head over heels in love, not all sexual encounters are satisfying. Some individuals have no sex drive, difficulties staying aroused while some lack confidence making the experience not pleasurable and frustrating to one or both parties. If this occurs on a regular basis, then it can be damaging to your relationship.
Sexual Dysfunction
Sexual dysfunction in men and women can significantly take away the joy of having sex. It can also have a detrimental effect on your self-image, self-esteem and reduce in intimacy with your partner. Your relationship might be at risk for infidelity if you continue to have problems in this area of your life. It is critical for you to identify the problem and make necessary amendments to fix it before you lose the one you love. If you are the one with the dysfunction, then you will most likely continue to have the same problem with your next partner.
Sexual dysfunction can occur during any of the phases of the sex cycle. However, most sexual problems happen in the first three phases. Many women struggle with orgasm. Generally speaking, difficulties in any of the stages may stem from stress, trauma, sexual abuse or trauma, psychological issues, and even excessive drug and alcohol use.
Poor Sex Performance
Men, did you know that while you need a shot to build up the confidence to talk to that hot chic, you are risking getting a whiskey penis instead of an erection? Yes!! There is such a thing. Fact is too much alcohol can prevent you from getting it up when she is ready to give it up. You might not be able to "stand at attention"when necessary.
Besides substance abuse, medical conditions such as high cholesterol, hypertension, and diabetes can affect your sexual health. Diabetes can reduce testosterone level in men and cause decreased blood flow to the genitals in both men and woman resulting in a low sex drive. Where blood flows, sensation goes.
Stress in the boardroom can also cause tension in the bedroom. Sex can relieve stress, but it can also contribute to additional pressure in your life if you are dissatisfied with you or your partner's performance. The stress and sexual dysfunction cycle can be an ongoing one that if not resolve can damage to your relationship.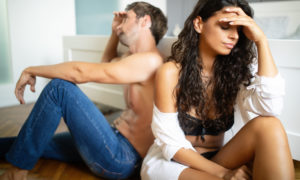 Here are few of the most common sexual dysfunction in men and women.
Male Sexual Dysfunction
• Erectile dysfunction: Difficulty getting and keeping an erection
• Premature Ejaculation: Reaching orgasm too quickly
• Delayed or inhibited ejaculation: slowly or no orgasm
• Low libido: little interest in sex Female Sexual Dysfunction
• Hypoactive sexual desire disorder (HSDD): Low sex drive
Female Sexual Dysfunction
Female sexual arousal disorders (FASD): Difficulty maintain arousal
• Dyspareunia: Painful intercourse
• Inability to have an orgasm
Treatment for your Sexual Dysfunction
The treatment for your sexual dysfunction depends on the cause. Your doctor might recommend sex therapy, nutrition, psychotherapy, medication, meditation, penile prosthesis or exercise. Checking your hormones might also be a part of the treatment program.
Although treatments might be similar, no two people will have the same program. As long as you don't have any physical reason why you can not exercise, you should consider participating  in an exercise program. Regardless of the treatment  plan, exercising will give you the most bang for your buck. It will not only improve your sex life, but it will also help improve your overall health. Improved health leads to better performance in the bedroom.
Five ways exercise can improve your sex life
Exercise reduces stress
Since stress has been found to be a contributor to sexual dysfunction in men and women, engaging in regular activity can help individuals manage stress levels. Working out is particularly helpful for individuals who participate in stressful jobs. It's a great way to let off steam. You can take your frustration out by participating in a sport or listening to your favorite music as you walk in the park or your neighborhood.
Exercise improves strength
The only way you can build muscle is to participate in strength training activity such as lifting weights. Becoming stronger  you will allow you to lift your own body weight as well  manage your partner's weight.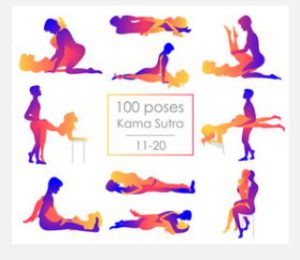 Exercise improves cardiovascular function
Circulation of blood is a significant component of sexual arousal. The same way blood flow to your organs keeps them from dying and is necessary to keep them functioning is the same way blood flow to your genitalia will get your juices flowing and get you aroused. Where blood flows sensation goes. The most effective way to have your body work efficiently is to keep it moving. Over time is take less effort to get the same results.
Exercise improves stamina
Engaging in physical activity regularly will increase your endurance aka stamina. You will be able last longer, go  harder and hold positions longer without getting tired bringing out the champion in you. Your five minutes of pleasure can turn into five hours of fun.
Increased Self-Confidence
Studies suggest that as people reach their intended weight, they are more likely to feel confident in themselves. The fitter they are, the more their self esteem is boosted. They are more likely to feel sexually desirable, thereby promoting better sex with their partners. When confidence level is up you are also willing to try new things and be more vocal with your partner. You will be less shy to ask for what you want.
What kind of exercise should you do for better sexual health?
To reap the minimal benefits of exercise, experts recommend moderate physical activity for 30mins a day five days a week. A combination of strength training and cardiovascular exercise is best to reach optimal bedroom performance. A gym membership is not necessary. There is plenty of activities you can do in the comfort of your own home. Just get moving now. Focus on making exercise a habit by including it as a part of your daily routine. For instance, upon waking up in the morning, wash face, brush teeth, then go for a walk. Do this routine most days of the week until it becomes a habit. Stay committed and consistent.