4 Factors to Consider When Planning a Home Gym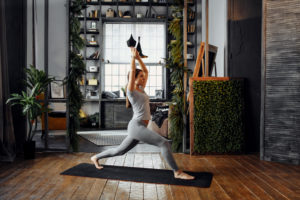 If you are working on getting into shape, getting healthy or plan to take your fitness to the next level, a home gym can be a great convenience. Imagine not having to change clothes and find your gym bag and car keys to go work out. Even better, imagine showering afterward in your own bathroom rather than a shared locker room!
But a home gym is also an investment. Too many people decide to have a home gym because they impulsively buy a piece of equipment on sale, or because they gave in to late night infomercial temptation. Instead, before you sink any money into your dream exercise room, take some time to think about your wants and needs for your fitness space. Here are four factors to consider.
1. Purpose
Your first consideration should be your goals for your home gym. Are you looking to build and tone your muscles, or mainly cardio workouts? Or some combination of the two? You may not have the budget or the space for both, so you should begin by deciding what your focus will be. This will help determine type of equipment to purchase. You might not need barbells and dumbbells if you are not planning to build muscle or strength. Resistance bands can do the trick. Furthermore, the are way cheaper , take up less space and easy to maintain.
At this point you can also consider whether you can reach your ideal home gym in stages. Maybe you would ultimately like to have a treadmill and a nice weight setup, but your priority might be the strength training equipment. So you may want to start by investing in the weights, and continue running outdoors at first, then add a treadmill later.
2. Space
Where will you locate your home gym? You may have an extra bedroom, a basement, or another area in your home that you can dedicate to exercise. This gives you the option to install a full weight setup, or a larger machine like an elliptical or stair climber. But if you are carving out space in the corner of your bedroom or home office, you will have to think in terms of smaller items, like a treadmill or stationary bicycle that can fold up and out of the way when not in use.
Your available space can also affect your plans in other ways. For example, if you want to create a weight room in your basement, check that you have enough clearance overhead for your highest lifts. If using an upstairs room or an attic, make sure you have the necessary floor support before installing heavy equipment.
3. Budget
Fitness equipment can be a huge expense, but it doesn't have to completely drain your bank account. There are many opportunities to buy used equipment in excellent condition. You can also build your collection a little at a time or begin with activities like yoga that don't require much gear. Equipment that requires electricity might cause an increase in your electric bill.
When budgeting for your home gym, think beyond the main pieces of equipment. You will need items like mats to go under a weight bench or machine, and some mirrors to check your form as well. You can also invest in one main piece of equipment and then expand your options with cheaper items like small barbells, kettle bells, or an exercise ball. Resistance bands and pull up bars are inexpensive, versatile, and require almost no space room to store.
Leave room in your budget for the things that will make your space functional and comfortable. You may need want to install some lighting, or a television and sound system for video workouts, motivating music, or just to have something to watch while you exercise. If you use a subscription service like Daily Burn or Peloton, don't forget to build the monthly fee into your budget.
Ventilation is another critical consideration. You will definitely want some kind of fan to keep the air moving when you are working up a sweat, so make room in your budget for a ceiling fan or larger floor fan. If your workout space is somewhere that is more difficult to heat or cool, like a garage, you may need a portable heater, air conditioner, or both. In a basement space, you may need to add a dehumidifier as well. Remember, if your space isn't comfortable to work out in, you won't use it!
4. Maintenance
Finally, make plans for maintaining and repair of  your home gym equipment. If you invest in a piece of expensive and complicated machinery like a bike or elliptical, be sure you take the time to learn how to do simple adjustments and upkeep on it. Alternately, plan your budget so you can afford a professional service call at least once a year.
A home gym is a great addition to your living space if you have the room, budget, and motivation for it. If it's something you are considering investing in, take the time to plan it carefully. You don't want to spend time and money on something that you ultimately don't enjoy using, or worse, don't use at all!