Don't Be So Salty: High Sodium Food to Avoid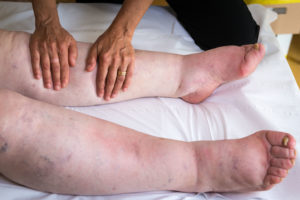 While some salt is necessary for good health, too much salt creates health problems such as high blood pressure. Excess salt in the body attracts excess water. Where salt goes water follows. Unfortunately our kidneys are not efficient at removing the excess water. Consequently the excess water causes an increase in circulatory volume that requires more force to push the blood throughout our body. This results in high blood pressure.
One of the signs of excess water intake is swelling in your ankles, feet, hands and fingers. It is visible in those area because the fluid shift in the tissue and pools in the dependent areas by gravity.  In the medical community this is called dependent edema.  A diuretic and limb elevation can alleviate the problem. If your legs or hands get swollen lay down and  place them in a  position so that they are over your heart and the fluid can be redistributed throughout the body. You can prop them on pillow to help.
If you do not have any heart or kidney problems then drinking water can also help reduce the sodium and edema.
Diuretics  also known as water pills are usually prescribed to help facilitate removal of excess water.  Once you start to urinate excess fliud your blood pressure will decrease as well. Most people with high blood pressure are prescribed a diuretic and another class of blood pressure medication to help reduce their blood pressure.
Most people know that a low sodium diet is a good way to avoid such problems. However, to stay within the recommended guidelines of less than 2,300 mg of sodium per day for a normotensive, a person must have less than 500mmg of salt per meal. But if you have high blood pressure the recommended daily salt consumption is less than 1300mg daily. Depending on how many meals you eat per day this will be the equivalent of 3 – 4 meals at 200mg – 300 mg per meal or snack. Consuming this little sodium is hard for many people because sodium is added to food to give it flavor. A sodium less meal is quite bland and not enjoyable to people who are accustomed to adding salt to everything.
People try to avoid the obvious culprits, such as pretzels, chips, and popcorn, but still end up eating too much salt because it's added to a lot of food and is the reason why you enjoy that meal so much. The following foods have surprisingly high sodium content that will easily put you over your daily allowance.
Seasoned Bread Crumbs
Seasoned breadcrumbs are often added to casserole or chicken dishes without a second thought. But it does not just contain bread and harmless seasonings. One of the seasonings added is salt, around 2,000 mg in only a one-cup serving. That's nearly all of the daily recommended salt allowance, in one meal. Make your own seasoned bread crumbs instead of purchasing them.
Seasoned Batter Mix
Boxed batter mixes are used for frying and baking mostly, chicken, seafood or shrimp. Most have a combination of corn flour and cornmeal that makes it more crispier when fried or baked. You will find salt as one of the listed ingredient. Even if you are counting your salt intake,  it very difficult figure out how much sodium is in a  serving . Furthermore,, it usually takes several servings to achieve the desired taste.
Teriyaki Sauce
Although a popular ingredient in Asian cuisine, just one tablespoon of teriyaki sauce contains between 650 and 700 mg of salt. That's almost the entire allowance for one meal, more than one meal if you use more than one tablespoon for a serving. If you must use teriyaki, use it sparingly. When eating out, order the sauce on the side so that you can control how much you add to the dish.
Boxed Cereal
High sugar content is not the only thing to worry about when shopping for breakfast. Many popular boxed cereals can have up to 250 mg of sodium per cup. Since most people do not eat just one cup of cereal at a time, the total amount of sodium consumed adds up fast. You can reduce the amount of sodium and still enjoy your favorite cereals by reading the labels and mixing your favorite brand with a low-salt choice.
Vegetable Juice
Vegetable juice seems like a healthy beverage of choice. It can also be added to several other dishes for flavoring. But one cup of it contains about 470 mg of salt. If you cannot make your own vegetable juice cocktails, shop around for the brands with the least amount of sodium. They might not taste as good but at least your blood pressure wont be affect. The best option is to eat the vegetable instead of drinking the juice.
Pasta Sauce and Tomato Sauce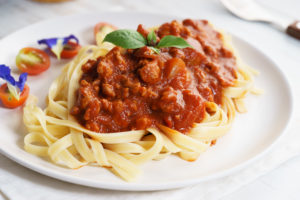 It is easy to prepare a big bowl of spaghetti and think you are consuming a low-sodium dish. That may be true if you are not adding spaghetti sauce. Many of your favorite brands contain at least 500 mg of salt in only half a cup. Most people add more than that to their spaghetti helping. One solution is to make your own sauce. Otherwise, look for brands that offer "no salt added" versions, or compare labels to find the brand with the least amount of salt.
Frozen Dinners
Frozen TV dinners are cheap and efficient. If your are tracking your calories, this is the easiest method to keep track of the calories and other nutrients. Every thing you need to know is on the box and you don't have to guess the calorie or nutrient information. If you use a fitness app, you can scan them directly into you tracker log and track your consumption of various nutrients.  Take note of the high sodium content in most. A minimum of 300 – 400mg. These number add up quickly so beware.
If you have high blood pressure reducing your sodium  intake can decrease your blood pressure by  5 – 6  mm Hg and if your blood pressure is normal reducing your sodium  intake can reduce your blood pressure by 2-3 mm Hg.
Consuming too much salt on a daily basis is easier than you may think.  The aforementioned examples are just few sources that people usually over look. It is always best to read the labels of the foods you purchase and compare the serving amount to the actual amount you plan to eat. Whenever possible, consider making your own versions so that you know how much, if any, salt is added. If you keep a wary eye on the labels, you will not be unpleasantly surprised later with a high blood pressure.