Best At Home Exercise Equipment for Small Spaces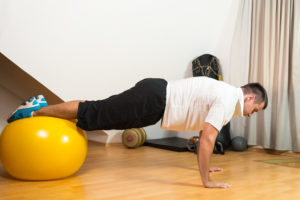 Although we know we need to workout , many of us avoid going to the gym at all costs. Perhaps the price of the membership scares us away, or maybe between work, church and social media, we just cant seem to fit exercise in our busy schedules.
Certainly hitting the gym is way too much trouble. But are there other option?
Whatever the reason is, anyone can easily begin their exercise journey at-home routine with little cost. No gym membership necessary.
Here are some of the best workout equipments that can get you in tip top shape in the comfort of your own home.
Push-ups Bars
The simpler the exercise, the easier it is to stick with it until it becomes a routine. Doing push-ups is an easy way to begin an exercise program because they cost nothing and can be done almost anywhere. Many people hate doing push-ups, but there are important arguments to consider it one of the most complete forms of exercise. Using your own body as the weight will create a head-to-toe workout that will leave you sweating.
In addition to working your arms, chest, and shoulders, you'll also target your abs and glutes. You can try different variations of push-ups such as wide grip or close grip. Wide push-up will mainly work your chest while a close grip push-up will target the triceps.
Pull-ups Bars
Doing the pull-up is also another inexpensive way to begin exercising at home. All you need is a sturdy pull-up bar, which can be found at any sporting goods store. If your home does not have a door frame that you can hang a bar from, you might consider purchasing a pull-up stand. As an added bonus, you can use the bar to work your abs by doing leg lifts. Because pull-ups tone your back muscles, they will complement the work you've been doing with push-ups. Pull-ups can be performed in a variety of ways to ensure you don't get bored. For example, the overhand pull-up will target your lats while the (underhand) chin up will isolate your back and biceps.
Bulgarian Training Bags
The Bulgarian training bag is one of the most space-friendly and versatile pieces of exercise equipment you can own. Because of the weight and size of Bulgarian training bags, you can expect to tone up rather quickly. In fact, many bodybuilders compare working out with the bags to carrying a giant chunk of meat. Bulgarian training bags are available in different sizes, so it's up to you to determine which weight is best for your fitness level. The number of exercises that you can perform with a bag matches those provided by the most sophisticated gyms, making it highly budget-friendly.
Exercise Ball Workouts
The gym ball can be a real lifesaver when it comes to back and neck pain, and there are numerous other ways you can use it to workout. Exercise balls are excellent for improving stability and adding extra mobility to your joints. In addition, they can add an element of fun to your workouts. This light-weight, inflatable tool is primarily meant to stabilize, which is what makes it so useful for other disciplines such as yoga and Pilates. For example, you can use a ball to work on balance and stability while engaging your core muscles at a deeper level.
Videos
At-home videos are a great choice to begin working out at home because they usually don't require much equipment. In addition, you'll be able to take advantage of the instruction that comes with a workout DVD. Try getting on YouTube and find a workout that you'll enjoy. From walking, dance, weight lifting, yoga, and cardio, you're bound to find a few workouts! If you are new to home workouts and workouts in general, try the beginners' videos first, then move to more complex and more demanding exercises; this way, your body will get a chance to get used to exercising and you will feel motivated to keep on improving with every new exercise you add.
One way to add resistance is to use kettlebells. If you have never seen one, they are the weights that look like a cannonball with a handle. What is especially good about them is that they can be used by everyone, beginners and more advanced as they come in various weights and you can use them to do many exercises, such as lifts, shoulder presses, and lunges. They are easy to use and the workouts with them offer a lot of flexibility; that's why everyone should consider training with them.
Make your bodyweight exercises more challenging by adding resistant bands. These will bring external resistance to your exercise that your muscles have to work against. You can also use them for stretching out. If you are having any doubts about using weights, or you are a beginner, you can use the resistance bands instead; these are easier to do, more comfortable and safer; they will definitely help you stretch out the muscles and build them up. Resistant bands are small, lightweight and cheap. They come in looped and non-looped bands and are versatile and easy to use. It's also possible to get a full-body workout with resistant bands.
Workout Apps
Subscribe to a work out app. Try the free trial period first before you decide to commit to one app. Make sure to cancel in time to avoid being charged. There are enough free workout apps on the market to give you a free workout for a few months. Most of the workout apps have reminders/notifications options that will remind you to do your exercise daily, and this can be quite helpful if you often forget to exercise due to a busy schedule. Once you have done the trials, if you like the program, you can consider subscribing to it. Some of these workout apps also offer different dietary programs and meal plans that can additionally help you with your workouts.
Remember back in the days when fitness enthused use to wear leotards as their workout attire? Well, those were also the days of step aerobics. There is a reason why these have stuck around for so long. Step aerobics has all the benefits of a high-intensity cardio workout as it improves the overall fitness by building, strengths and reducing fat, while at the same time, the workout with it does not put any additional stress on your joints. Moreover, step aerobics is quite simple and easy to use: all you have to do is step on and off the platform at an intensity that gets your heart up. You can also use the stem platform as support when you do strength training. It is your all-in-one cardio and strength training equipment. And you won't even have to worry about making space for it in your home: once you are done with the training, store it under the bed.
Medicine balls are weighted balls fill with gel. They are durable enough to endure a slam on the floor, against the wall or a trampoline. If you want to mix up your workout, do so by adding medicine balls. Medicine balls often are described as a must-have accessory because they help you develop your coordination and balance, and that is quite an important part of any workout. These are also quite good for your health, like Roberts, the person who coined their name "medicine ball" says, using them "invigorates the body, promotes digestion, and restores and preserves one's health". Definitely worth giving a try, don't you think?
We played with it as kids, but the truth is, jump ropes are one of the healthiest, good pieces of equipment for moderate-intensity workouts. They are quite cheap so you won't have to worry about spending too much, and, yet, they will give you a full-body workout. Jump ropes are also quite good for people who try to lose weight as exercising with it burns many calories in a short amount of time. They can also help you tone your muscles. Please, don't be afraid to experiment with them: try rope jumping, skipping rope, alternate foot jumps, boxer step jump, single-foot jumps, crisscross, side swing, high knees jump, etc.
Bosu – interesting name, and if you are wondering what does it stand for, this name is actually an acronym for "Both Sides Up" which is quite clever as it refers to both ways a bosu ball can be positioned. A bossy ball is a rigid platform to which an inflated rubber hemisphere is attached; you can flip it on either of the sides, depending on the exercises you do. If you want to work on your balance, try adding bosu ball to your training: the unstable surface will help you improve your balance for sure. You can also use the bosu ball for jumping activities, stretching as well as aerobic fitness and strength training.
We see them being used in almost any promotional video for exercising, and there is a reason for that. Battle ropes are good for a vast variety of exercises and workouts, especially for high-intensity interval trainings. Depending on what your goal is, you can buy different types of these battle ropes: for building up muscle it is best that you use a 2inch or thicker, between 40-60 feet long battle rope, while if you just want to increase cardio stamina than a 1.5 inches or less battle rope long 40-60 feet will do the job. When you use the battle rope, you are making a variety of "waves" and doing the maximum level of cardio as your upper body is under prolonged tension which helps you build your muscle, power, and endurance.
Sandbells
If you are looking for free weight, the SandBells are probably the most versatile and effective choice that you will run into. Sandbells are basically soft, disc-shaped neoprene bags filled with sand, and like other free weights can be used in pairs or alone. The best thing about Sandbells is that they have simply reinvented the free weight exercising: you can use them inside and outside and there are many exercises that work really well in combination with them. As we mentioned, they are challenging as the sand inside, unlike the usual firmness of the traditional free weights is unpredictable and will definitely keep you on your toes, completely focused on your exercise. Sandbells can be used for full-body workouts, strength workouts, total body conditioning, and even weight loss exercises.
Weighted gloves
Weighted gloves have become more popular nowadays as they are much more convenient when it comes to adding resistance to a workout than the regular carrying hand weights. The weighted gloves, as the name suggests are fingerless gloves with attached weights in their design (usually 2lbs or less.) If you want to increase the intensity of your cardiovascular workouts and at the same time improve your muscle tone, use the weighted gloves during your training. They are quite flexible as they can be used during many exercises as well as activities such as running, kickboxing, shadowboxing, etc.
Weighted West
The simple rule of exercising is if you want to build endurance and strength, use weight during your exercises. And one way to add weight is definitely by adding a weighted vest. A weighted vest is simply a vest made of heavy material, or lighter but equipped with small pockets that can be filled with small steel bars, tiny sandbags or other weight objects. When you use the weight vest, your lower-body muscles need to generate more force against the ground which improves your strength and power and tones the muscles. These vests are best for body-weight exercises, as well as outdoor activities like running or speed, agility and quickness drills. You can also use them if you are tired of your regular exercises and you want to "spice things up". They will increase the intensity of the exercise that otherwise had become easier for you.
Sliders force you to engage our muscles the entire time of your exercise and that is why trainers keep on recommending them.   When you use sliders correctly, over a period of time you will notice that you have drastically increased your balance and core strength. Besides contributing to core stability, sliders also make your muscles work more intensely than usual. Every exercise, combined with sliders, feels more challenging.
Ankle/Wrist Weights
Ankle and wrist weights are wearable, wide, weighted straps that wrap around your ankle or wrist and attach with Velcro. They are one of the simpler, easier gears and are good for most of the cardio workouts or running/walking activities. The main purpose of the ankle/wrist weights is to increase the resistance and with that make the exercises more challenging. Nevertheless, please keep in mind that although these may look innocent enough, even the lighter ones, from 1-2 pounds can effectively and significantly boost the intensity of the workout and increase the pressure. So, please make sure that they are not too heavy and will help you improve your exercises but not cause you too much pressure and pain.
Don't let the fear of the gym scare you away from fitness. Your fitness should be part of your regular, everyday routine, regardless of the where it is done. You can get in great shape and good health working out anywhere. All you need is commitment and consistency.
Start your workouts without weights. As you watch your favorite show, try out the  bed, wall, and couch  exercise routineRemember, this is the beginning of a journey so start slow . Don't go all in too quick . Make a schedule and stick to it. You can break your workout in 15 minutes increments and go longer when time permits.