Health Benefits of Hazelnut Oils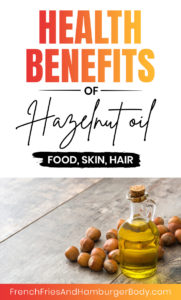 Supermarket shelves are filled with different types of oil. Some with a hefty price tag and some are cheap. Not to mention virgin, refined, cold press and all the other fancy terms that makes the selection process very confusing. How do you know which ones are the healthy ones and which ones to avoid?
But did you notice that some of the same oils that you cook with you can also used as a part of  your skin and hair care routine. For example, coconut oil can be eaten and also slathered all over your body from head to toe.  Hazelnut oil can be used in the same. The health benefits of hazelnut oil is similar to coconut oil. You can nourish your body from inside and outside with hazelnut oil. If you want to keep you cholesterol level in check you must read the labels to get the low down on the fat content in the oil.
Where is Hazelnut Grown?
Hazelnut oil is  extracted from the hazelnut by a press machine. With this said, you cannot speak of hazelnut oil without first being familiar with the hazelnut. The hazelnut, also known as the filbert nut, comes from the hazel tree. Hazel trees were first introduced to the United States by European immigrants.
Throughout history, hazelnuts were said to have mystic powers and healing qualities. They were even torched during wedding ceremonies to promote fertility and a long, happy marriage. They were also used in many formulas for a variety of illnesses. Even in the world today, hazelnuts are known to have various health benefits. They remain to be one of the most prestigious amongst the tree nuts.
There are 15 different species of trees and shrubs that produce this nut. These plants are native to the northern temperate zone but have different breeds that can be found further to the west. Overall, there are three different species of hazelnut. These species are the beaked hazelnut, the American hazelnut, and the European hazelnut. You can tell the difference by the size of the nut. The beaked hazelnut ranges from about 4 to 7 cm. The American nut is a bit smaller at 1.5 to 3 cm. The European version is the largest, and a bit bigger than 7 cm.
Hazelnut Oil Uses
Hair Care
Hazelnut oil is filled with fatty acids, proteins, and vitamins. This helps it to nourish the hair and the scalp. It is an excellent oil for continuous healthy hair growth and great for scalp massages. It keeps hair follicles safe from the sun and prevents you from having a dry scalp.
Skin Care
Hazelnut oil is known as a reliever for those of us with sensitive skin. It will not dry out your skin or make you break out, unlike some alcohol-based cleansers. It is natural, so you can use it pretty much every day to brighten your complexion. This is due to its high fatty acid and vitamin E properties. They both increase moisture and hydration in the skin. The presence of vitamin E makes it great for reducing the visibility of scars, getting rid of wrinkles, and limiting hyper-pigmentation. Hazelnut oil can also be used as a moisturizer, due to its ability to retain water.
Cooking
Hazelnut oil is excellent for cooking in mid to high range temperatures and is great for  baking as well. It adds a unique flavor to salad dressings, pasta, and grilled meat. I would highly recommend cooking your fish with it.
Aromatherapy/ Massage Therapy
Hazelnut oils is light, nutty, and due to it's sweet scent is great for aromatherapy. It is an excellent ingredient to add when mixing a massage oil. This is because it helps to tone and tighten the skin, as well as building up the capillaries and assisting in the cell regeneration process.
Biodiesel
It is no secret that the demand for diesel fuel will soon exceed the capabilities of the industry. The vegetable oil and animal fat industries will not be able to pick up the weight by themselves. Hazelnut oil is a great raw material for the manufacturing of biodiesel and may be just what we need to pick up the slack. It can be a good alternative, due to its high properties of fatty acids. This will likely make it a valuable resource for the future production of biodiesel.
How is Hazelnut Oil Made?
Hazelnut oil is made from cold-pressed hazelnuts through a process known as extraction. If you have an automatic extraction-machine, then this process is pretty simple. All you would need to do is put a few pounds of the nuts in the machine, and it will take care of the rest. Just be sure to place a jar under it in order to catch the oil.
If you have a manual machine, then you will need to start by drying the fresh hazelnuts. They should only have about 10 percent moisture. If you have hazelnuts that are already dehydrated, then skip the previous step. Then weigh the nuts and write down the weight. Then, spread them out on a baking pan and place them in the oven at 300-degrees Fahrenheit for one hour. After that, remove them, let them cool off, and weigh them again. Subtract the new weight from the old mass and multiply that number by 100. This is your moisture percentage. If not at 10 percent, then continue to bake them in one-hour intervals until they are. Once, you get to the desired proportion, put them in the manual press. Place a jar underneath, to catch the oil. Seal it and then place it in the refrigerator until you are ready to use it. If made properly, the oil should be light yellow in color.
Refined vs. Unrefined
The difference in refined and unrefined oils, all depends on the process in which it is made. Unrefined oils are cold-pressed oils that have not been bleached or deodorized. While unrefined oils include oils such as raw, pure, virgin, or extra virgin oils. This is determined by how many times the materials were pressed to extract the oil. Extra virgin oil means that the oil was removed after the first pressing. If your oil doesn't taste like the product it was derived from, then you have a refined oil. Hazelnut oil is refined vegetable oil, and its weight is about 50 to 65 percent oil.
Nutritional Value
Hazelnut oil is so full of so many nutrients. This is why so many people rely on it for skin and hair care. All the vitamin E found in hazelnut oil makes it a no brainer. The high antioxidant levels can be used to increase your immune system, protect your heart, and reduce inflammation. Research has found that frequent use can even reduce the risk of cancer. This a great when you consider that pretty much everything allegedly causes cancer these days. Hazelnut oil is also said to lower your cholesterol, due to its low LDL (low-density lipoproteins). LDL is considered bad cholesterol because it clogs the arteries.
Nutritional facts
One tablespoon of hazelnut oil contains:
· Calories: 93
· Total Fat: 7g
· Saturated Fat: 1g
· Trans Fat: 0g
· Polyunsaturated Fat: 1g
· Monounsaturated Fat: 5g
· Cholesterol: 0mg
· Potassium: 94mg
· Sodium: 33mg
· Total Carbohydrates: 8g
· Dietary Fiber: 1g
· Sugars: 6g
· Protein: 2g
· Vitamin C: 1%
· Iron: 8%
· Vitamin K: 1%
· Riboflavin: 1%
· Vitamin B6: 5%
· Pantothenic Acid: 2%
· Magnesium: 5%
· Selenium: 1%
· Manganese: 27%
· Calcium: 1%
· Vitamin E: 13%
· Thiamin: 6%
· Niacin: 1%
· Folate: 3%
· Phosphorus: 5%
· Zinc: 3%
· Copper: 23%

What is the Smoke Point of Hazelnut Oil?
The smoking point (burning point) of an oil is the temperature in which the oil begins to smoke. When cooking with oils, you must be very wary of the smoking point. If you allow the oil to burn, it will ruin its flavor entirely it also becomes unhealthy beyond that point.The smoking point of hazelnut oil is 430-degrees Fahrenheit. With this said, I wouldn't use it for frying. It will likely give the hazelnut oil a bitter taste
Alternatives to Hazelnut Oil
If you have a nut allergy or just don't enjoy the taste of hazelnut oil, there are still some good alternatives out there. Here are a few substitutes for hazelnut oil:
 Olive Oil 
Olive oil can be used as a substitute for hazelnut oil in most recipes. If you are using it in a recipe that requires high heat, then use regular or light olive oil. If not, then you should go for extra virgin olive oil. Extra virgin olive oil has a pleasant fruity taste to it. Extra virgin olive oil is an excellent choice for salads and pasta.
Almond Oil 
Almond oil is another nut oil that is rich with flavor and great for salads. Just like walnut oil, it is high in vitamin E. It is also great for desserts. However, it does have a higher smoking point than walnut oil, so it can be used for recipes with a higher heat requirement. If using a refined version, it is excellent for baking and frying as well.
Sunflower Oil
Sunflower oil has a much milder taste to it than hazelnut oil, so I wouldn't count on it for much flavor value. Like almond oil, it can be used for higher temperature cooking but is also suitable for cold dishes. It is high in vitamin E and low in saturated fat, which makes it an excellent alternative to hazelnut oil.
Is Hazelnut Oil Healthy?
Honestly, you will find it challenging to find any disadvantages of hazelnut oil. This just goes to show that not all oils are created equally. It has an unbelievable amount of health benefits for cooking and personal hygiene. Hazelnut oil is one of the most highly regarded oils out on your grocery story shelves. So, is hazelnut oil healthy?