Is Walnut Oil Healthy?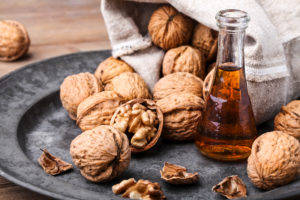 When it comes to oils, there are so many available options. Some are good for you and can help improve your heart health while others or not so good for you. Even if not edible, you can find other uses and benefits for the oil. But first, if you plan to use the oil for cooking, baking or splashing some on your salad you need to know if it will clog your arteries. As you know there is a very close relationship between the fats and oils in the food we love to eat and cardiovascular diseases such as stroke and heart attack. Some oils are better for you when not heated or when used for low temperature cooking.
Nut oils such as walnut oil has it place in the kitchen cabinet and medicine cabinet. However, you are here to find out if walnut oil is healthy.
Walnut oil is one of those oils that you don't hear about very often. Most don't use this oil in their day to day lives, but perhaps they should. Walnut oil is made from dried nuts, typically Persian walnuts. This is what gives it a very nutty scent and flavor. If it is good quality, it should be topaz in color. It is usually produced in either France, New Zealand, California, or Australia. The oil can be a bit on the expensive side, but if you use it properly, it should last a long time. Walnut oil has many uses that are not limited only to cooking. I know it can be challenging to keep up with all the different oils on your supermarket shelf But what you really want to know is if walnut oil is healthy?
How is Walnut Oil Made?
To make walnut oil, first, the nuts must be roasted to loosen the oil and enhance the flavor. Next, the nuts are cold-pressed in order to draw out the oil from them. You need five pounds of walnuts to make one liter of oil. The oil can be either unrefined or semi-refined, but most of the time, it is unrefined. You can do this process on your own with a walnut oil extraction machine, but beware. The extraction machine can be quite pricey, but they are well worth it in the long run. Nonetheless, walnut oil needs to be refrigerated and kept away from the light once opened. When exposed to light, the oil becomes rancid.
Refined vs. Unrefined
The difference in refined and unrefined oils, all depends on the process in which it is made. Unrefined oils are cold-pressed oils that have not been bleached or deodorized. While unrefined oils include oils such as raw, pure, virgin, or extra virgin oils. This is determined by how many times the materials were pressed to extract the oil. Extra virgin oil means that the oil was extracted after the first pressing. If your oil doesn't taste like the product it was derived from, then you have a refined oil.
Nutritional Value
Walnut oil contains a large amount of omega-3 fats, which is one of the good kinds of fat. It is also rich in antioxidants. These two factors contribute to its viability in heart health and the prevention of cancer. Walnuts have also been known to improve brain function. Studies have shown that consistent consumption of walnut oil reduces the likelihood of Alzheimer's disease. This is also linked to the notable presence of antioxidants in walnut oil. The potassium found in walnut oil has also been known to defend against hair loss, speeding up the process of hair growth. It also has plenty of vitamins such as vitamins B-1, B-2, B-3, and E. However, walnuts are among the most allergenic foods, so you should be sure that you are not allergic before consuming walnut oil.
Nutritional Facts
One tablespoon of walnut oil contains:
• Calories: 120
• Total Fat: 14g
• Saturated Fat: 1g
• Polyunsaturated Fat: 10g
• Monounsaturated Fat: 2g
• Trans Fat: 0g
• Sodium: 0mg
• Total Carb: 0g
• Protein: 0g
What is Walnut Oil Used For?
Walnut oil can be an excellent tool for cooking, but that isn't all that it is suitable for. Here are a few uses that will encourage you to keep it in your home:
Cooking
We will start with the most apparent use for walnut oil. Walnut oil is excellent to use in cold sauces or to add a twist to certain desserts. It is also useful for adding flavor to fish or steak, as well as a nice pasta. Most of all, it is perfect for making salad dressings and vinaigrettes. However, be sure not to attempt to use it for frying. This will destroy the oils unique flavor.
Skin Care
Like most tree oils, walnut oil can do wonders for your skin. Walnut oil provides high levels of vitamins B-1, B-2, B-3, vitamin E, and niacin. This helps in enhancing the texture and quality of the skin. It also helps protect the skin from eczema. A few teaspoons a day should do the trick. Finally, the high levels of antioxidants in the walnut oil help to prevent the acceleration of the aging process. Why wouldn't you want to postpone wrinkles?
Hair
Walnut oil also has anti-fungal properties. This makes it an excellent option for protecting the health of your scalp and relieving irritation. It adds shine to your hair and fights off dandruff. The potassium found in walnut oil has also been known to defend against hair loss, speeding up the process of hair growth.
Wood Finishing
Walnut oil has been traditionally used in France as a furniture polisher. This is because it is non-toxic and has a natural resistance to water and alcohol. After the surfaces have been cleaned and dusted, it is time to bring out the walnut oil. Use a brush or cloth, and your surface will be nicely polished.
Smoke Point
The smoke point (burning point) of an oil is the temperature in which the oil begins to smoke.  This is an approximate number but is important to know because the oil becomes unhealthy somewhere around this number.  When using walnut oil, you must be very wary of the smoking point. If you allow the oil to burn, it will ruin its flavor entirely. The smoking point of walnut oil depends on whether it is unrefined or refined. Either way, the smoking point is not very high, which is why walnut oil isn't a suitable choice for high-temperature cooking. The smoking point of refined walnut oil is 400-degrees Fahrenheit, while the smoking point for unrefined walnut oil is 320-degrees Fahrenheit. However, you should keep in mind that most of the available walnut oil is unrefined. If you are planning on using oil for high-temperature cooking, you are better off using avocado or pecan oils.
Drying Time
When using walnut oil to polish wood, you must pay attention to the drying time. Typically, you want to let walnut oil layers dry for at least 24 hours between coats; longer if possible. If you need it to dry more quickly, then you can heat it in a pot less than one-third full until you begin to see fumes. However, it needs to be done carefully. If cooked too long the oil will become flammable.
Alternative to Walnut Oil
As stated, before walnut, oil can be quite expensive. So, if you don't have any in your home, if you are allergic to nuts, or simply don't like walnut oil, then there are alternatives that you can use in its place. Here are a few of your other options:
Olive Oil – Olive oil can be used as a substitute for walnut oil in most recipes. If you are using it in a recipe that requires high heat, then use regular or light olive oil. If not, then you should go for extra virgin olive oil. Extra virgin olive oil has a pleasant fruity taste to it.
Hazelnut Oil – Hazelnut oil is best used for cold dishes, just like walnut oil. So, if you are making a vinaigrette or dressing, then this is the way to go. It has a nutty taste that is similar to walnut oil, which makes it one of the best alternatives. Hazelnut oil is great for salads and pasta dishes.
Almond Oil – Almond oil is another nut oil that is rich with flavor and great for salads. Just like walnut oil, it is high in vitamin E. It is also great for desserts but doesn't quite have the same effect as walnut oil. However, it does have a higher smoking point than walnut oil, so it can be used for recipes with a higher heat requirement.
Sunflower Oil – Sunflower oil has a much milder taste to it than walnut oil, so I wouldn't count on it for flavor value. Like almond oil, it can be used for higher temperature cooking but is also good for cold dishes. It is high in vitamin E and low in saturated fat, which makes it an excellent alternative to walnut oil.
Is Walnut Oil Healthy?
Walnut oil is high in heart-healthy fats as well as antioxidants. It reduces the risk of heart disease and cancer. The oil can even be used for hair and skin treatment. Overall, it is safe to say that walnut oil is safe to consume but for cooking.