How to Do Cardio at Home without Equipment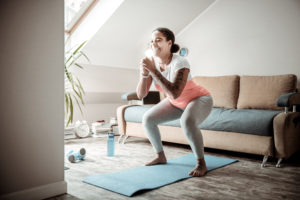 While everyone knows the need and importance of proper and regular physical exercises, not everyone gets to do them. Or as frequent as is recommended. Beyond just plain disinterest and laziness, the two main obstacles to working out for most people are a lack of time and equipment.
Truth is, you can do cardio at  home without equipment easily. All you need to do is to increase the vigor and intensity of some of your everyday activity.
Wondering how?  The good news is that there are several exercises you can be done anywhere, anytime at your convenience.
By the way, the American Heart Association recommends the below and it can be broken up throughout the day. You don not have to do it all at once.
75 minutes of vigorous cardiovascular activity
OR
150 minutes of moderate intensity cardiovascular activity
Benefits of cardio
1.  The first obvious benefit is the effect on your heart. Cardio strengthens your heart making it pump easy to pump body throughout your body. It keeps the arteries clean allowing for more good cholesterol levels in your blood while lowering the levels of bad cholesterol.
2. Cardiovascular exercises enable you to manage the symptoms of high blood pressure. Being more active is one of the ways you can lower your blood pressure.
3.  It uses carbohydrates for energy therefore prevent from becoming a Type II diabetic and to help control your blood sugar if you are diabetic.
4. Cardio helps your joint fluid and help you manage chronic pain. The muscle around your joints will be strong which allows to move easier.
5. Engaging in regular cardio exercise allows you to sleep better and also improves your wakefulness during the day. Your vitality and energy levels also improve, increasing your productivity.
6. Cardio also helps you to burn fat and loose weight
7. Since cardio makes you breathing harder it will condition your lungs to pick up oxygen and deliver it throughout the body.
To gain all the above benefits, you will need exercises you can do at home or at work with no equipment. The other added advantage is that you can easily do several sets within as little time as 20 minutes. As you improve on your physical condition, you can do variations or increase the number of repetitions and circuits to offer you new challenges. All you need is some little space a good pair of sneaker and your bodyweight.
Here are the best and effective no equipment cardio exercises for busy people like you. Don't forget to add vigor and intensity to make them effective. Some of the move can also performed for strength training and to build muscles. However, unlike strength training you can repeat the exercise to the point of exhaustion, even if means you are doing it a 100 times.  You can also pick 4 of the exercises and circuit train either by timing or repetition.
Forward Lunges
The forward lunge is known as the best stretch of all exercises thanks to its ability to stretch every body part. It is thus a good one to start your workout on. To do it in the best form, have your hands on the hip or behind your back. Then step forward in a big step and lower the back foot until the knee touches the ground. Hold the position for about two seconds and push your hips up to return to standing position. You can then repeat with the other foot. For starters, you can do ten reps of this workout.
Squat Jumps
Squat jumps are an explosive way to work out your glutes, increase your heart rate and also build your balance, especially your running form. They help work out the three crucial parts of your lower body muscles, the hips, knees, and ankles. The correct way is done by standing with your feet extending wide than your shoulder-length. Get into a squat position with knees behind your toes. Hold the position for a few seconds before jumping vertically as high as you can. Prepare for landing mid-air getting back to a squat position. You can also do ten repetitions.
Plyometric Push-Ups
Your usual push-ups are more than enough to get your chest burning, however, for more cardio workout and challenge to your core, the plyometric push ups are what you need. They are similar to your standard push ups except that when pushing up from the starting position you do not come up slowly and hold it at full arm stretch. Instead, you explode upwards to the point your body is suspended a few inches from the ground. Catch yourself as you land back and transition into a pushup starting position. For maximum impact, you should do your repetitions without pausing in a fluid motion.
Mountain Climbers
This is another exercise which strengthens your core while allowing you to build endurance in your upper body muscles. Doing it faster also helps you improve your heart beat. Get into a plank position ensuring your waist does not sag. Then push your knees interchangeably as far inside as you can then get them back in a running motion. You can increase the challenge by pushing the knee to the opposite elbows inwards instead of just straight to the elbows ahead of them. So the left knee touches the right elbow and vice-versa.
Stair Sprints
If you have stairs around, this is an intense exercise you can use as a core exercise or just warm up your body. Simply sprint up the stairs as fast as you can buy one stair at a time then come back down while walking to prevent tripping. Go back up again in a sprint for the duration of the allotted time or until you are worn out. The stairs offer a resistance almost similar to a treadmill and also allow you to burn fats in your whole body while improving your body balance.
Knee Hug
This is an exercise for your hamstrings, glutes, and hip flexor. Lift the right knee to the chest while grabbing below the knee. As you pull to the chest flex the glute of the left knee holding for two seconds before returning to the starting point and repeating with the left leg.
Burpee
Everyone who has been on a sports field knows about this killer whole body cardio exercise. The motion in the description makes it look like a simple exercise until you try it out. You start with squatting on the floor, throw your feet back to get into a plank position, jump back into a squat and then explode up into a standing position. To make it even more challenging, you can do a push up while in the plank position before standing or jumping up to a stand. The difficulty level and the number of muscles you are working out mean you will only need a few reps to complete your daily need for cardio exercises.
Bear Crawl /Inchworm This is a great exercise especially if you want to add some element of flexibility to your cardio. It works out both for your upper body and core and also helps you to build your body balance. Start at a standing position keeping your core tight and the knees at hips length. Then bend from the waist and let your hand touch the ground and proceed to walk forward using your hands maintaining a plank position. Once you get to the plank position, you quickly walk back to your feet and stand. You can always make the exercise more challenging by adding a push up at the end of the walk.
Plank Jacks
On their own, planks are great for developing your abs and strengthening the core. However, you can easily switch them up a little to add an element of cardio to it. This is achieved by the plank jacks which require you to jump with your feet apart then jump back with them together. The challenge is to keep your hips level and do the workouts with high intensity to create a train and build endurance as you burn calories.
Butt Kicks
These are a great variation to just running on the same spot. It gets your heart beat up but also works your mental focus to get the right form. You stand with legs apart at hips width with your arms on the hips or behind your hips then start jogging on the spot but this time raising and bending your legs back so that they seem to be kicking your butt. The emphasis of the movement should be placed on your hamstrings and not your feet. Start with the right foot and every time it hits your butts or palms if you place them behind, count it as a repetition. You can do up to fifty of these, and they are a great in between exercise or one to use as a warm-up.
Plank to Knee Tap
Here is another exercise which originates from the ever dependable and versatile blank. It works out the abs, glutes and the lower back as well as the calf muscles and arms. You start from a high plank position with your engaged and then swing back bending your hips upwards like a tent. As you do this, lift your right hand and tap on your left shin with your left hand left on the ground. Resume the starting position and swing again this time changing the arm that is lifted and the knee that is tapped. You have to do these motions without pausing while maintaining the right form. For a challenging variation you can always add a push in the mix or to increase your flexibility range have your hands tap on the ankles and not the shin.
Skaters
If you are looking to quickly get your heart beating faster and your body set for a round of cardio, skaters are a great way to get most of your muscles engaged without tiring any set of muscles. You start from a standing position with your legs stretched apart the length of the hips. You bend slightly at the knees to have you leaning a little forward. From this position jump to your right gently landing on the ball of the right foot while the left one swings behind the right one. As soon as you land and complete the sweeping motion of the foot behind, jump to the opposite side landing on the left leg and the right leg sweeps behind. Alternate the arms too in front of you in a running stance to help you maintain a steady balance.
Wide mountain climbers
This is another variation of the mountain climbers and works well once you get used to the cardio and want to add more resistance, build endurance and increase your upper body strength. You take the high plank position and then bring up the right food outside of the right elbow creating a low lunge stance. In this posture jump with your hands still touching the ground and swap fir mid-air so that you land with the left food outside the left elbow and the right foot stretched at the back. Continue with the jumps to the reps set as quickly as possible.
3 hops to Push-Up
This is another challenging exercise for someone at the intermediate level. Stand on your right foot with the left foot elevated off the ground, perform three quick hops and then bend on the hips and walk on your hands to a plank position with the left leg still elevated. Perform three push-ups still on one leg and then walk back to the starting position. Perform a set number of reps on one leg say ten before switching to the other leg.
Runner's Skip
If you want to work your legs to the maximum from the hips to the glutes, the ankles, and the calf while still getting your heart racing, this is an exercise to try out. You start from a low lunge position with the right foot forward, the left foot stretched backward and the fingertips of your left arm touching the ground for balance. In one single and fluid movement, bring the left foot forward proceeding to a standing position on the right knee while pushing the left foot further up towards your chest. Hop on the right foot landing back on it lightly and then swing back the left foot to the initial starting position. Repeat with one side for half the time or number of reps before switching sides.
Doing cardio work does not need to take up much of your time or require equipment. Using your bodyweight and 10-25 minutes of your day at home can still give you the same returns. You can customize the above exercises to a workout routine that suits your needs and schedule and slowly advance to challenging variations as you get fitter.