Is Sunflower Oil Good For You?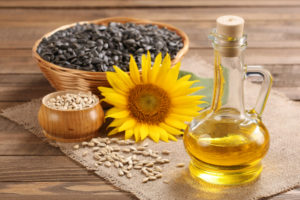 Sunflower Oil: What's the scoop?
Sunflowers are a beautiful addition to any home garden, but did you know that they can be a great addition to your kitchen? Not in a vase or anything like that, but in its oil form.
Sunflower oil is said to have many health and cosmetic benefits and works well as a cooking oil. But how true are these claims?
We will be giving you an inside scoop on Sunflower Oil and answer all your burning questions in this article. Let's start with where it comes from.
Where does it come from?
Sunflower Oil is made using the seeds from the Sunflower plant.  Done mainly in Russia, Argentina, and Ukraine, the oil is extracted using different methods.
One method, the cold-pressing method, involves removing the hulls and breaking the seeds into smaller pieces. They are then run through rollers or rotating cylinders to squeeze the oil out of the seeds. This produces extra virgin Sunflower Oil which may or may not be refined before it hits supermarket shelves. It is golden at this stage and cannot handle high temperatures.
Another method known as warm pressing is similar to the cold-pressing method, however, the seeds are heated slightly before they go through the rollers. This increases the viscosity of the oil in the seeds which makes extraction easier. Although more oil is expelled, the taste is different, sometimes slightly roasted.
Some companies extract Sunflower Oil using a chemical solvent known as hexane. This may be done in the initial stages, or after cold/warm-pressing the seeds. This process expels a larger amount of oil from the seeds. Afterward, the oil that is expelled is boiled so that the hexane is evaporated. It is then processed with lye to remove the chemical taste, then steamed and bleach to remove the lye and to give it a more pleasant taste and color.
This is also known as refined sunflower oil which is more heat stable and can withstand high-temperature cooking. It is much lighter in color and has fewer nutrients than crude Sunflower Oil.
What is it used for?
Sunflower oil is popular in Eastern European cuisine as a salad topper and even a butter. Many snacks have also been made using this oil. But the uses of Sunflower Oil does not just stop there. It has many applications outside of the kitchen. These include:
Hair and skincare
Sunflower Oil is perfect for treating dry scalp and reducing product build-up. It can also stimulate hair growth and preventing balding by increasing blood circulation when massaged into the scalp.
Adding Sunflower Oil to your hair care regimen deeply nourishes and hydrates hair, strengthens follicles, prevents hair breakage and reduces fizziness. It is also not too greasy and won't weigh hair down, giving you noticeable shine and bounciness.
Sunflower Oil is rich in Vitamin A, C, D, and E which contribute to keeping the skin hydrated and protects it from the harmful UV rays from the sun and pollutants in the air. These vitamins, along with fatty acids, also help to regenerate new skin cells and eliminate acne-causing bacteria.
Omega-6 fatty acids in Sunflower oil also help to combat inflammation and roughness to enhance the skin's appearance and can also help to prevent premature signs of aging such as fine lines and wrinkles. If you have eczema, using Sunflower Oil both topically and orally can result in near remission of the condition.
Improving oral health
Sunflower Oil is great for oil pulling. It can even reduce and prevent plaque-related gingivitis. Sunflower Oil can also fight against C. Albicans. This is a bacteria which is the most common cause of infection in people.
Lowering cholesterol
Sunflower Oil is on the American Heart Association's list of best fats as it has less saturated fats and more unsaturated fats. When used to replace other fats and oils in your diet, Sunflower Oil helps to lower the LDL levels (bad cholesterol) and increase the HDL levels (good cholesterol) in your body. This, in turn, reduces the risk of cardiovascular disease and stroke.
Boosting immune systems and energy levels
The Vitamin E in Sunflower Oil directly helps to boost the immune system because it acts as an antioxidant in the body. This helps to ward off disease and infection which in turn helps to keep you feeling your best physically.
Since Sunflower Oil is not made up primarily of saturated fats, you won't feel sluggish or tired after consuming it. Instead, its unsaturated fat content will help you to feel energized.
Preventing cancer
While more research is needed to find out the extent of this benefit, Sunflower oil has great potential in cancer prevention. Antioxidants, such as tocopherols, contained within Sunflower Oil helps to eliminate free radicals in the body. Free radicals are dangerous because they are capable of transforming healthy cells into dangerous cancer cells. By reducing the number of free radicals in the body, you are lowering your chances of developing cancer in the future.
Nutritional facts
One tablespoon of Sunflower Oil contains:
• Calories: 120
• Calories from fat: 122
• Total Fat: 14g
• Saturated fat: 1.8g
• Polyunsaturated Fat: 5g
• Monounsaturated Fat: 6g
• Carbohydrates: 0g
• Proteins: 0g
Vitamins A, B, C, D, E, and K are also present in Sunflower Oil.
▪ Vitamin A helps to prevent cataracts, increase collagen production and boost the immune system.
▪ Vitamin B helps to promote a healthy nervous system and aids in digestion.
▪ Vitamin C helps to repair body tissue, maintain bones and teeth and prevent heart disease
▪ Vitamin D is useful for maintaining healthy teeth and bones, absorbing calcium in the body and boosting one's mood.
▪ Vitamin E helps in keeping the skin and hair healthy, preventing cancer, and preventing cancer.
▪ Vitamin K is important for promoting blood clotting and healing wounds.
Minerals such as selenium are also present in Sunflower Oil. This acts as an antioxidant which helps to boost the body's immunity against chronic disease and fight inflammation.
Type of Fat
The fat content of Sunflower Oil is dependent on the type of Sunflower Oil that is produced. This is dependent on genetic and the climate in which the sunflowers are grown. However, for all three types, there are more unsaturated fats than saturated fats. These types include:
• High Oleic- 82% oleic acid
• Medium Oleic- 69% oleic acid
• High Linoleic- 21% oleic acid
Taste and smell
Unrefined Sunflower Oil has a mild taste and fatty odor. When refined, it is both tasteless and odorless.
Smoke point
Unrefined Sunflower Oil has a smoke point of 225°F (or 107°C). This makes it unsuitable for high-temperature cooking. However, when refined, the smoke point increases to 450°F (or 232°C)
Pros
Here are some reasons why you should add Sunflower Oil to your cupboard:
• It can withstand high temperatures- This makes it a great addition to your cupboard because you can use it for every style of cooking.
• It is low in saturated fats- This makes Sunflower Oil heart-healthy as it helps to lower cholesterol and prevent excessive weight gain.
• It is inexpensive- Sunflower Oil is relatively inexpensive and also easy to access. This means that adding it to your diet won't have a significant impact on your budget.
Cons
Adding Sunflower Oil to your cupboard can be a bad idea since:
• It can cause an allergic reaction- Before adding any natural oils to your skincare regimen, it is always advised that you perform a skin patch test approximately 48 hours before. If you are already allergic to plants in the Asteraceae/ Compositae family such as
daisies, ragweed, marigold, and chrysanthemums
, there is a high chance that you might suffer an allergic reaction to Sunflower Oil.
• It can worsen diabetes- If you have diabetes, you should avoid consuming too much Sunflower Oil as it can increase fasting insulin along with blood sugar. This can lead to atherosclerosis.
What's the best way to use it
Since refined Sunflower Oil has such a high smoke point, it can be used for frying and stir-frying. Using it won't affect the flavor too much so it can be used with a variety of foods.
It can also be used in baking as an ingredient, or to grease your pan or grill.
Alternatives
Safflower oil has a similar profile to that of Sunflower Oil and can be a great alternative. You may substitute it for vegetableoil, canola oil, and rapeseed oil for a similar flavor.
Other alternatives which provide the same or similar fatty acid benefits include fish oil and hemp seed oil
Things to note
• The natural shelf life of sunflower oil is one year. To avoid nutrient loss and reduction in its quality, you should store it in a cool, dry place, away from direct sunlight or in a dark-colored glass.
• If you are pregnant or nursing, you should probably avoid using sunflower. This is because there has not been enough research about whether it is good or bad for women in this condition.
Conclusion- Healthy or Unhealthy?
Incorporating Sunflower Oil into your diet can be a healthy move especially if you suffer from obesity or are at risk of developing chronic disease. However, it is important to bear in mind that excessive amounts of Sunflower Oil in the diet can quickly have adverse effects due to the high concentration of omega-6 fatty acids.
When consuming Sunflower Oil, you should monitor how your body reacts to it. If you feel energized and healthy, then keep on using it. But, if you notice that your cholesterol levels have gone up, and you begin to feel sluggish, then maybe you should reduce consumption or even remove it from your diet.