Ladies: Lift Heavy to Lose Weight and Look Great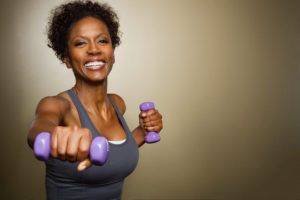 We have all heard the old riddle, "Which weighs more, a pound of feathers or a pound of lead?" Of course, they both weigh the same. The difference between a pound of feathers and a pound of lead is how much space they take up. When dealing with issues of health and fitness, the same can be said for body fat and lean muscle. A pound of body fat weights the same as a pound of muscle, but the body fat will take up far more space than the lean muscle and consequently have a much more dramatic effect on your appearance. Lean muscle also affects your metabolism and the way your body stores and uses calories. If you want to lose weight and look great, then you need to build and maintain lean muscle mass. There is only one way to build muscle, lift heavy weights.
Strength training with heavy weights is beneficial in a number of ways. The training itself and the lean muscle that results help to boost metabolism. Muscle mass also helps to prevent injury. Strong muscles absorb forces that would otherwise be placed on bones and joints. If an injury does occur, strength training is often used to aid in recovery and rehabilitation. Strength training with heavy weights has been shown to increase bone density and can also help to reduce the risks of coronary artery disease.
Studies show that there are a multitude of health benefits that arise from lifting heavy weights. One of the most interesting, and often overlooked, is the role that strength training plays in fat reduction and weight loss. It is important to note that fat reduction should take precedence over weight loss. It is the elimination of fat stores from the body that will result in the greatest health and aesthetic gains. Excessive fat stores in the body have been linked to a myriad of health risks including coronary heart disease, hypertension, kidney disease, and diabetes. The aesthetic benefits of fat reduction speak for themselves. Focus on how you look and feel, do not focus on a number on a scale.
A common misconception about strength training is that if women lift heavy weights they will bulk up. Many women mistakenly believe that if they lift heavy weights they will build so much muscle mass that they will appear fat. This is simply not true. A woman's physiology and body chemistry prevent her from building enough muscle mass to give the appearance of oversized hips or thighs. The fact is that a woman's body does not produce the levels of testosterone, a key chemical component of muscle growth, necessary to develop muscles large enough to make her appear overweight.
Strength training is perhaps the most important component of fat reduction and long term weight loss next to nutrition. Lifting heavy weights is a tremendous boost to the metabolism. Studies have shown that weight training can cause a significant increase in metabolism for as long as thirty-eight hours after a workout. This means that the body is still burning more calories than it normally would be a full day after a workout with heavy weights. Lifting heavy weights causes small tears in the muscles. The body then expends energy to repair these tears long after the workout. In fact, the body even works to recover from a weight training session while the body is at rest. That's right, lifting heavy weights allows the body to burn calories even while sleeping!
The lean muscle mass that strength training produces also plays a role in fat reduction and long term weight loss. Studies have shown that a pound of lean muscle mass at rest can burn anywhere from 10-50 calories per day. While the amount of calories a pound of lean muscle mass at rest can burn is a point of contention, there is consensus that lean muscle burns more calories than fat. Experts also agree that a person with a greater amount of lean muscle mass will burn more calories while participating in any activity, strenuous or leisurely, than a person with less lean muscle mass or more fat. Simply put, the more lean muscle mass you have, the more calories you will burn doing day to day activities.
While strength training with heavy weights is clearly an integral component to a healthy lifestyle, it is important to note that any strength training regimen should be embarked upon cautiously. Make sure that your body is healthy enough to withstand the rigors of a strength training program. Consult your doctor if you are not sure. Also, be certain to use proper technique while performing strength training exercises. Not only is proper technique critical to the effectiveness of the exercise, but lifting heavy weights with poor technique can lead to injury. If you are uncertain about how to perform an exercise, consult a personal trainer.
The benefits of lifting heavy weights for women are many. Strength training with heavy weights is proven to reduce a multitude of health risks, improve bone strength, and prevent injury. Strength training with heavy weights has been shown to increase metabolism and calorie burn. Lifting heavy weights has also been shown to be a key component to long term fat reduction and weight loss. Strength training also tightens and tones muscles for a healthier and more attractive appearance. However, due to a woman's physiology and body chemistry, strength training will not cause a woman's body to bulk up and appear overweight. Ladies, the choice is clear. If you want to improve health, reduce fat, lose weight, and look great, then you need to lift something heavy other than your handbag.