Kettlebells for Your Workout at Home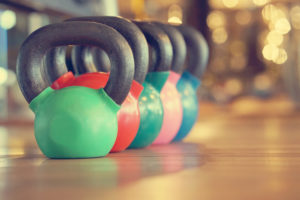 A kettlebell is one of the newest  kid on the block in the fitness industry. You probably have not seen one unless you to go the gym. I can not think of another way to describe it but to say it looks like a cannon ball with handles. What do you think? Am I right? They look bulky and intimidating, but don't be scared. The are fun. Even if you workout at home you should consider adding kettlebells to you fitness routine.
Kettlebell History
First, let's start with some kettlebell history. Russian farmers used them to weigh crops in the 1700s, then they started showing off how many times they could lift their kettlebells, and this turned into competitions. Soon after, the Russian Army began using them to train soldiers.
The Russian origins of the kettlebell also explain the strange weights in which you will find kettlebells. Original kettlebells were measured in poods. One pood is equal to 16 kilograms or a little over 36 pounds. Kettlebells will also be found in ½ pood sizes as well. ½ pood is almost 8.2 kilograms or a bit heavier than 18 pounds.
So why use kettlebells? Why add these strange things to a workout? Let's look at five of the most significant reason:
They are different! Kettlebells are not used in the same way that dumbbells and other traditions weights are used. Because the mass is concentrated at only one end of the weight and not balanced over the hand, the body has no choice but to use stabilizing muscles with every lift. This means that while you are targeting specific muscles, you will also be hitting a wide range of muscles to help you control that kettlebell.
Get stronger and skip the treadmill! Kettlebells are used in large swinging motions instead of short, repetitive movements. When you are doing kettlebell workouts, your muscles are getting stronger because of the weight, AND your heart is getting a workout from the constant motion.
This isn't bodybuilding! Kettlebells are perfect for most of us because we are not trying to look like Arnold. Kettlebell exercises are intended to add functional muscle while burning fat.
Cheapest home gym ever! Remember when we said to skip the treadmill? Well, you can also skip whole racks of weights and whatever other stuff is being sold on infomercials. One kettlebell can give an entire body workout and takes up less space than a bowling ball.
They are fun! No one will continue a workout routine if it feels like going to a second job. Kettlebells are enjoyable to use, and your entire body can be worked out in minutes.
You may be asking, "How to get started?" Well, just like any new workout, take it slow. None of us are The Rock. Take the time to watch some youtube videos or seek out one of the many great books or DVDs on the topic. Start with a light, manageable weight until you feel comfortable with the form. Then, check your excuses at the door and get exercising.