Should You Use Prickly Pear Cactus For Diabetes?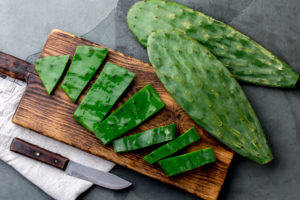 A few decades ago, if you said you were using herbs to lower your blood sugar and Hemoglobin A1c for your diabetes, people might have looked at you and said, "What! Does that mean you're going out to your backyard and munching on weeds or something?"
Most people thought it was a crazy idea! Why not just use blood sugar, lowering herbs, and get on insulin? Why do you have to do something on your own like take herbs every day?
Then things changed. Herbalists started discussing blood sugar-lowering effects of herbs on their diabetic patients and researchers – and sometimes even doctors started listening. The list of herbs that are often used for lowering blood sugar levels include:
cactus
milk thistle
garlic
ginseng
oregano
sage
banaba
cinnamon
Cactus History at a Glance
For example, in the 1990s, one brave dietitian at an Indian hospital in Yuma began telling doctors there about a locally produced cactus fruit product that could help diabetics that were suffering from high blood sugar levels that were out of control along with Hemoglobin Alc levels.
Soon they decided to try making an IV formula out of the cactus fruit product. They thought it might be worth it to try out on Indians that came into the ER with super high blood sugar levels. Unless something was used to bring those levels down quickly, these Indians would go into a coma and then die.
The dietitian worked with the doctors over several weeks and finally the doctors were ready to give it a try. It didn't take long to find a patient since they saw many patients in diabetic comas due to high blood sugar levels. The first IV of the cactus fruit went into the veins of the diabetic and the ER staff waited. Five minutes, no change.
Ten minutes, it appeared that something was occurring. Twenty minutes later, the patient was showing evidence of improvement. And 30 minutes later, their blood sugar levels were the closest to normal they had ever been in the last months.
Wow, a natural herb – cactus fruit – had literally returned life to the patient at death's door. The doctors rejoiced in the ER and did it again with more patients. Each time was successful.
Other Stories of Blood Sugar Lowering Properties Abound
There are many stories just like this one that continually show you that herbs do work for lowering blood sugar levels. And if they can do it in a life-and-death situation, you can expect that maybe if you aren't in a similar situation but nevertheless have diabetes or pre-diabetes, it's not a challenge to that herb to work for you!
Yet these types of stories are a bit hard to come by. You have to dig for them. You have to dig into the research in the medical journals, start befriending an herbalist, or hang out in alternative medicine circles to find them.
But here's the interesting thing: medical practitioners who don't have this type of understanding will warn you not to use these herbs that lower blood sugar levels. The warning is really an incomplete warning. It should be something like this: If you're using blood sugar lowering herbs, get your blood sugar levels checked by your doctor because you may need less Metformin or insulin.
Where Can You Find This Research?
For the last decade, more and more research studies have been reported in the medical literature like the PubMed database. You'll enter the words "herb blood sugar" into the search box online at the PubMed database and lists of the studies will come up. Then all you have to do is read the summaries of the study.
Here's what to look for:
What herb was used? Was it a tea? What part of the herb was used?
Who was it tested on? Did they have diabetes or a condition that is similar to yours?
How long did they give the herb? How many times a day was it taken?
What were the starting blood sugar levels? What was the Hemoglobin Alc level on average?
What was the result on the blood sugar levels?
Was there a follow-up? Did the levels stay lower when the herb was withdrawn? Or did the researchers do a follow-up and find that there was a need to stay on the herb for a longer period of time?
What It's Like to Pick Your Own Cactus
If you were going to use the herb cactus to lower your blood sugar levels, you might think you'd have to go out to the desert and pick the cactus pads (the "leaves" of the plant) or cactus fruit when it's ripe. Well, those doctors at the Indian hospital didn't do that! Can you imagine them out there in the heat of the desert with a pair of long tongs battling the rattlesnakes for those fruit? (Snakes love the fruit.) Instead, they got the cactus fruit nectar already prepared – and without any of those prickly cactus needles.
One woman from Green Valley, AZ goes out to the cactus fields every year to pick the fruit of the cactus plant and she goes prepared. She straps on plastic guards on her lower legs below the knee just in case she has to confront one of those rattlesnakes.
If you're with her, she'll say, "Put on your armor. You're safe when you do!" That's what she told me when I went out there with her. We picked those prickly cactus fruits for hours and filled buckets. No rattlesnakes were seen – probably because it was the heat of the day when they had found a cooler location to nap.
The cactus fruit nectar is only taken at a dose of a few tablespoons once or twice daily orally. It doesn't need to be injected into your bloodstream. It can be made into ice cubes and dropped into a beverage. It's that easy.
What Does the Research Studies Say About Cactus?
There are over 80 studies reported in the medical journals. That's enough to prick the meter in the brain of doctors that don't like natural medicine for agitation.
Here's a list of some of those findings:
In 2015, a hospital in Mexico studied what happened when the cactus fruit was made into a beverage and given daily to 20 patients for 30 days. They concluded that the beverage could be used as an alternative for the management of patients with diabetes type 2. It successfully lowered their blood sugar levels.
In Canada, doctors reported that many people have been turning to natural health products to manage their diabetes. Prickly pear cactus is one of the natural health products mentioned in this study, along with milk thistle and pycnogenol.
Cactus even became an interest of researchers in Belgium where they found that the herb might be more useful than all the tulips. In this study, cactus fruit was given to healthy, physically active men who were about to bicycle their brains out for 30 minutes after taking an oral glucose tolerance test. They took capsules of the cactus fruit 30 minutes before and immediately after the oral glucose tolerance test. The cactus decreased the blood glucose level by 37%. Hey, that's a lot better than cinnamon!
The Mickey Mouse ear pads of the cactus, which are really the leaves, can also be used for lowering blood sugar levels. The pads taste like lime green beans (green beans with a lime-like flavor). Doctors and scientists at an Illinois university took the time to set up a double-blind placebo controlled study of 29 people. Half of them consumed the cactus pads while the rest didn't.All patients were followed for four months. At the end of this time period, their blood tests showed significant drops in blood sugar levels. The researchers said their findings supported the traditional herbalist usage of the Mickey Mouse ears for management of diabetes.
From these studies alone, many people don't feel a need to go back and read the other 70+ studies on PubMed about cactus and blood sugar levels.
Oh, and you may be thinking, Well the studies didn't mention the Hemoglobin Alc levels much – and I'm concerned about that! My Hemoglobin Alc is over 7.0!
You should know there's a relationship of blood sugar levels to hemoglobin Alc.In another article, you will be able to find the correlation. What this means is that if cactus is lowering blood sugar levels, it will also lower hemoglobin Alc levels.
The Bottom Line
Herbs can and do help lower blood sugar levels. Over the years, I've seen that of all the possible blood sugar lowering herbs – cinnamon, milk thistle, oregano, sage, bitter melon, garlic, ginseng and a whole host of others, the best is cactus. I've seen in as little as two weeks there is a remarkable lowering of blood sugar levels. Because the Hemoglobin A1c test reflects the last three months of blood sugar levels, it will drop but you need more time to see a lowering there.
So the next time you find a cactus plant, grab your tongs and wear your cowboy boots. Grab some of those pads or the fruit in a bucket. Take them home and start up a campfire in your backyard. Burn off the needles over the fire using the tongs to hold the pads or fruit and then dig in!
Resources
Fabela-Illescas, H.E., et al. Effect of a beverage made from cactus pear (Opuntia cochenillifera (L) Salm-Dyck in a rural population of Hidalgo, Mexico; a pilot clinical trial. Nutr Hosp 2015 Dec 1;32(6):2710-4.
Lee, T. and Dugoua, J.J. Nutritional supplements and their effect on glucose control. Adv Exp Med Biol 2017;771:381-95.
Godard, M.P., et al. Acute blood glucose lowering effects and long-term safety of OpunDia supplementation in pre-diabetic males and females. J Ethnopharmacol 2010 Aug 9;130(3):631-4.
Van Proeven, K., et al. Opuntia ficus-indica ingestion stimulates peripheral disposal of oral glucose before and after exercise in healthy men. Int J Sport Nutr Exerc Metab 2012 Aug;22(4):284-91.