​The Best Fat-Burning Cardio Exercises for Women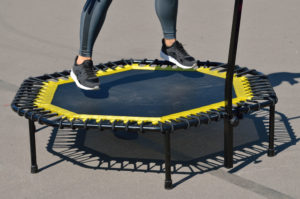 Your life is busy, whether you work at a paid job or stay at home with kids. You have chores to do and errands to run, while somehow finding time to nurture relationships with partner, family, and friends. It's hard to find the time to exercise! When you can squeeze in a workout, you want activities that burn fat, can be done pretty quickly, and don't require tons of equipment or preparation. The best choice for all these needs? Aerobic activities that get your heart pumping and your metabolism jumping. Some you can do at home. No gym membership or equipment required.
Here are some great exercises to try:
Running
Running isn't for everyone, but it's a fantastic way to burn calories quickly if you can do it safely (check with your doctor first). You can do it just about anywhere or even inside on a treadmill, and you only need a sports bra and a good pair of running shoes to get started. Try mixing up jogging with bursts of faster running for maximum results.
Walking
Walking at any speed, even just a stroll, is healthier than sitting around. However, to get an effective workout in a short time, you need to keep a good pace. If you feel a bit breathless but can still speak comfortably, you are in a good zone. It doesn't burn as many calories as running, but it is easier on your feet and joints. You can wear a weighted vested to make this more challenging.
Aerobics
Do you remember your mom doing Jane Fonda or Denise Austin workouts? Aerobics has been popular for decades, and for good reason — it works! It's fun and energizing to do, and you can burn a lot of calories in a short time, especially if you make large, exaggerated movements. Jane and Denise are still creating new workout videos, and there are tons of other options, including low-impact workouts and even "chair aerobics" designed for seniors.
Dancing
Dance crosses over to aerobics with workouts like Zumba or Jazzercize, but there are lots of other ways to get your groove on and burn off some fat while you do it. You can take a dance class to learn to waltz or tango, or hit a club for a girl's night out. But the easiest way to do it is to just crank up some favorite tunes and go to town in your living room. You can combine it with housecleaning chores, or squeeze in 5-minute bursts during tv commercials.
Bicycling
If you have a safe outdoor area for bike riding, it's a perfect way to get in an aerobic workout and enjoy some fresh air. But you can also use a stationary bike at home or in the gym, or to maximize your calorie burn, try a spinning class.
Jumping Jacks
You remember these from gym class back in the day. Jumping jacks burn calories, get your whole body revved up, and best of all, don't take long and can happen anywhere. Do a set of 50-100 when you wake up in the morning, or during commercials while watching television. Move quickly with big arm and leg movements for the best effect.
Rebounding
Rebounding is one of the exercises that astronauts do to stay fit on the space station, but it works great down here on earth, too. All you need is a small trampoline that you can bounce on. You can keep it as simple as just bouncing up and down while watching tv or listening to music or a podcast, or you can try a class at a gym where you combine your trampoline with aerobic routines.
Swimming
Unlike most of the other exercises, you can't swim just anywhere. But if you have a pool in your backyard or a nearby neighborhood or gym pool, it's one of the best ways to burn a lot of fat in a short time, and it's very easy on your joints. Standard freestyle swimming works well, but if you can do breast or butterfly stroke, you will burn the most calories in each movement because these strokes require full body participation. Twenty or thirty minutes in a lap lane or lap pool and you will be fired up for the rest of the day.
Whatever exercise you choose, make sure you drink enough water, choose healthy foods, and watch your overall caloric intake. Just make sure you are eating enough to avoid pushing your body into starvation mode because it will hang onto that fat instead of burning it off. If you are really crunched for time, break up your session. All you need is 30 mins a day 5 days a week.  You can break you time up in two 15mins session.
Last but not least, any of the above can be use to perform a HIIT workout.