Five Intense Indoor Exercises to Lose Weight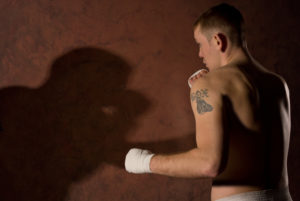 There's nothing like jogging or biking in the great outdoors. Unfortunately, Mother Nature has a way of foiling workout plans with an ill-timed lightning storm or blizzard. Or perhaps you have to keep an eye on the kids at home and cannot leave the house. Whatever the case, there are plenty of great ways to burn calories indoors. Use these workouts whenever outdoor exercise is not an option.
Weight Circuit Training
Weights aren't just for strength training; they can be used for some vigorous indoor cardio! The key is to do back-to-back sets of different lifts – with no rest period in between – using low to medium weight. For example, you might do one set of squats, one set of power cleans, and one set of overhead presses, then repeat the entire circuit as many times as you can. You can use barbells, dumbbells, kettlebells, or any heavy object you have around your house.
Plyometrics
Plyometrics is a form of exercise that focuses on short, explosive movements, usually jumping. It is a mainstay of training regimens for gymnasts, martial artists, and basketball players. It's easy to do plyometrics at home; just do a variety of jumps either for a certain number of reps or on a timer. Some common plyometric exercises include ankle jumps, squat jumps, jump-and-tucks, star jumps, and clapping push-ups. For an extra challenge, try jumping from the floor onto an elevated surface. These exercises will not only get your heart pumping but also build endurance and speed.
Tabata Exercises
Tabata circuits are a form of high-intensity interval training. Each circuit is 20 seconds of exercise of the highest possible intensity followed by 10 seconds of rest. The entire workout consists of eight circuits, making it four minutes in total. Don't be fooled by the seemingly short duration; a Tabata set will bring you to total exhaustion. You are essentially cramming a half-hour workout into four minutes. You can do almost any exercise as a Tabata workout: squats, push-ups, lunges, flutter kicks, jump rope, sit-ups, and many more. All you need to start a Tabata workout is an interval timer, and many smart phone apps exist for this purpose.
Dance Aerobics
Have you ever wondered why you feel so exhausted after going to a concert or spending the evening at a dance club? It's because fast-paced dancing is hard work! Dancing provides cardio and endurance training for the entire body. Best of all, you can do this exercise with any kind of music you choose. If you can dance to it, you can work out to it! All you need is a stereo and your favorite tunes.
Shadow Boxing
Even if you're not a martial artist, you can still knock out some calories by shadow boxing at home. You don't even need gloves or a punching bag; just stand in a fighting stance and throw punches as fast as you can. You can also add some kicks if you like. These exercises are most effective when done in intervals of about 30 seconds. You'll feel the burn mostly in your arms, but your abs and legs will get some action as well from the work of keeping your body in an upright position as you throw punches.
Being homebound doesn't mean you have to skip your workout. All you have to do is switch to a form of exercise that can be done indoors, and as you can see, there are plenty of options. Keep this list in mind next time you need to burn some calories without leaving the house.