Is Wheat Germ Oil Healthy?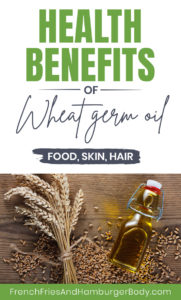 While the name "Wheat Germ Oil" isn't the most appealing, you should know that it can work wonders for you both in and outside the kitchen.
If you are wondering if it is healthy keep reading. You will find the answer to this question and more. So is wheat germ oil healthy?
Where does it come from?
Wheat Germ Oil comes from the germ of the wheat kernel or berry. Though the germ is only 2.5% of the total weight of the kernel, it is nutrient-dense and nourishes the entire plant as it grows. This, therefore, means that the wheat germ is the most nutritious part of the plant.
Approximately 10-14% of the wheat germ is actual oil. It can be extracted through cold pressing to get crude Wheat Germ Oil which is clear at room temperature and becomes a golden yellow to brownish color at higher temperatures. Crude Wheat Germ Oil is chock full of vitamins and nutrients and is the best choice for reaping health benefits.
Another means of extracting the oil is by adding chemical solvents which make refined Wheat Germ Oil. Here, the oil becomes a light yellow but loses some of its nutritional benefits.
What is it used for?
Wheat Germ Oil is used for a variety of purposes by different people all across the world. Some uses of Wheat Germ Oil include:
Hair and skincare
Because Wheat Germ Oil is rich in omega-6 fatty acid, or linoleic acid, it is a great addition to any hair care routine. This fatty acid is hair food, that nourishes and strengthens hair follicles to improve the appearance of your hair.  It can also be used to prevent hair loss and address dandruff and dry scalp.
Using Wheat Germ Oil on the skin also has several benefits. The oil contains tocopherols which can help to heal damaged skin by stimulating blood flow and providing nourishment. If you have inflammation and irritation as a result of skin conditions such as psoriasis or eczema, Wheat Germ oil can reduce swelling and have a soothing effect.
The antioxidants in Wheat Germ Oil can also reduce or prevent signs of aging such as fine lines and wrinkles by reducing oxidative stress and boosting collagen production to form new skin cells. This is also helpful in improving the appearance of scars, or preventing them altogether. It can also prevent against sun damage and give the skin a better texture.
Plus, it works great as a makeup remover that won't clog your pores!
Promoting heart health
Many of the oils we use are full of saturated fats which are said to be bad for heart health. However, Wheat Germ Oil contains omega-3 fatty acids which are useful for lowering cholesterol levels and promoting blood circulation.
Lowered cholesterol can help to prevent obesity, along with heart conditions and stroke. It can also help to decrease blood pressure. Improved blood circulation increases rates of healing in the body and can help to regulate the nervous system.
Reducing blood sugar
Wheat Germ Oil is rich in magnesium. Magnesium helps the immune system to function properly and also regulates blood glucose levels. If you have diabetes, adding Wheat Germ to your diet can help to control your insulin and glucose levels and by extent help you to manage your diabetes.
Improving brain health
Wheat Germ Oil is also rich in antioxidants along with Vitamins A and E which are crucial for proper brain health. These 3 components of Wheat Germ Oil help to eliminate free radicals in neural pathways and prevent the deposition of beta-amyloid plaque which has a negative impact on cognitive health. This, in turn, boosts memory and focus and lowers your chances of developing a neurodegenerative disease.
Boosting energy
If you play sports, then you might want to pay close attention to this use of Wheat Germ Oil.
Since it is rich in omega-3 fatty acids such as octacosanol, the body can transform it into energy that can give you an added boost! And, since it improves blood circulation, it provides more oxygen and energy to the muscles which increase output.
Some other uses of Wheat Germ Oil include preventing birth defects such as miscarriage and impotence, regulating the nervous system and repairing body tissue.
But enough of its uses, let's take a look at the nutritional facts of Wheat Germ Oil.
Nutritional facts
One tablespoon of Wheat germ Oil contains (based on a 2000 calorie diet):
Calories: 120
Total fat: 13.5g
Saturated Fat: 2.6g
Polyunsaturated Fat: 8.4g
Monounsaturated Fat: 2.1g
Carbohydrate: 0g
Protein: 0g
Since there are no carbohydrates in Wheat Germ Oil, there is no starch, fiber or sugars. On the glycemic index, it has a score of 0, which means that it will not affect your blood sugar levels.
There is also no protein but you have the option of adding it to protein shakes to make up for it while benefitting from the healthy fat Wheat Germ Oil provides.
Wheat Germ Oil is rich in Vitamin E. In fact, a single serving will give you 135% of your recommended daily intake. This vitamin acts as an antioxidant in the body and helps to eliminate free radicals which protect against certain cancers and dementia.
Vitamin K is also found in Wheat Germ Oil which is important for blood clotting and regulating blood calcium. This is only 4% of the recommended daily intake.
Type of Fat
Wheat Germ Oil is higher in unsaturated fat (polyunsaturated fat and monounsaturated fat) than it is in saturated fats. As you may already know, that is a great thing.
It is comprised of approximately 60% unsaturated fat, of which 88% percent is linoleic acid, 18% oleic acid, which is a monounsaturated fatty acid, and 18% saturated fat, mainly palmitic acid.
Taste and smell
Unrefined Wheat Germ Oil has a cereal-type or grainy smell and an oily, wheat-like flavor. When refined, it is almost odorless and flavorless.
Smoke point
Wheat Germ Oil has a very low smoke point of 194°F (or 90°C) which makes it unsuitable for cooking.
Pros
Now that you have learned about the properties and uses of Wheat Germ Oil, it is time to weigh the pros and cons of adding it to your diet. Some of the pros include:
• It can improve the appearance of skin and hair- Wheat Germ Oil is full of vitamins and nutrients that can help to nourish and restore the hair and skin, thereby improving its appearance. It can also treat underlying skin and hair conditions such as dry skin and scalp, hair loss and eczema.
• It is low in saturated fat- Since it is low in saturated fat and high in unsaturated fat, substituting it for another oil can help to reduce cholesterol and improve overall health.
• It can boost body functions- Wheat Germ Oil can boost brain functions and prevent degenerative disease. It can also provide extra energy and reduce sluggishness.
Cons
Using Wheat Germ Oil also has some disadvantages. These include:
• It can cause an allergic reaction- If you have a wheat allergy, you are automatically allergic to Wheat Germ Oil. Symptoms can be mild such as a rash or hives but can be as severe as anaphylaxis.
• It can reduce blood sugar- While this may be a good thing for some diabetics, others who are already on hyperglycemic medication can experience a dangerous drop in blood sugar levels when Wheat Germ Oil is used regularly. The same goes for blood pressure
.• It has low heat stability- Because of its low heat stability, this oil cannot be used in high heat cooking. This limits the number of ways it can be incorporated into the diet.
What's the best way to use it
Since it has such a low smoke point and low oxygen stability, cooking with Wheat Germ Oil is a bad idea. That means no frying, no stir-frying, no grilling, not even a sauté.
The best use for it in the kitchen is as a drizzle for vegetables, as a marinade for fish or other meat, over paste or in a smoothie or shake.
Alternatives
For hair, you can substitute jojoba oil, coconut oil and avocado oil for Wheat Germ Oil because they are just as rich in Vitamin E.
Flax Seed Oil can be added to smoothies and salads instead of Wheat Germ Oil.
Olive oil can provide similar benefits, and it can even be used for actual cooking.
Things to note
• Cold-pressed Wheat Germ Oil has a shelf life of about 6 months when stored in a cool, dark place. When refined, the shelf life is extended.
• Since it is so thick, it has to be added to a carrier oil to reap certain hair and skin benefits. This will allow it to be absorbed easier.
• Doing a patch test is important if you are unsure about how your body will react to this oil
Conclusion- Healthy or Unhealthy?
One cannot dispute the health benefits of Wheat Germ Oil. But, remember that it is still fat and it can have negative impacts on health if used excessively.
If you are looking for an all-purpose oil, Wheat Germ Oil is probably not the best option since you can't use it for high heat cooking. However, you could always get supplements to take orally to receive its benefits.