What is Ghee Used For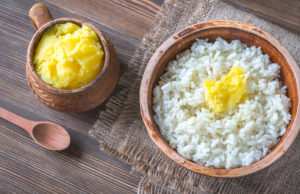 What is Ghee Used For
If you like butter on your toast or popcorn, you will you will love Ghee. In fact ​ghee is clarified butter. It becomes clarified butter by removing the milk solids.  It is first heated and then strained so that the fat is a bit less concentrated. This is done to prepare it for high temperature. Without the solids form milk ghee can be heated to much higher temperatures without burning. However, it has quite a bit of fat and calories per tablespoon and is high in saturated fat which is not the healthiest fat. 
So, what is ghee used for? Ghee has been used for thousands of years for its healthy properties. It has been deemed as a healing food in Indian medicine. It is highly regarded as a part of yoga nutritional therapy, where ghee is seen as a nutrient as well as a preservative for food and medicine. In Ayurvedic medicine ghee, along with a few other herbs is believed to give strength to the ojas. This is supposed to be our vital energy cushion that is in the root of our well-being and immunity.
​Ghee was created due to the need for butter that could have a shelf life and maintain its physical integrity. It simply wasn't possible to transport butter over long distances. However, you should not consider ghee just another kind of butter. Ghee's creation happened in northeast India, but that isn't where it became popular. Its popularity increased once it made its way to Southern India. Butter would often melt by midday in Southern India, due to high temperatures. Ghee solved this issue with its high shelf-stability. It eventually made its way to being a very important part of Indian culture. Indian mythology even tells stories about ghee's creation.
Nutritional Facts
​Ghee is the highest in fat thus far with 14 g per tablespoon. It is about 62 percent fat. That ends up being 9 g of saturated fat, but no trans-fat. It also contains 35 mg of cholesterol, but no sodium, carbohydrates, or protein. However, it does have more calories than both butter and margarine, with 120 calories per serving. Ghee is also a descent vitamin source, containing vitamins A, E, and K2. It gives you about 11 percent of your daily recommended vitamin intake. Finally, it is a rich source of CLA. This is a metabolism-regulating micronutrient.
Amount Per – 1 tbsp (14 g)
Calories – 120
Total Fat – 14 g
​ Saturated fat – 9 g
​Monosaturated fat – 4 g
​Polyunsaturated fat – 0.5 g
Cholesterol – 35 mg
Sodium – 0 mg
Total Carbohydrates – 0 g
Protein – 0 g
Vitamin A – 8%
Vitamin E – 2%
Vitamin K – 1%
Types of Ghee
​If you go through the internet, you will find mixed reviews for ghee. Some act as though it's god's gift to earth and others will say that it is bad for you. However, as with most food products if you consume it in moderation then you will be fine. Here are a few different types of ghee and what they can be used for.
Cow Ghee
–    Cow ghee is not merely used for cooking alone. It can also be used as oil for massages. Cow ghee is high in saturated fat but very low in polyunsaturated fat. Therefore, it has a much higher heating point than vegetable oils. Cow ghee stimulates the secretion of stomach acids, which helps with your food digestion. This also means that it helps relieve constipation. It is also rich in antioxidants, especially if the cow is grass-fed. This gives the ghee a large amount of K2 and CLA (Conjugated Linoleic Acid). CLA has anti-cancer and antioxidant properties that strengthen the immune system and helps with weight loss.
Organic Ghee
–    Unlike mass-produced ghee, organic ghee is cooked in small portions without the use of steam kettles. In addition to other kinds of ghee, organic ghee also boosts energy levels quite a bit. This can be perfect for athletes or anyone that does a large amount of physical work. Organic ghee contains Omega-3 and Omega-9, which are essential fatty acids. It also reduces inflammation and dryness of the skin, it can increase flexibility, and it is great to consume during and after pregnancy. Organic ghee always comes from grass-fed cows.
Cultured (Desi) Ghee
–    Cultured ghee is a bit different than regular ghee because it is made with yogurt, while regular ghee is made from milk. Cultured Ghee is mainly for those who are very dairy sensitive. If this does not apply to you then regular ghee should work just fine. It also has a more butter-like taste than normal ghee, due to the cream in the fermentation process. Cultured ghee is known as desi ghee in India.
Vegetable Ghee
–    Vegetable ghee is a vegetarian alternative to traditional ghee. It is made purely of hardened vegetable oils and has absolutely no milk products. It is great for baking, sautéing, and deep-frying as well as being a great spread for bread and vegetables. It is completely cholesterol-free and has a milder taste than traditional ghee.
Flavored Ghee
–    Flavored ghee basically has the same properties as traditional ghee, except there is added flavor (pretty obvious right). This ghee is best made at home so that you can have control of whatever flavors that you want to be infused. Just follow the steps below on how to make ghee. Add whatever spices and herbs that you desire and then you are good to go.
How to Make Ghee
​Ghee can be pretty expensive to buy in-store, so you may be better off making it at home. An easy way to make it is to get unsalted butter and simmer it over medium-low heat for about 15 minutes. You will know that you are on the right page when a crust forms on top. Scrape off the crust and then pour the remaining liquid into a container. You do not need to refrigerate it, in fact, many people say it is better if you don't. You can also buy ready to make ghee in most grocery stores.
Ghee vs. Butter
​Ghee has components that promote heart health. It has been shown to decrease cholesterol levels in those who consume it regularly. Ghee is also lower in lactose. As stated before, anyone that struggles with lactose intolerance is better off with ghee. Ghee has almost no lactose found in it. On the other hand, butter is low in trans-fat. Trans-fat is largely associated with heart disease, which obviously is something you want to avoid. Overall, butter is known as a very neutral substance to consume. Small amounts of butter have been shown to reduce the risk of type 2 diabetes. This still does not mean that you should go crazy with your butter consumption.
What is Ghee Used For
• Cooking – Ghee can be used to cook nearly everything that butter is normally used for. It is great for baking, sautéing, and deep-frying as well as being a great spread for bread and vegetables
.• Skin Care – It reduces inflammation and dryness of the skin. This is because it has essential fatty acids that induce hydration. This can even be used for dark circles under your eyes and chapped lips
.• Lower Blood Pressure – This is due to the presence of Omega-3.• Hair Care – The fatty acids nourishes the scalp, which restores your hairs health.
Is Ghee Healthy
​Overall, it would appear that ghee can be a very versatile and has a place in your kitchen as well as your skin and hair care regime. However, if you eat more than the recommended amount of ghee then you can experience some negative consequences such as weight gain. It is still fat after all.