Is Palm Kernel Oil Healthy?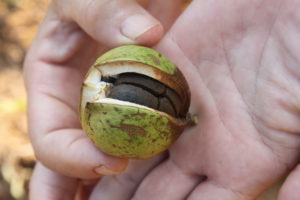 In the US, unlike other vegetable oils, you will  not find palm oil stocked on your grocery store shelves. This is because palm kernel oil is one of the vegetable oils that is said to be not good for your heart.
This oil has been used for decades in Africa and southern Asia before it was even introduced to the Americas. It serves many different purposes from cooking food to keeping the skin and hair hydrated.
Where does it come from?
Palm Kernel Oil is made from the kernel of African oil palms. The palm kernel, otherwise known as the seed of the oil palm, is removed and cleaned to get rid of foreign material before it is sent to extraction. At the extraction phase, the seeds are crushed and run through a roller mill until the oil is expelled.
It may also be extracted through solvent extraction which yields more oil than cold-pressing.
The oil that is extracted can either be dark in color or light yellow, depending on the method of extraction. It is thick in nature and has a unique taste and smell.
It is important to note that palm kernel oil is different from palm oil. While palm oil is made from the fruit of the palm tree, palm kernel oil, on the other hand, is extracted from the actual palm seed.
Palm oil contains a 50/50 balance of saturated fat vs unsaturated fat. Palm kernel oil, on the other hand, has 80-85% saturated fat.
What is it used for?
As aforementioned, Palm Kernel Oil has been used widely in Africa for cooking food. Some more of its uses include:
Hair and Skincare
The fatty acids and vitamins present in Palm Kernel oil make it a great oil for scalp and hair health. When used after a hair wash, Palm Kernel oil can help to replace some of the moisture lost from using harsh shampoos which strip the hair of its natural oils.
This oil can also help to relieve scalp itch and counteract dryness. It can also be used to stimulate hair growth, promote thickness and reduce hair fall. It will also give the hair noticeable sheen and nourishment.
Palm Kernel oil contains Vitamin E and antioxidants that may have antiaging benefits. This protects the skin against fine lines and wrinkles and also sagging. Palm Kernel oil can also provide protection against dust and other acne-causing pollutants in the air and can act as sunscreen against the sun's harmful UV rays.
Palm Kernel oil can also be used to moisturize the skin, giving it a radiant glow and making it soft to touch without leaving you with a greasy appearance. It can also be used to relieve itch from certain skin conditions and act as a protective barrier for minor scrapes and bruises.
This oil also has a noticeable lightening effect and can reduce the appearance of skin discoloration, acne scars, and dark spots.
Treating STDs 
Palm Kernel oil contains about 50% saturated lauric acid which is used to make a medicine known as Lauricidin. This medicine has been approved for the treatment of STDs such as HIV and genital herpes. (This medicine can also be used for the treatment of hepatitis C along with epilepsy, autism and a range of other neural ailments.)
Treating Yeast Infections
Palm Kernel Oil also contains approximately 3.6% of saturated caprylic acid which is a naturally occurring yeast-fighting substance. This substance has been used to make popular drugs such as caprinex, mycostat and capricin which are used to counteract yeast-infections.
When consumed on its own, or as a part of a meal, Palm Kernel oil can be used to prevent and treat many viral, fungal yeast infections. It is even used as a part of traditional Ghanaian medicine to treat herpes in children.
Traditional African Medicine
In parts of Africa such as Ghana, Palm Kernel oil is used for a wide array of medical ailments. Palm Kernel oil is used to:
• Prevent menstrual cramps and regulate the cycle• Treat eye problems and headaches• Increase fertility• Treat arthritis and other instances of joint and muscle pain• Manage diabetes and hypertension• Improve the quality of breast milk• Prevent, treat and manage degenerative diseases such as Alzheimer's
Nutritional facts
In one tablespoon of palm kernel oil, you find the following break down of nutrients:
Calories:117
Total fat:14g
Saturated Fat: 11g•
Polyunsaturated fat: 0.2g
Monounsaturated fat: 1.6g
Total Carbohydrate: 0g
Protein: 0g
Palm Kernel oil is also cholesterol-free.
Palm Kernel Oil is rich in Vitamin K. This vitamin is crucial for blood coagulation and bone health. It also contains Vitamin E which is crucial for healthy skin and hair, and Vitamin A which contributes to eye health.
Type of Fat
Palm Kernel oil is comprised mainly of saturated fat, approximately 80%. Its saturated fatty acid content includes lauric acid, myristic acid, palmitic acid, caprylic acid, and stearic acid.
About 12% of Palm Kernel oil is monounsaturated fat. Most of these are oleic acid which is useful for reducing inflammation.
2% of Palm Kernel oil is polyunsaturated fat. Most of these are omega-6 fatty acids such as linoleic acid which helps to improve insulin sensitivity and blood pressure.
Taste and smell
Crude Palm Kernel oil has been described as having a distinctly sweet, yet earthy odor and taste. When refined, the oil becomes tasteless and odorless.
Smoke point
Like coconut oil, Palm Kernel oil is solid at room temperature and has a melting point of 86-104°F(30-40°C). As it relates to its smoke point, Palm Kernel oil has a pretty high one of around 430°F (220°C) which makes it a prime candidate for high-heat cooking methods such as deep-frying.
Pros
Palm Kernel oil is so popular in Africa is because of these reasons:
• It is great for hair- Using Palm Kernel oil on your hair can transform it from thin and brittle, to thick and strong. It can also be used as a conditioner to make hair soft and shiny, and combat dry scalp.• It is great for skin- This oil helps to keep skin looking radiant and young. It can also protect the skin from UV rays and pollutants and treat dark spots and acne scars.• It is versatile- Palm Kernel oil is not only used in cooking and for cosmetic purposes. It can also be used as fuel for home-lamps or as traditional medicine.• It is cheap- Palm trees are grown on a commercial scale for the manufacturing or both palm oil and palm kernel oil. For this reason, it is pretty cheap and easy to access.
Cons
While using Palm Kernel oil has its benefits, some doctors warn against it because:
• It is high in saturated fat- Palm Kernel Oil is made up primarily of saturated fat which can contribute to bad cholesterol and lead to heart disease and obesity.• Many of its health benefits are anecdotal- While there have been many studies and research conducted on the palm oil plant and the health benefits of its oils, there have been an equal amount of rumors and claims that have not been backed by science. • It is bad for the environment- Palm plantations have been linked to wide-scale deforestation across the world which has had many negative effects on the natural environment such as loss of habitat, soil erosion, and pollution.
What's the best way to use it
Since it has such a high smoke point, Palm Kernel oil can be used for frying and stir-frying. It may also be used for roasting meat and vegetables, grilling, sautéing and searing.
When used in baking, Palm Kernel oil gives baked goods a sweet aroma and enhanced flavor.
Alternatives
The most obvious alternative to Palm Kernel oil is probably palm oil which contains less saturated fat. You may also use coconut oil as they share a similar composition.
If you need an alternative frying oil, go for canola oil or sunflower oil. Peanut oil should give you a similar taste.
Things to note
• Palm Kernel oil has a long shelf life and can resist oxidation under high temperatures. For this reason, it is used commercially in food products such as potato chips and ramen noodles for preservation purposes.• Palm Kernel oil should be stored in an airtight container in a cool, dry place. It does not need to be refrigerated.• When using Palm Kernel oil on the skin or hair, performing a patch test is a must to see how your skin will react to it.
Conclusion- Healthy or Unhealthy?
• Palm Kernel oil seems to have more health risks than benefits when ingested owing to its high concentration of saturated fat. Thus, you are better off not cooking with palm oil.• When used topically, Palm Kernel oil has the potential to transform your hair and skin, and give you the youthful, radiant glow you desire, without the negative side effects.• You have the option of purchasing Palm Kernel oil solely for your beauty regimen, but if you want an oil that can benefit both your body and your hair/skin, you could try avocado oil or olive oil.