Is Rice Bran Oil Good For You?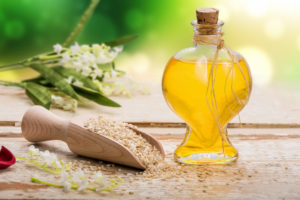 We all use cooking oils to make our meals, but using the wrong kind can have some very negative long-term side effects. What makes a cooking oil "good for you" are not only the effect it has on food, flavor and texture-wise. Instead, it is its ability to benefit the body in different ways.
Does Rice Bran oil fall under the category of a cooking oil that is good for you, or is it just another bad, unhealthy oil? Let's take a look at it.
Where does it come from?
Rice is already a staple food in the diet of Asian cultures, so its use is much more common in those parts of the world. Rice Bran oil has become increasingly popular in the rest of the world over the last few years because it is a seemingly better alternative to other vegetable oils.
The oil is made by extracting the thin outer layer of rice, called the chaff or husk. This is the most nutritious part of rice and contains many nutrients and vitamins. The husks are dried and cold-pressed and the crude rice bran oil collected. Another means of extracting the oil is by using chemical solvent such as hexane.
The rice bran oil can then be sold as-is, or bleached, deodorized and neutralized for cosmetic purposes.
What is it used for?
Despite being popularly used in countries such as Bangladesh, China, and India for deep frying and stir-frying, rice bran oil has many other uses outside of cooking. These include:
Hair and skincare
Rice Bran Oil is rich in omega-3 and omega-6 fatty acids which are like hair food. These nourish the hair and help to combat frizz and dryness. It also helps to keep hair follicles healthy, promote hair growth and make hair more manageable. Rice Bran has also been praised for preventing early greying for both men and women.
It can also be used as a skin moisturizer and protects it from all the dust particles and pollutants in the air. Rice Bran oil can also be used as a moisturizer to protect against UV, which help to prevent conditions like melanoma, along with delaying aging and wrinkling.
Rice Bran Oil is also a great natural makeup remover and can help to prevent acne. Its Vitamin E content helps to keep skin soft and radiant. Dark circles can also be prevented and treated with this oil as it increases blood circulation in the region and reduces puffiness. Its sterol content can also help to lighten the skin under the eye.
Lowering cholesterol
Both the American Heart Association (AHA) and the World Health Organization (WHO) recommend rice bran oil for improving serum cholesterol levels. It is considered a heart-healthy oil due to its optimal balance of saturated, monounsaturated and polyunsaturated fats. It is also naturally trans fat-free. This greatly reduces your chances of developing a heart condition.
Treating symptoms of menopause
Taking rice bran supplements or adding it to your meals can help to prevent or combat menopausal symptoms such as hot flashes. This is as a result of its antioxidant content and anti-inflammatory properties.
Preventing cancer
Studies conducted in Asia show that by adding Rice Bran oil to your diet, you can significantly decrease your chances of developing colorectal cancer.
It also has chemopreventive properties which inhibit cancer cell proliferation and reduce inflammation in persons suffering from skin, breast and gastrointestinal cancer.
Preventing allergic reaction
It has been discovered that Rice Bran oil is hypoallergenic in nature. This means that the chances of having an allergic reaction when used in cooking are slim to none and it can also calm preexisting allergic reactions. It may even prevent hypersensitivity to other allergens.
Weight loss
While Rice Bran oil is high in calories, when used in moderation, it can help you to lose weight. When using this oil, a little goes a long way and it retains the nutrients and the flavorof the food being cooked. This makes it a great alternative to other vegetable oils in your diet which results in high caloric intake.
It is also full of antioxidants which can help to boost your metabolic rate. This will help you to shed those pounds faster.
Nutritional facts
In one tablespoon of Rice Bran oil, there are:
• Calories: 120
• Total Fat: 14 g
• Saturated fat: 2.7g
• Monounsaturated fat: 4.8g
• Polyunsaturated fat: 5g
• Carbohydrates: 0g
• Proteins: 0g
While Rice Bran oil is lacking in the mineral department, it will give you some important vitamins.
In just a single tablespoon of Rice Bran oil, you will have already consumed 22% of the recommended Vitamin E daily intake. Vitamin E in the form of tocopherol is an oxidant which boosts immunity and protects cells against oxidative damage.
It also contains 3.3 micrograms of Vitamin K which helps your blood to clot. Evidence also suggests that it contributes to bone health and can even prevent atherosclerosis.
There is also 161 mg of phytosterols which help to lower blood cholesterol.
Type of Fat
Rice Bran oil is said to have one of the perfect balance of fats. It consists of MUFAs (monounsaturated fats) which boosts your HDL levels or "good cholesterol" levels. It also consists of PUFAs (polyunsaturated fats) which help to lower your LDL or "bad cholesterol" levels.
There are saturated fats in Rice Bran oil which may increase your risk of developing heart disease, however, experts are currently reevaluating that idea.
Taste and smell
Rice bran oil has a neutral color and mild taste which makes it ideal for cooking. It has also been said to have a slightly nutty flavor which does not clash with food. When refined, it has a light or odorless smell.
Smoke point
Rice Bran oil has a pretty high smoke point of around 490°F (or 254°C).  Plus, it maintains its nutritive quality even during high heat cooking.
Pros
Incorporating Rice Bran oil into your diet is a good choice for many reasons. Some of these reasons include:
• Foods absorb less oil- The bad thing about using frying as a method of cooking is that the food tends to absorb the oil. Hen cooking with rice bran oil, up to 20% less oil is absorbed. This is because of its low viscosity (thickness).
• Long shelf life- Owing to its antioxidant components, rice bran oil has a much longer shelf life
• It's great for the skin- Rice Bran oil provides both protection and nourishment for the skin, keeping it hydrated and safe from pollutants in the air.
• It helps to lower cholesterol- Substituting your unhealthy cooking oils for Rice Bran oil can help to greatly decrease your bad cholesterol levels and increase the good cholesterol level. This, in turn, helps to boost your metabolism, promote weight loss and prevent numerous diseases.
Cons
You can't look at the benefits without acknowledging the drawbacks. Some of these include:
• It is a natural laxative- By increasing the amount of rice bran in your diet, this can cause unpredictable bowel movements and stomach discomfort. You may also experience intestinal gas or constipation.
• It can cause skin irritation- While Rice Bran oil has great benefits when applied topically, it can cause skin irritation if exposed to a rare straw mite.
• Might be difficult to access- Though Rice Bran oil is extremely popular in Asia, it is not the go-to oil here in America so it might not be on your supermarket's shelves. There is also the option of ordering it online though it might be more expensive than what you would pay for it in India or China.
What's the best way to use it
Since it has a high smoke point it is suited for high heat cooking methods such as frying, stir-frying, sautéing and searing.
It can also be substituted for other oils in baking, roasting, and grilling.
Alternatives
The best alternative to Rice Bran oil is olive oil because it shares the same health benefits. It also has a similar composition to that of peanut oil.
Other alternatives include Sunflower oil, Canola oil, and Flaxseed oil. In baked goods, butter may be used.
Things to note
• Rice Bran oil should be stored in a cool, dry place. When it is stored properly, it can last for one or two years.
• There has been a lot of research conducted with regards to Rice Bran oil, but not enough. For this reason, women who are pregnant or breastfeeding should not consume it in large amounts or as a supplement until more information is gathered.
• Rice Bran Oil has the ability to decrease the amount of medicine the body absorbs. So, if you are on medication, ingesting Rice Bran oil may decrease its effectiveness.
• The use of hexane in to extract many Rice Bran oil is a turn off for many because it is flammable, toxic and used in a high-temperature environment. This results in the introduction of undesirables in the oil. This may reduce its health benefits. Your best bet is buying Rice Bran oil that was extracted using the cold-press or any other low/no heat method, although these tend to be a bit more expensive.
Conclusion- Healthy or Unhealthy?
Rice Bran oil does have some pretty useful health and cosmetic benefits. However, you might not want to toss everything out and stock up on Rice Bran oil until there have been more conclusive studies. Rice Bran oil should be used in moderation and can be used as an alternative for other oils in your cupboard now and then.